Singapore Zoo Self-Guided Tour
A Complete Guide to Tour Singapore Zoo Smartly
Why Singapore Zoo is a World-Class Attraction?
If Singapore Zoo is not in your vacation itineraries, you must have missed out something, especially if you are in a family vacation. After several visits to the zoo, I feel proud of it. This is one of the sights, besides Sentosa Island, that all of your family members will enjoy. I'll show you why this is not another ordinary zoo. 
Check out Zoo Morning Tour Deal provided by our business partner with free hotel pick up and drop-off services. The tour is led by a local guide.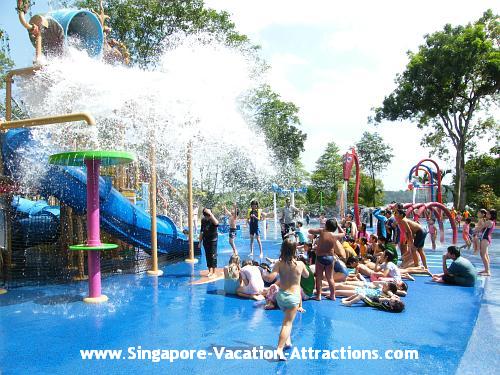 Some people who have a bad impression visiting a zoo thought that it is a place which is hot and smelly. I'm here to assure you that this one is not.
You may have another doubt: What's the fun of watching animal which were kept behind bars or in cages? I must say again, this one is different. In most cases, they live in their natural habitat.
Open Concept Wildlife Park
Apart from all that, you can really get closed to the animal. The first time we came to this rainforest platform(as shown in the left photo), my two kids were so excited to run about looking for any sight of animal up and down the river. They shouted at me excitedly when they spotted a False Ghavial hiding at one corner of the bush(below right photo)
The below left photo was taken from a wooden bridge under which the deers are moving around freely.
The orang utans are climbing and jumping freely on trees just above us. For those aggressive animals like jaguars, they were being kept behind a glass panel which enable us to see them clearly in near distance.
The manmade moat, which keep us a safe distance away from the monkeys and cheetah, allow us to see the animals clearly without any obstructions.
Let our kids get close encounter with the friendly and loveable goats, donkeys, guinea pigs and giant rabbits at the Rainforest Kidzworld.
Go to the Zoo Photos page for more pictures


Tips to Tour Singapore Zoo Smartly
Singapore Zoo Tour lists down few of the things you should not miss while touring the zoo. It also recommends a Zoo Itinerary to help you plan for your trip to the Zoo.
Getting There: How to get to Singapore's Zoo?
By Public Transport
1. From Choa Chu Kang MRT Station
Align at Choa Chu Kang MRT Station and walk to Choa Chu Kang Bus Interchange. While at the interchange, look out for bus service number 927. It takes about half an hour to arrive at Singapore's Zoo, which is the ending point of the service.
2. From Ang Mo Kio MRT Station
Align at Ang Mo Kio MRT Station and walk to Ang Mo Kio Bus Interchange. While at the interchange, look out for bus service number 138. It takes about 45 minutes to arrive at Singapore's Zoo, which is also the ending point of the service.
Click on Choa Chu Kang or Ang Mo Kio MRT Station if you need to know how to get to the above MRT stations from any part of Singapore by public buses and MRT(subway).
By Private Bus
This direct bus service between Singapore Zoo and the City is provided by the Singapore Attractions Express. The following are the pick up points: Orchard Hotel, DFS Galleria, Sheraton Towers, Grand Hyatt Hotel, Mandarin Orchard, Concorde Hotel, Hotel Rendezvous, Little India Arcade, Gemini Travel, Farrer Park MRT, Quality Hotel and Ibis Singapore Novena.
Charges: S$6/Adult and S$3/Child.
Daily pick up time at Orchard Hotel: 9am, 10am and 12pm. The journey takes about one hour to arrive at the Zoo.
Daily departure time from the Zoo: 2.30pm, 4.30pm, 5.30pm and 6.30pm.
For enquiry, please call 65-67530506.
By Coach Provided by Duck & Hippo Tour Company
If you stay at or near the following hotels or places of interest, it would be very convenient for you to take the coach to the Zoo, Night Safari and River Safari:
People's Park Complex
Chinatown MRT station
Clake Quay
Miramar Hotel
Orchard Hotel
Marriot Hotel
Mid Point Orchard
Orchard Plaza
Dhoby Ghuat MRT station
Rndezvous Hotel
Tekka Centre
Serangoon Plaza
Lavender
Landmark Village Hotel
Intercontinental Hotel
Calton Hotel
Peninsular Plaza
Fullerton Bay Hotel
Marina Bay Sands
Ritz Carlton Hotel
Suntec City
Coach Ticket Prices
S$7/Adult and S$5/Child for a single trip.
Departing and Returning Timing
To the Zoo and River Safari
Departing at Suntec City and Singapore Flyer: 8.30am, 9.30am, 10.30am, 11.30am, 12.30pm, 2pm, 3pm and 4pm.
Returning to city from the Zoo: 11.30am, 12.30pm, 2pm, 3pm, 4pm and 5pm.
To the Night Safari
Departing at Suntec City and Singapore Flyer: 6pm and 6.30pm.
Returning to city from the Night Safari: 9.30pm, 10pm, 10.30pm and 11pm.
For enquiry, please call 65-63386877 (9am to 7pm daily).



Singapore Zoo's Opening Hours and Ticket Prices
Zoo Opening Hours
8.30am to 6pm daily (last entry 5.30pm)
Zoo Ticket Prices
Adult Ticket S$33, Child Ticket S$22(3 to 12 years old) and Senior Citizen Ticket S$15(aged 60 and above). I would recommend you to buy the zoo's tickets online to avoid long queue at the ticketing counters. Besides, you save 5-20% of the ticket prices depending on the types of credit card you are holding.
Buy Singapore Attractions Tickets as a Package Deal
Please fill out the below form with at least three attractions (why three attractions?) or more under the option 'Pick your own attractions' and we will send you a free quotation based on your selections by the next working day.
You may also choose any one or more days from the options Day 1, Day 2, Day 3, Day 4, Day 5. We will then compute and send you the total amount of the deal.
All the attractions tickets are valid for at least a month, some as long as 3 months. You may use the tickets on any dates so long as not to exceed the expiry date.
All the below deals only provide you with entrance tickets to the above attractions. It does not include transport and tourist guide. You have to go about the above attractions on your own. 
More on Singapore Wildlife Parks & Gardens
Zoo Self-Guided Tour
Zoo Itinerary
Photos of Singapore Zoo
Night Safari
Night Safari Self-Guided Tour
River Safari
River Safari Amazon River
Photos of River Safari
Jurong Bird Park
Jurong Bird Park Self-Guided Tour
Photos of Jurong Bird Park
Gardens by the Bay
Photos of Garden by the Bay
Singapore Botanic Gardens
Photos of Singapore Botanic Gardens
National Orchid Garden
Photos of National Orchid Garden
Photos of Mount Faber Park
Other Top 10 Attractions in Singapore
Singapore Integrated Resorts
Sentosa Island
Singapore River
Little India
Chinatown Town
Kampong Glam
Orchard Road
Singapore Botanic Gardens
Esplanade Singapore


Singapore Vacation Deals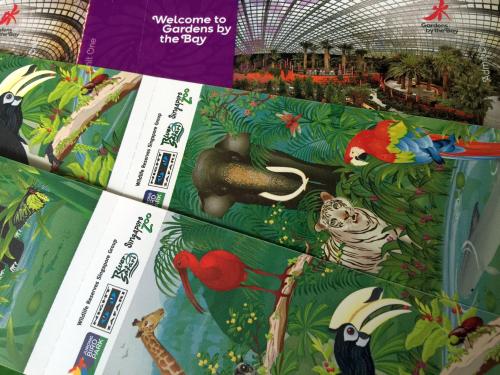 Singapore Attractions Tickets Deal
Return to Top 10 Singapore Attractions page