Singapore Attractions Tickets Deal Faqs

Over the past few years we have received many emails from our visitors. They had raised many questions regarding the purchase of our attractions tickets deal. To help our visitors to better understanding of our tickets deal, we have compiled the following frequently asked questions (faqs) being raised from these past emails by our customers and visitors.
Most Frequently Asked Questions
1. What are the benefits of our deal?
Great discounts from 10-35% of total tickets cost. 
No credit or debit cards required for ordering the deal. You only make payment when you collect the tickets while you are in Singapore.  
Save lots of time. No need to queue up to buy tickets at the various attractions ticketing counters or wonder how to make purchase on the various attraction's websites. You just select the attractions in our ticket's form and they will be ready at your hand when you arrive in Singapore. 
If you don't know how to get to the various attractions, we will show you the directions of getting there so you won't have any difficulty in getting to all those attractions. 
We give you good advice on some of the attractions which need special attention like the DUCKTour which required advance booking. 
We can help in planning your tour itinerary upon your request. 
2. The following questions are likely the very first few questions visitors will be asking. One of my visitor Maria from India, asked me few questions which most visitors would like to know before order the deal. 
The following are my answers to her questions:
i. can you send us a picture of at least one of your passes, are these the iventure passes?
Our tickets deal is not the iVenture passes. The below photo shows our tickets of Singapore Zoo, Jurong Bird Park and Gardens by the Bay.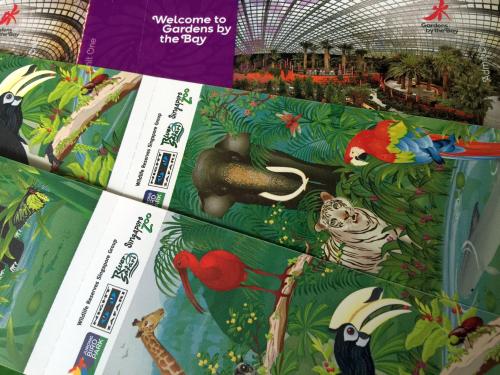 ii. how will you prove these passes are not fake and that i'm not being conned ...
- Will the tickets be fake? 
This is probably the very first question most of the visitors will be asking. Carol, like many of these visitors, asked me this question before she confirmed the deal with me. I do understand her concern as the discounts the deal is given are too attractive. By looking at the below photo which I had taken with Carol at her hotel (Fragrance Emerald) lobby, I hope I have answered your question. Carol with her son and four other friends from Philippines bought a deal with us worth S$695 for 30 adult tickets and 6 child tickets. It's really who you are dealing with.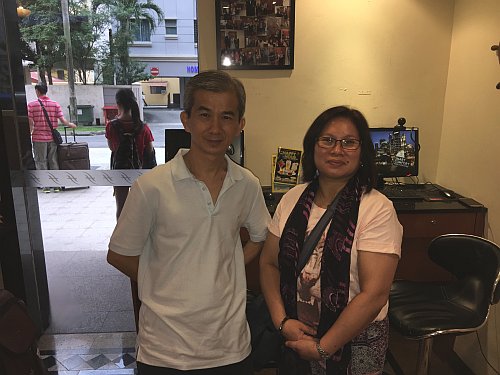 - Can you show me proof that this is not a scam?
You can take a photo of my partner Mr Ng when you are collecting tickets from him. If we are doing something illegal, you can show his photo to any police stations in Singapore and there's no way we can run away.
iii. this is simply because your payment method is in cash with nearly no Bill/proof of the transaction in case something goes wrong...
We can provide you a receipt upon your request.
iv. will that cause any problems with the law etc...
No problem at all. We are doing legal business in Singapore. As you know, Singapore laws are very strict and Singapore Tourism Board takes it very seriously for tourist's complains. We can't cheat tourists many times, one complain and we will be put under criminal investigation. 
3. Are the rates the same as I would get online on the sites of various attractions? If not and they are cheaper, is there a reason for this?
The rates you get from us as a packaged deal (3 or more different attractions to be qualified as a packaged deal) is very attractive. Generally, it's much cheaper than if you were to buy one by one at the respective attraction's sites. Why our deals are cheaper, the reasons are as follow:
i. Our business partner buy the tickets in bulk for a great discount. 
ii. We accept only cash payment. For that reason, we save some cost on transaction charges imposed on credit card or debit card payment.
iii. All buyers have to self-collect their tickets when they are in Singapore, so we save on delivery cost.
4. I had Compared the price you had given us and it was really low ...
You considered yourself the lucky ones if you found us. We had many visitors got the deals from us thank us for that. 
5. Are you a registered travel agent in Singapore?
I'm not a registered travel agent in Singapore, but my business partner is an authorised reseller of the attraction tickets which we are marketing. We have been dealt with many happy customers from many countries like Hong Kong, Malaysia, Indonesia, India, New Zealand, Australia, Philippines etc. So far, we do not receive any negative feedback. Rest assured that all the tickets you bought from us are issued by the respective attractions ticketing offices. 
6. Can we purchase just one or two attractions tickets?
Our ticket's partner give the best discount price with minimum of 3 different attractions in a package. As such, we require you to buy at least 3 different attractions tickets as a deal. 
7. Can we have a break down price for all the attractions tickets?
We sold all tickets in a package deal in order to get you the best price.  Our ticket's partner don't sell ticket as per attraction, that's why we can't break down on individual ticket price. 
8. Is there any validity or specific dates on the tickets?
You may use the tickets on any dates or days as you like. However, most attractions tickets are valid for only one to three months. We don't advise you to buy any tickets earlier than one month.  
9. Can everything be paid to you in Singapore?
Yes, you can. You are only allowed to pay in cash and in Singapore dollars. We don't accept other forms of payment. You only pay us when you collect the tickets from us when you are in Singapore. Once you confirmed your order, we will email you our partner's handphone number so you can get in touch with him. 
10. Can I collect the tickets at the airport or hotel?
No. You have to collect the tickets at Chinatown MRT station Exit C gate as our office is in Chinatown. This is to save cost on delivery. 
More Frequently Asked Questions
The following faqs are received from our visitors, we had classified them into various sections for ease of searching. Take note that you may find some grammar errors and spelling mistakes as we didn't edit all these questions.
I. Faqs on Popular Attractions
A. Universal Studios Singapore
1. What are the inclusions in the universal studio ticket provided by you? is it one day pass? And can we visit anywhere inside without buying any other ticket?
It's a one day pass, you don't have to buy anymore tickets to take all the rides and shows inside the park. 
2. Is it recommended to buy skip queue tickets for universal studios? If yes how much would it cost?
If budget allows and you intend to take all the rides and shows, it's advisable to buy the express pass. It costs from S$30-70 per pass depends on seasons. You have to buy it online at www.rwsentosa.com .
3. Wanted to confirm if the tickets for USS are regular tickets or express? Also is there any entry ticket for the Sentosa island other than the tickets for the attractions.
It's a regular tickets. You have to buy the Express Pass separately either online at www.rwsentosa.com or inside the park at few of the appointed gift shops. If you take Cable Car to Universal Studios (or Sentosa Island), the entrance fees is included in the tickets. Another way or most common way (if you need to go Sentosa second time) is to take Sentosa Express (a monorail train) there for S$4 (include island entrance fees) per person. 
4. I would like to see the night fireworks at universal studios, so Saturday or Sunday is this event?
The fireworks show is called Lake Hollywood Spectacular. The dates are not fixed, you have to check the schedules at resorts world website here .
5. Universal studio tickets would include any food coupons in the ticket?
The food and retail coupons are included ONLY for special occasions or promotions. Whether you buy the tickets online at resorts world website or from us, you will definitely get the coupons if the promotion is on.
6. Also can you please tell me if we can go to the Universal Studios multiple times per day on the same ticket? 
No, you only allow to enter the theme park once. 
B. Cable Car
1a. Is it possible if i choose to depart from sentosa to mount faber and after that from mount faber to harbourfront?
Yes, you can. From Sentosa to Mount Faber is considered one way and from Mount Faber to Harbourfront is considered another way. After that, the tickets cannot be used anymore.
1b. How about the sentosa line? On top of the above example you mentioned, I still can use for the sentosa line two ways right?
Yes, you still can use the same ticket for the Cable Car line in Sentosa Island.
2. Does the cable car ticket include travel to Faber Peak?  What is the island admission for?
Cable car tickets can be used for two ways to and fro Sentosa island. There are 3 cable car stations: Mount Faber is the first station, follow by Harbourfront then Sentosa Imbiah station. You can take the ride at either Harbourfront Tower II or Mount Faber (where the Faber Peak is located) to the Island, then alight at either one of the above stations in the return trip. The tickets include island admission fees. Also, the tickets can be used in Sentosa Cable Car line. 
3. So with cable car can we go to senstosa island and if yes how much time we can spend there to take the cable car back
The cable car will take you to Sentosa island in about 10 minutes time. No time limit to stay in sentosa, just beware the last boarding time for cable car is 9.30pm. 
4. I was thinking that I could take cable car to universal studios and then take cable car back in the return journey. Or is it I have to finish up n down cable car ride in 9-10 AM only?
Cable car operates from 8.45am to 9.30pm, you are free to take it between these hours at any one of its three stations. 
5. Two ways cable car can it be split..we would be visiting sentosa for 2 days, one day -sentosa rides & the next for USS?
No, the tickets can't be used in two days. Anyway, it won't cost much by taking Sentosa Express there. It costs only S$4 per person. 
C. Singapore River Cruise
1. Where should we board for river cruise? 
You could board at any one of the jetties along the Singapore river, the most common boarding point is Clarke Quay jetty as it's just few minutes walk from the Clarke Quay MRT station. 
2. Is this pass is for one round trip starting from one jetty and ending at same jetty? In between can we stop at other attractions and get back into the boat again with same tickets? 
The ticket is for a single trip only. You can board at any one jetty and return back to the same jetty. Once alighted, the ticket can't be used any more. 
3. We saw on the river cruise website that there is a special cruise at 7.30pm and 9.00pm which costs a bit more but takes us to see the laser show. Do you sell this as well?
No, our river cruise tickets don't cover the laser show. However, it's better to watch the show at the promenade of Marina Bay Sands. It's free. The details as follows:
The laser show is actually a free light and water show presented by Marina Bay Sands daily at 8pm and 9pm. Additional show at 10pm for Fri and Sat. Find out more information of the show here.  It's better to watch the show at the Promenade than on the boat as it lasts for 15 minutes.
4. Regarding River Cruise, Where do we board the cruise and in the below picture, there are two routes(Yellow and Violet) http://www.rivercruise.com.sg/services.php?p=cruise. Does this ticket included these two routes and shall we board at mentioned places at the above link?
You can board the boat at any one of the jetties along the river bank. The most popular and convenient boarding point is Clarke Quay jetty as it's near to the Clarke Quay MRT station. The cruise used to have two routes, but now it's a standard of 30-40 minutes route. It departs every 15-20 minutes. 
5. Singapore river cruise would be with lunch or dinner?
No lunch or dinner provided, just 30-40 minutes cruise along Singapore river. 
6.  Also will we be able to avail a dinner on the singapore river cruise .
No cruise provides dinner on boat. There are one or two boats parked near Clarke Quey jetty served as a restaurant. If you are looking for a good dinner along the river, I would suggest you to dine at Jumbo Seafood restaurant. You may read my review for Jumbo restaurant here.
7. Is the river cruise better or ducck tour ?? 
Duck tour is a unique experience which the vehicle (the duck) takes you on a 30-minute  land tour and later plunge into the river for another  30-minutes cruise around Marina Bay. Singapore river cruise gives you a very fantastic night view of Singapore in half an hour tour. Kids will enjoy both tours. If I have only a choice, l will choose the river cruise. 
8. I would like to do it in the evening when it is getting bit dark. Is it possible to book that slot?
The cruise timings are not fixed and you don't have to do any booking. It departs every 15-20 minutes.
D. Wings of Time
1. The wings of time, is for standard seat or premium seat?
Standard seat. 
2. And Wings of time is show in universal or it is separate place? Plz some details about wings of time as well..
The show venue is at Siloso beach. Pls visit the following link for details of wings of time.
E. Singapore Zoo and River Safari
1. Is the Zoo and Jurong bird park tickets come with tram?
Yes, tram rides are included. 
2. in zoo, only one of us want tram ride,others want to walk, so will i get some more cheaper option.
No more cheaper as the tickets come together with the tram ride. 
3. we would like to have breakfast with the Orang-utans.
You can opt for the breakfast with Orang Utan at the zoo by approaching directly to Ah Meng restaurant in the Zoo. Breakfast hours from 9am to10.30am, the breakfast costs S$33/adult and S$23/child. For details, call (65) 63608560 or you can ask the park's staffs when you are there.
4. Does the ticket to river safari include the amazon river quest boat ride?
Yes, it's included.  
5. Thanks for the reply....I would like to confirm......at the River Safari.....I noticed that there are 2 type of boat ride which are the River Safari Cruise and the other one is Amazon River Quest........are these 2 ride included under the package. 
River safari admission tickets include Amazon River Quest boat ride but not River Safari Cruise. The cruise ticket can be bought on site for $5/adult and $3/child. 
6. Another question is that is there any restriction for child under 4 years old or height restriction to go for the boat ride at the River Safari? 
No restriction for the cruise ride, but minimum of 1.06m height for child to ride the Amazon River Quest boat ride. 
7. Also please let us know whether we have to book boat ride timing at their booking office in advance for River Safari.
Yes, once you arrive at River Safari, pls proceed to the ticketing counter to book a timing for your boat ride. You just need to show the counter staff your River Safari tickets. 
F. Luge and Skyride
1. How many rides of Luge and Skyride included  in your adult ticket?
One ride for the luge and one ride for the skyride. 
2. Can you please update me regarding Sentosa Luge and Skyride. Is it includes: 1 luge and 1 skyride for each adult or 3 luge and 3 skyride for each adult or 5 luge and 5 skyride for each adult? Luge has two different paths to cover and i want to go through both...
They are of different prices for different rides. Our tickets only allow 1 luge and 1 skyride. For the other types, pls buy them on site at the ticketing office. 
3. I was just concern would it be too late to have luge and skyride at 7-8pm?
No, this attraction is a must do for my two kids whenever we visit sentosa. It closes at 9pm and it was a relax ride that the kids won't be tired to ride on it.
G. SEA Aquarium
1. Does SEA aquarium ticket includes Typhoon theatre also? 
No. For any inquiry, pls call +65 6577888.
2. For SEA Aquarium, can you include the tickets to Typhoon Theatre as well?
We don't sell Typhoon Theatre tickets, you could buy on site at SEA Aquarium, it's about S$5 per adult. 
3. What all is covered under Sea Aquarium ticket?
Pls click here to find out what you could see or do in SEA Aquarium.  
H. Gardens by the Bay
1. The tickets for the gardens by the bay are both for flower dome and cloud forest, right? do you offer discounts for senior citizen? as i am accompanying my grandmother who is 82 years old.
Gardens by the Bay offer senior tickets to local residents only. Yes, the tickets include both flower dome and cloud forest entrance tickets.
2. Is it possible to get tickets to Gardens by the Bay which includes Cloud Forest entrance tickets only? If its not possible, what would be the quotation excluding this as well?
We only sell tickets for both the two domes, not separately. If you don't want to go to these two domes, you don't have to buy any tickets. The outdoor gardens are of free admission.
3. Do you offer tickets to OCBC skyway in gardens by the bay? If so, can you add that to our package and give us the price?
No, we don't sell this tickets. 
4. Does the Gardens by the Bay ticket include OCBC skyway?
No, you can buy the ticket on site at the Supertree Grove for S$5 per person. 
I. 4D Adventure Land
1. Regarding 4D adventure what does "3 choose 1" mean? does it mean i can only choose 1 among the 3?
It means choose 1 out of the following three rides:
a. Journey 2: The Mysterious Island (The 4D experience)
b. Extreme Log Ride (The 4D simulation ride)
c. Desperados (The Interactive 4D shoot-out game).
2. Is it possible to cover all three in 4-D Adventure land?
Yes, you could buy the unlimited entry tickets instead of 3 choose 1. The unlimited ones allow you to do all the three, not just one time but unlimited times.
3. The 4D Adventure Land ticket, is it only for 1 ride each?  As we would like to do 3 rides please.
Yes only 1 rides out of the three. You can get the unlimited rides which means you can do more than 1 rides for all the three. 
J. HIPPO City Sightseeing Tour
1. What will be validity of Hippo hop on hop off ticket - 24 or 48 hrs?
It's for 24 hours start from the time you start using it. For example, if you starts using it at 2pm today it will end at 2pm tomorrow.
2. By the way what are the flow for the HIPPO City sightseeing tour, like where we will start and finish? 
First, find out from the bus schedule map to locate a bus stop which is nearer to your hotel. Wait at the bus stop and flag down a city sightseeing double decker bus when it is approaching you.
Additional Information
a. Bus Route
The Hippo bus offers two routes to all ticket holders, which are Red Heritage Route and Yellow City Route. You are allow to take any one of the two routes. There are 18 to 25 stops for each route. You are free to board or alight at any one of these stops. The buses come and go at an interval of 15 to 25 minutes depending on which routes you are taking.
b. Bus Maps and Schedules
Find out more on: The two routes map here  , The bus schedule here.
c. HIPPO City Sightseeing Tour Operating Hours
8.30am to 6.30pm
3. Can you let me know how long will the HIPPO tour last?
The Hippo tour is a self guided hop on and hop off bus service. You can get on and get off at any one of the bus stop. There are few routes you can choose from. If you take one of the routes at the 1st stop and get off at the last stop ( same stop as the 1st stop), it will take about 1 hours. 
K. Madame Tussaud and Images of Singapore Live
1. Is Madame Tussaud tour worth it? because if not we would prefer to go to the night safari - how long does this take?
Madam Tussaud ticket is a two attractions for the price of one ticket, which include the ticket for Images of Singapore Live. Images of Singapore Live is worth visiting if you would like to know more about Singapore history, its multicultural and multiracial society presented in an interactive way. More on Madam Tussaud here.
2. Does the Madame Tussauds ticket include the boat ride for Images of Singapore Live?
Yes, it includes the boat ride.
L. Ducktour
1. At which location we will be boarding the Duck Tour ?
You will report to the Tourist & Transit Hub located at 30 Raffles Avenue, #01-05 (it's where the Singapore Flyer is located). Once reported, the staff will bring the whole group to board the 'duck'. 
2. Can you let me know how long will the Ducktour last?
The journey on the land takes about half an hour and another half an hour on the river, so it's about an hour time.
II. Faqs on Free Attractions
1. Wonder Full laser show at Marina Bay Sands, would like to know the best time and location to witness light and water show(s).
The laser show is actually a free light and water show presented by Marina Bay Sands daily at 8pm and 9pm. Additional show at 10pm on Fri and Sat. 
Find out details of the light and water show at the Promenade (Waterfront event plaza) of Marina Bay Sands here. It's better to watch the show at the Promenade, it lasts for about 15 minutes.
2.  OCBC Garden Rhapsody at Gardens by the Bay
Click the following link OCBC Garden Rhapsody  to find out more on this free show.
3.  Crane Dance at Resorts World Sentosa
Click the following link Crane Dance to find out more on this free show.
4. Merlion Park
Can you please advice, what's the difference between Merilon Park and The Merlin Tower in Sentosa?
Merlion Park is a small park where the iconic Merlion is located. No ticket needed. The Merlion located in Sentosa is a much bigger version of the original one. You need to buy ticket for access to the top to get a panoramic view of sentosa. 
III. Faqs on Our Deal
A. How to order
Visit the following link Singapore attractions tickets, scroll down to bottom of the page and fill up the Singapore Attractions Tickets Deal Enquiry Form with your trip details. We will then reply you with a quotation of your requested attractions tickets within 24 hours.
B. Deal's Amendments
1. Can we cancel or add any of the attraction after we submit the form?
Yes, you can. Once you received our email (with your requested quotation), you can then reply to this email the changes you wish to make by adding or removing any attractions.
2.  If I am interested in  some additional attractions, can I buy  them from you while I am in Singapore? once I get to know the  pace of our sightseeing? I don't want to buy  them at present..
Yes, you can email us any time to make your order. 
3. After initial confirmation can I cancel any attraction tickets without any penalty.
Yes, you can without any penalty. However, pls inform us as soon as possible if you intend to amend or cancel the deal. 
4. To confirm, we just need to email you three days before our visit?
You should confirm your order as soon as possible as we need time to process your order. 
C. Ticket's Price
1. I would like to buy these tickets.May I know, Is this the final price (305 SGD)? Can you give me a best price?
Our tickets are fixed price, we give all our visitors the best and same price. 
2. Also request you to consider further reducing the price as you know that I'm trying to cover almost all the attractions. I promise to recommend many of my friends here to you .
Our tickets were priced very competitively, we offer all our visitors the very best and same prices. We only make very little on service fees. 
3.can u email separate prices of your deal for those attractions stated above.?
Sorry that we can't provide you with individual attraction ticket prices as our ticket's partner only provided us with package prices. 
4. Both my parents are above 60. So do they get discount for other attractions as well?
Only the following attractions have special discounted tickets for senior aged 60 and above: SEA Aquarium, Universal Studios Singapore(USS), TrickEye Museum, Adventure Cove Waterpark. Pls be reminded that you have to buy the discounted tickets online at www.rwsentosa.com . 
5. Can you offer any better discounts on the passes please...??
We give the best and same price to all our visitors. Rest assure you are getting very good discounts for these tickets. 
6. I would appreciate if you could list down the charges per person per attraction. 
Sorry that we can't breakdown on individual attraction price as our ticket's partner only 
provided us with package prices. 
7. Request you to help work out some discount on the offer of S$ 1500 for the 6 days package.  
I wish I could have given you more discount, but we really give our best price. We offer the same good price to all our visitors. I think you will appreciate the time I save for you more than the discounts. 
D. Ticket's reliability
1. How can I be sure that the tickets which I'm buying is not fake. I did see the FAQ. Still I have a doubt. Can u please brief. 
I ask that you take a look at the testimonials provided by our customers here , they are all happy customers willing to testify that our tickets are genuine. We won't be able to do lasting business if we are cheating. You also have Mr Ng hand phone number and photo, will we provide you these if we are running monkey business. 
2. Is there any guarantee that these tickets can be utilized at the attractions means what if at attractions they refused to entertain these tickets. Are these tickets from authorized agents of these attractions?
All our tickets are issued from the authorised agents, no worry. We have been in business for more than few years, so far have not encountered any complaints from our customers. Pls visit the following link to see our customers' testimonials. 
3. How you support if the ticket is having any problem at the entry at the attraction. 
All our tickets are issued by the respective attraction ticket office, we have not face any problems for the past few years. Rest assured we are doing legal business in Singapore. As you know, Singapore laws are very strict and Singapore Tourism Board takes it very seriously for tourist's complains. We can't cheat tourists many times, one illegal act and we will be put under criminal investigation. 
E. Collection of Tickets
1. How do I coordinate with you for picking ticket at Chinatown station?
You will give my partner Mr Ng a call (hand phone number will be provided in the email) once you arrive in Singapore and he will fix an appointment to meet up with you to pass you the tickets and collect payment from you. He will be meeting you in Chinatown MRT station anytime between 10am to 7pm (except Sunday as we are closed), just give him 10 minutes advance notice before you reach Chinatown station.
2. Your office hours are 10am to 7pm? Is it possible to collect earlier hours, like 7-8am. So that we can save some time. 
Sorry that the earliest time you can collect your tickets is 10am. We don't have manpower to extend our operating hours.
3. Actually we arrive in Singapore very late on saturday (940pm) and we have sunday morning free , is it really not possible to collect on sunday?
We can make special arrangement for you, so let us know the time you will be coming to collect your tickets. 
F. Payment
1. Do you accept credit card. How do I make the payment?
No, by cash only in Singapore dollars. You make payment when you come to Chinatown MRT station to collect your tickets.  
2. Can I make a payment through card from India only so I can collect the tickets directly when I meet Mr Ng ..?? 
Sorry that we only accept cash payment in Singapore dollars.
3. What happens if I change the plan ? I will have to pay any cancellation.
No, not a single cents. However we appreciate your kindness if you could let us know as soon as possible if you decided to postpone or cancel your deal. 
G. Other ticket's matters
1. Are these tickets fixed on date basis or I am open to visit these in any order. Are these tickets binded to dates. Also let me know, is there any expiry date for the tickets. We will be coming only on 4th of May to Singapore. So based on that let me know when i should come and collect the tickets.
All our tickets are open dated which means you can use them on any dates. These tickets are good for more than a month, some as long as 6 months. 
2. My concern is the ticket is also can use for local resident or not?
For both, local residents and visitors (or tourists).
3. I have heard that the tickets are different for locals and tourists. Will we have to show our ID at any of these places? Is it a problem?
All our tickets are standard tickets, applicable to locals and tourists. No need to show ID. 
4. And you have asked us to pick your own attractions. What does this mean? How many should I be picking? And does it involve additional cost.
You may choose your attractions from the Day 1 to 5 package deals or any one or more days, it's totally up to you. You may also just choose one or more attractions in the 'Pick your own attractions ( total 17 attractions)'. All and all, as long as there are minimum of three attractions in your deal, we can proceed with the deal. For example, you may choose Day 1 and pick one or more attractions (but not Universal Studios, Two Ways Cable Car or 4D Adventure Land as they already included in Day 1) from the 'Pick your own attractions'.
5. Do we still need to redeem the 3 attraction tickets at the parks' ticket counter or we can direct enter the parks by showing the ticket?
No, you don't have to redeem any more tickets. All our tickets are physical tickets not e-tickets. The only exception is Wings of Time e-ticket, which requires you to exchange for a physical ticket at any ticket's booths located in Sentosa Island.
6. What do we receive once we pay you? Is it tickets or a print out that needs to be exchanges for a ticket at each venue?
You will get physical tickets which get you directly into the entrance of all attractions. The only exception is Wings of Time, which is a printout e-ticket. You will have to exchange for a physical ticket at one of the ticket booths located in Sentosa Island.
7. you mentioned the ticket valid for one to three months, so the tickets can be used to enter the attractions in any date during our visit to singapore?
Yes, you are right. 
8. Any name stated on the ticket ? 
No, our tickets are the same as those you were bought over the ticketing counters. 
9. also suppose i did not visit a place can you collect the pass back and refund the amount.
No, once the tickets are issued we can't collect back. 
IV. Faqs on Any Other Matters
1. Can you arrange for multiple use 8 days transportation pass,which includes bus,MRT,LRT?
You can purchase a Singapore Tourist Pass at one of the MRT stations. This pass allows you to travel on bus, MRT and LRT. Pls visit the following link Singapore tourist pass  for details. 
2. Can you arrange a Singapore SIM CARD for my hand phone with some min top up cards with the same person...?)
You can get this card easily at our local mobile shops M1, Singtel or StarHub. These shops can be found everywhere near your hotel, shopping malls, roadside retail shops. Just ask for prepaid SIM card, they rang from S$15-50. 
3. Also, I would like to ask if it is easy to buy a Singapore pre-paid sim card to be used during my 4-day stay. 
The following are the two popular prepaid SIM cards for tourists:
I. Singtel hi!Tourist SIM
Please click here for details of this card.
ii. StarHub Happy Travel Sim
Please click here for details of this card.
4. do you deal with Batam island 1 day tour with sandy or other ferry. If yes, can you please quote the price for that too...
No, we only deal with Singapore attraction tickets. 
5. How do we spend night are there any cheap hotels very near to airport or does Singapore airport has a lounge where we can rest. 
i. Transit hotels
Visit the following link for information of transit hotels in Changi airport. 
ii. Pay-per-use Lounges
Visit the following link for information of transit lounges in Changi airport. 
6. any suggested night life activities for couples.....clubs, bars etc and timings...
Clarke Quay is an ideal night spot for couples, it has many clubs, bars, pubs and night entertainment. Find out more about Clarke Quay. If you would like to dance the night away, St James Power Station is a good choice. More on St James Power Station . 
7. Below are few of the cruise lines which you can find in Singapore:
i. Find out all the available cruise lines from Singapore here.
ii. Star Cruises
Find out what are the available cruises from Star Cruise using its cruise calendars here. 
iii. Royal Caribbean 
Find out what are the available cruises from Royal Caribbean here.
iv. Costa Cruises 
Find out what are the available cruises from Costa Cruises using its cruise calendars here.
v. Princess Cruise
Find out what are the available cruises from Princess Cruise which has 3-10 days round trip cruise from Singapore here.  
Singapore Vacation Deals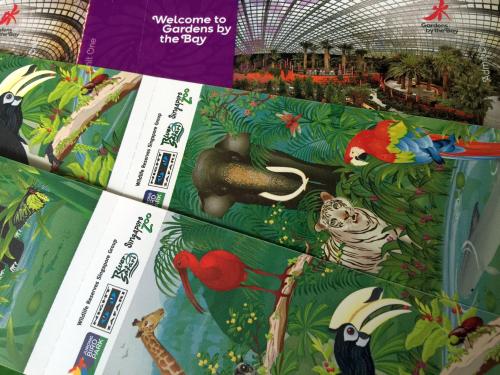 Singapore Attractions Tickets Deal
Return from Tickets Deal Faqs to Singapore Attractions Tickets page