The Singapore Sling
A World-Acclaimed Drink Enjoyed by All
A Brief History of The Sling
The Singapore Sling is an alcoholic beverage with roots dating back to the early 1900s. Unlike the countless other cocktails we often hear of, it has a history that still remains a mystery to most of us. Never-ending questions still surround the process that led to this heavenly-creation.
However, it is well-documented and agreed on that the ingenious recipe for this popular cocktail was concocted in 1915 by Mr Ngiam Tong Boon, a Hainanese-Chinese bartender who was once working at the Long Bar in Singapore's Raffles Hotel.
The Singapore Sling(04:50)
Fans of this cocktail drink would agree with me, that the various flavours whipped into this world-acclaimed beverage, complement each other so perfectly that anyone who tries it for the first time is bound to yearn for more. In fact, one sip is all it takes for you to be calling out, 'Singapore Sling!' the next time you step foot into a bar.
Putting aside its impressionable taste, it is also one that lives up to all the hype revolving around its stylish presentation. The combination of its bright pink overalls and its smooth foamy-top, brands this drink as one that cannot be mistaken for.
Singapore Sling Recipe and Pricing
Along the years however, the recipe has morphed significantly, and it is now an impossibility to find a Singapore Sling quite similar to that of the original. It has in fact been rumored that the original recipe was lost during the 20th century. Left without a choice, Ngiam Tong Boon's nephew modified and formulated a new recipe in the 1970s, giving us the Sling which we now commonly find at any cocktail bar.
Served straight up, this cocktail drink is a tasteful mixture of Gin, Brandy, Cointreau, Benedictine Dom, Grenadine, pineapple juice, freshly squeezed lime juice, with a dash of Angostura bitters, and topped with the standard garnish of a Maraschino cherries and a slice of pineapple - all the refreshing goodness for an average pricing of about S$29 at the Long Bar.
The Original Recipe from Raffles Hotel Long Bar
| | |
| --- | --- |
| Ingredients | Qty |
| Gin | 30 ml |
| Heering Cherry Liqueur | 15 ml |
| Pineapple Juice | 120 ml |
| Lime Juice | 15 ml |
| Cointreau | 7.5 ml |
| Dom Benedictine | 7.5 ml |
| Grenadine | 10 ml |
| A Dash of Angostura Bitters | |
| Garnish with a slice of Pineapple and Cherry | |
Which is the Best Singapore Sling?
Sad to say that there isn't any Singapore Sling in town tastes as good as the original Sling. Even the one at Long Bar was describe by a visitor recently as "over-sweetened cough medicine" and somehow it's the priciest sling in town.
Mr Albert Yam, a bartender and the great-grand nephew of the Sling creator Ngiam Tong Boon, was invited by local newspaper Straits Times to conduct a taste test on the Sling for few of the cocktail bars in town. The article was published on 9 May 2022 and his comments were as follow:
Comment: Closest match
Bar: Ta.Ke
Where: Studio M Hotel, 3 Nanson Road, Tel: 68088888
Price: S$21.20
Comment: Looks the part
Bar: Loof
Where: Odeon Towers, Tel: 63388035
Price: S$20
Comment: Lacks flavour
Bar: Singapore Sling Boutique Bar
Where: Clarke Quay, The Foundry, Tel: 62232282
Price: S$20.10
Comment: A tad bitter
Bar: No. 5
Where: 5 Emerald Hill Road, Tel: 67320818
Price: S$14
Comment: Decent enough
Bar: Introbar
Where: Swissotel The Stamford, 2 Stamford Road, Tel: 63388585
Price: S$11.77(happy hour price from 3 to 9pm)
Comment: Not quite right
Bar: Alley Bar
Where: 2 Emerald Hill Road, Tel: 67388818
Price: S$12.23
Comment: Long way off
Bar: Long Bar
Where: Raffles Hotel, 1 Beach Road, Tel: 63371886
Price: S$29.45
Recommended Alternative Drinks
So, the hefty price may not exactly be worth-it for a drink but this cocktail surely acts as a metaphorical beverage that defines our multi-cultural and multi-racial Singapore. The mixture of ingredients gone into it is similar to the diversified Indian, Malay, Chinese and Eurasian cultures coming together to form a unique Singapore.
And if that's not a good enough reason for you to try out the Singapore Sling, there are other cheaper alternatives that are equally true to Singapore's culinary culture. Ask any Singaporean and you'll inevitably hear the same names ?Sugarcane, Fresh Coconut Juice, Chin Chow and Soy Bean Milk ?enthusiastically recommended as a must-try!
A Highly Recommended Drink: Fresh Coconut Juice(01:09)
So, what are you waiting for? Simply head down to any hawker centre or food court in Singapore and you are bound to find these highly-popular beverages, ready to give you an all-new refreshing treat!
Other Top 10 Things to Do in Singapore
Singapore Flyer
Singapore River Cruise
Chilli Crabs
National Museum of Singapore
Asian Civilisations Museum
Hawker Food
Wet Market
Explore Cultural Singapore
Images of Singapore

Return to Top 10 Things to Do in Singapore page
Return from Singapore Sling to Home page
Singapore Vacation Deals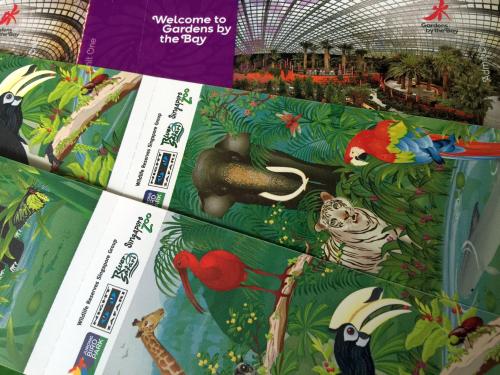 Singapore Attractions Tickets Deal