Asian Civilisations Museum

Immerse in the Traditions and Cultures of Asia


The Asian Civilisations Museum is probably one of the more prominent museums in Singapore. If you are one who embraces the subjects of race, language, religion and everything cultural, this is just the place for you!
The Asian Civilizations Museum takes on an encyclopedic approach to resurrect history back to life. You will love this place for its compelling vividness - so intriguing and breath-taking!
A Brief History of Asian Civilization Museum
The Asian Civilization Museum was designed and conceptualized back in the mid 1860's, and later built at a cost of ?3,000. It began occupying a humble space of an equivalent to the Southeast Asia and West galleries - only two of the current eight galleries housed within the museum. The Government Offices was built big enough to accommodate the entire colonial bureaucracy - you'd find the offices of the Colonial Secretary, Legislative Chamber and Surveyor General, all located there.
In the honor of Queen Victoria, the building was re-named to the Empress Place Building. Even after Singapore's independence, the Government departments remained occupants, making the building remembered for the Citizen's Registry, Immigration Department, and the Registry of Births, Deaths and Marriages.
In the 1990's, the building was used to host a series of exhibitions from China. This led to the discussion of the building's potential for future use as a museum, making the Asian Civilisations Museum what it is today.
The Galleries of Asian Civilisations Museum
The Singapore River Gallery of the Asian Civilisations Museum is built to live up to its name. The open-glass window allows you to peer through with a view across the Singapore River, upon the scene of Singapore's busy financial district.
History behind the Singapore River started to take form since the 14th century, making it known as the epicenter for trading across world. Archaeologists have in fact dredged out evidence of trade activity, such as ancient Chinese ceramics and Majapahit style figurines.
Three Southeast Asia Galleries take lodging in the
Asian Civilizations Museum, covering a span of 2,500 years worth of historical cultures including the Hmong from Northern Thailand and the Javanese of Indonesia.
A tour round the main gallery will take you to the highlight - a queer yet intriguing Pejeng style drum. Move along and you see other traditionally made jewelry and textiles in the Mary and Philbert Chin Gallery. That's not all. One floor up in Gallery 4a is a performing arts showcase featuring a Javanese orchestra surrounded by masks and puppets, with dancers and musicians to add life to the presentation.
The West Asia/ Islamic Gallery explores religion in detail. Here, you will see the convictions and the devotion of Islam to their one god ?Allah. Bedecked with the Qur'an stands, inlaid with tortoise-shell and mother-of-pearl, this particular gallery is structured to face towards Mecca, a direction Muslims face during prayer. The extension of this gallery, boasts of the achievements of Islamic scholars in the subjects of astronomy, medicine, mathematics and chemistry.
Next up is The Kwek Hong Png China Gallery, which chronicles the social history of Chinese culture, displaying a collection of nostalgia-inducing classics such as paintings, calligraphy, ceramics sought from remote expeditions and 'blanc de chine' porcelain from the Ming and Qing dynasties.
Lastly, The South Asia Galleries are structured focusing on religion, science and the performing arts. The main gallery prides itself on its selection of coins, jewelry and terracotta, plus a treasure-trove of performing arts displays.
Asian Civilisations Museum Ticket Prices and Opening Hours
Opening Hours
Mon: 1pm to 7pm ; Tue to Sun: 9am to 7pm (extended to 9pm on Friday)
Ticket Prices
Adult ticket S$5, Concession ticket S$2.50 (full-time students and those 60 years and above), free admission to children 6 years and below.
Free guided tours for public are available daily (except on public holidays and open house days, call (65) 6332 7798 for details.
Getting There: How to Get to Asian Civilisations Museum?
The easiest way to get to the museum is by taking a MRT train and alight at Raffles Place Station. From there it's just few minutes walk to the museum. Get detail Direction from Raffles Place Station to Asian Civilisatons Museum if you need additional help to the museum.
How to get to Raffles Place MRT Station
From Orchard Road to the Museum
Take a North-South Line MRT train at Orchard, Somerset or Dhoby Ghaut Stations towards Marina Bay and alight at Raffles Place station.
From Chinatown to the Museum
Take a North-East Line MRT train at Chinatown Station towards HarbourFront Station and alight one stop later at Outram Park station. Transfer to a East-West Line towards Pasir Ris Station. Alight two stops later at Raffles Place Station.
From Kampong Glam to the Museum
Take a East-West Line MRT train at Bugis Station towards Joo Koon Station and alight two stops later at Raffles Place Station.
From Little India to the Museum
Take a North-eAst Line MRT train at Little India Station towards HarbourFront Station and alight one stop later at Dhoby Ghaut Station. Transfer to a North-South Line towards Marina Bay Station and alight two stops later at Raffles Place Station.
With so much to learn from, the Asian Civilisations Museum is without a doubt, an educational endeavor!
Hotels Near Asian Civilisations Museum
Highly Recommended Hotels in Colonial District
Budget Hotels in Colonial District
Mid-Range Hotels in Colonial District
Luxury Hotels in Colonial District
Family Hotels in Colonial District
Other Top 10 Things to Do in Singapore
Singapore Flyer
Singapore River Cruise
Chilli Crabs
National Museum of Singapore
Hawker Food
Wet Market
Singapore Sling
Explore Cultural Singapore
Images of Singapore
Singapore Vacation Deals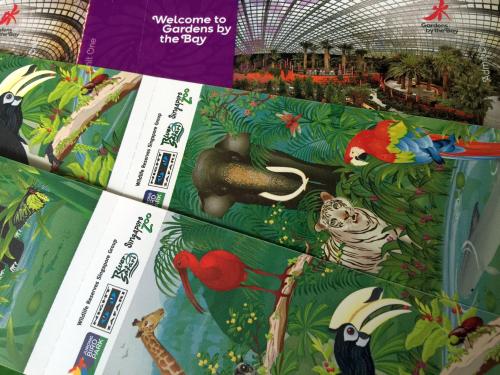 Singapore Attractions Tickets Deal

Return to Top 10 Things to Do in Singapore page
Return to Colonial Building page