Shopping in Singapore
Where, When and What to Shop in Singapore
Shopping in Singapore is a shared passion among the locals in this country. Comparable to eating, shopping is unanimously Singaporeans favourite pastime. While some call Singapore a food paradise, others call it a shoppers' dream come true, making this country one of the top shopping destinations in Asia.
For those familiar with Singapore shopping culture, you would have seen the constant sprouting of new shopping malls and the revamping of old ones. Choices range from the glitz and glamour shopping malls in Orchards to the humble charm of shophouses in the cultural and Ethnic Neighbourhoods of Singapore.
Singaporeans are fanatic when it comes to shopping. Walk the streets of our shopping districts and you are bound to see the locals outnumber the tourists at anytime. No matter the time or day, rain or shine, you will find Singaporeans enthusiastically walking down town with bags, bags, and more bags!
What's so attractive?
Why is shopping in Singapore so great? The shopping hype may be one of the main reasons why many tourists find Singapore so attractive, but there are several other factors that make Singapore an ideal destination to get your money's worth.
Singapore may not offer the cheapest goods as compare to the nearby countries like Thailand, Malaysia or Hong Kong. But if you are looking for electronic goods like camera, mobile phone or laptop, you will find here numerous models and the latest models to choose from. Other items like jewellery, watches or branded goods, visitors have a peace of mind to know that they will get the genuine and authentic goods.
Besides, getting your retail therapy in Singapore can assure you of quality merchandise and services rendered. With the stringent government laws put in place, retailers are constantly reminded to ensure that customer satisfaction is well taken care of.
Where to Shop?
Where should you do your shopping in Singapore? To shopping aficionados, Singapore has proven to be one of Asia's most sophisticated shopping destinations. Every nook and corner of this modern city will most likely have something to feed the shopaholic in you.
With our recommended list of Singapore shopping malls for you to check out, your shopping in Singapore will be a easy and fruitful ones. There's just no better place to kick start any shopping spree other than the world famous stretch- vaunted and flaunted Orchard Road, which boasts of its never-ending line-up of high-rise shopping malls, filling the entire street with an ambience of life and vibrancy.
There are of course, the more prominent shopping districts in Singapore that cater primarily to the purpose of shopping. Aside from the shopping belt of Orchard Road, major Singapore shopping areas like Marina Bay, Bugis, riverside and cultural hot spots like Kampong Glam, Little India and Chinatown are the popular places in Singapore where many locals and tourists go to get their dose of shopping.
Within each and every single one of these shopping venues are even more shopping malls and countless stores; and believe it or not, Singapore is indeed, without a doubt, as much of a shopper's paradise as it claims to be. With so many places to go to, so many shopping malls to check out and so much to buy, we can assure you that you'll be kept busy all through the day.
When to Shop?
When is the best time to have your shopping in Singapore? When it comes to Singapore, shopping is an activity that continues all year round. However, if you are looking to stretch that dollar, the Great Singapore Sale is one national event many look forward to every year. This annual event is celebrated with shops marking down prices periodically, offering discounts and sales you won't usually find at any other time of the year. You can catch the bargains during this shopping season from late May to early July.
Don't worry even if you miss the Great Singapore Sale, post Christmas and the New Year's are also hot for promotional offers and great savings. Being a shopping state it is, Singapore has sales, promotions and discounts advertised all over the newspapers every single day. Get a copy of the daily papers for a great shopping guide to direct you to the best deals in town.
What to Shop For?
What should you buy when you do your shopping in Singapore? Singapore's shopping arena has everything from designer brands to locally made goods. With the title of being one of the top shopping destinations in Asia, what you see is what you get. To make the most of your shopping trip in Singapore, all you need is the right set of information to guide you along the way.
Search no further as we let you in on the best places in Singapore to find what you are looking for. Computers & Electonics, Cameras & Accessories run in such abundance that you will find specialty malls designated solely to that.
Then there are stores selling nothing but jewellery and watches of all kinds; stores stocked up with carpets, textiles and all sorts of fabrics and shopping malls that are filled to the brim with fashion clothing, shoes and bags.
Not forgetting bookshops with the latest reads and bestsellers; plus countless shophouses around ethnic neighbourhoods like Chinatown, Kampong Glam and Little India selling gifts & souvenirs, music CDs and a whole lot more not to be missed!
Ready to Shop?
You can see now, there are limitless possibilities when it comes to shopping in Singapore. There are Budget Shopping Malls for frugal shoppers, Popular Shopping Malls designed to suit the general shopper in all of us, and even Luxury Shopping Malls that are built specially for the rich, classy and elite. So, wait no more! Grab your bag, put on your shopping shoes and shop away!
Where to Stay in Singapore
Hotels in Marina Bay
Hotels in Sentosa Island
Hotels in Chinatown
Hotels in Little India
Hotels along Singapore River
Hotels in Orchard Road
Hotels in Bugis
Hotels in Colonial District
Best of Singapore Tourist Attractions
Top 10 Singapore Attractions
Top 10 Singapore Night Attractions
Top 10 Things to Do in Singapore
Universal Studios Singapore

Return from Shopping in Singapore to Home page

Singapore Vacation Deals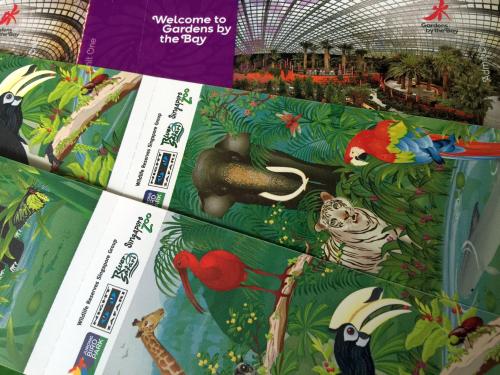 Singapore Attractions Tickets Deal