The Charms of Little India Street
Find out Where to Eat, Shop and Stay in Little India
A Tour to the Heart of Little India
This Little India street tour will bring you to see and encounter a lot of new and interesting things around the streets of Little India. For those who would like to know more about the ways of life and culture of Indian, one of the good ways is to talk to the people at and around the corner of the streets. You would find out sooner that the Indians here are very friendly and easygoing. Most of them will be enjoying talking to you and don't afraid to ask them to take a photo with you.
I was having a drink at this coffee shop, located at one of the HDB (Housing Development Board) apartment block next to the Tekka Centre, when this gentleman politely sat opposite my table. I was amazed how he used his fingers skillfully to eat the food. Take note of the plain water that was provided by the stall free of charge. It's really a generous and good thought of our Indian folks.
Little India Street Map
Click to open in a new window of this Little India Street Map. Use it to search for the specific street while browsing the content of this page.
Explore Little India Streets
Buffalo Road
This road is lined with shophouses that sell spices, flowers, garland, groceries and any kind of vegetables that you can think of. Indians from other parts of Singapore come here to do their marketing.
The shop keeper, on the below right photo, can read my mind. He posed for me the moment I bring up my camera.
This old lady was so kind to tell me the various name of the flowers that were used to make the garlands. As I mentioned earlier, the people in little india are generally friendly and easy to talk to.
Kerbau Road
The Chinese villa shown below was built by Tan Teng Niah for his wife in 1900. He was a prominent Chinese businessman owning few factories along Serangoon Raod. Take your time to admire its colourful and impressive architecture.
Indian Restaurants along Race Course Road
You can find at least five indian vegetarian restaurants along this road. Unless you don't take spicy food, there's no other places than in this little india street to try some real 'hot' food, like Fish Head Curry in one of the indian restaurants. The famous Muthu's Curry was located at No. 138. Read Indian Restaurants Review along Race Course Road and pick your ideal restaurant before making a reservation.
Serangoon Road
Serangoon Road is a major and main road in Little India that stretches few kilometres long. Along this road are many minor roads that branches out from there. The photo below shown a view of Serangoon Road. The right photo, which I like it very much personally, was a street scene of Serangoon Road.
Curious to know what the future holds for you? Look out for this fortune teller located at the shopfront of No.76 Serangoon Road. Not far from here is the junction of Upper Dickson Road and Serangoon Road. You will come to this news stand at one corner of the junction. This friendly indian man has been there for a few decades.
Campbell Lane and Little India Arcade
Little India Arcade, which situated at the junction of Campbell Lane and Serangoon Road, is a conservation building which comprises rows of shophouses dating back to 1913. For those who are looking for any indian handicrafts, trinkets, ayurvedic herbs or garments, this is the place to shop around. During the festive season of Deepavali, a temperary festival village will be set up along Campbell Lane.
Stalls selling all kinds of indian stuff at the Deepavali Festival Village. The right photo shows a henna artist at work.
The shophouses along Campbell Lane sell a wider range of products. The shops are neat and things are nicely layout. You would definitely enjoy your shopping here if you like all-things-indian.
Located at the junction of Campbell Lane and Clive Street, these two buildings looks the same but unique. One was being converted into an indian restaurant and the other an indian handicraft and souvenir shop.
Hostels and Hotels along Dunlop Street
This Little India street was flanked by two rows of shophouses with a number of internet cafes, backpacker hostels and indian restaurants.
The North Indian outfit Salwar Kameez which consists of the Salwar or trousers and a Kameez, a long loose tunic, plus a long scarf, a dupatta.
There are many cheap and budget hotels along Dunlop Street, Madras Street, Perak Road and Dickson Road. Prices range from S$25 to S$100. Check out the highly recommended Hotels in Little India
Curious to try some indian food? It's easy to spot an indian restaurant along this street, as shown in the below right photo. Just point to any one of the photo in the light box if you are not sure of what to order.
Syed Alwi Road
Mustafa Centre which is located at No. 145 Syed Alwi Road, is one of the biggest 24-hours shopping mall in Singapore. If you happened to shop here, I would suggest that you stroll down the street to No. 63 to take a look at this row of ornately decorated shophouses.
For those who are keen on these Architecturally Interesting Shophouses, you may want to take a 10 minutes walk to Pertain Road to view another style of these houses.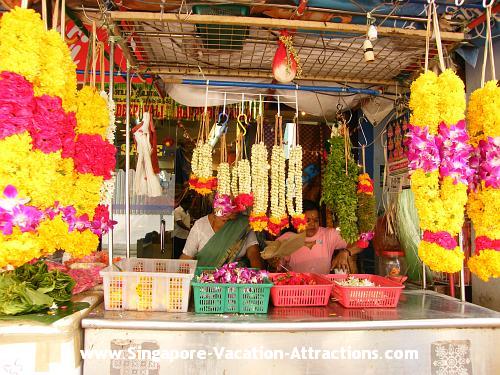 Go to Little India Street Photos page for more pictures


Other Little India Tourist Attractions
Visiting Little India Temple
Hotels in Little India

Return to Singapore Little India page
Singapore Vacation Deals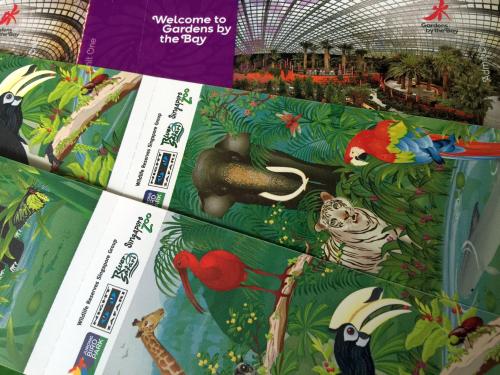 Singapore Attractions Tickets Deal