Top 10 Indian Food in Singapore
Try out both South and North Indian cuisine in hawker centres or upmarket restaurants located in some of the hotels.
The Indian food you find in Singapore can be classified as either Northern or Southern Indian. Over time however, many of the Indian dishes have been prepared to take on more localized flavour and to suit local taste buds. 
Food connoisseurs can swear by the fact that authentic local Indian food are painstakingly made with lots of spices and fresh ingredients, and require special cooking methods before reaching perfection. Ask any globe-trotting Singaporean who travels out of the country too often, and he will tell you that the following are some of the Singapore Indian food that are truly missed:
Roti Prata
Roti Prata, as popular as Chicken Rice among the Chinese, is a simple but truly satisfying Singapore Indian meal as a whole. This is an Indian styled pancake that is spread out thinly, folded and rolled out flat repeatedly to give it its fluffy texture with wafer-thin crisp layers. Best complemented with a dip into the accompanying curry, one try of this yummy Indian food will set you coming back for more. Don't just stop there, especially when prata chefs all over Singapore have gone on a creative juice spree and created a phenomenon of various Indian prata innovations like Tissue Prata, Prata Bomb, Prata with Ice Cream, Sugared Prata and a whole lot more! Let your imagination run wild but chances are, they've already beat you to it.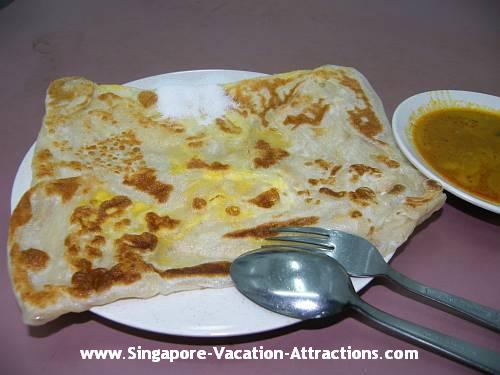 Roti Prata with Egg

Murtabak
Murtabak is a Singapore Indian dish that is contained using a thin fluffy pastry, with generous fillings of meats and vegetables. The pastry is first prepared and shallow-fried in a large heavy wok before being filled with ingredients and wrapped up like a parcel. It is usually already cut into small squares before being served to you. Over the years, this Singaporean Indian food has evolved and new innovations have sprung up with alternatives like cheese murtabak, onion murtabak and sardine murtabak.
Indian Muslim Food: Mutabak
Chapati
Chapati is a round flat dough pastry that is cooked on a flat griddle or skillet without the use of oil. The rolled out dough is placed onto the dry surface and cooked on both sides. Made of whole-wheat flour, this Northern Indian bread is eaten at meals as a staple along with dips like vegetarian dhal, minced mutton or chicken keema. The traditional Indian way of eating a chapati is to tear a small piece to scoop up the meat or vegetables or rolled into a cone to contain the liquid gravies before putting it into your mouth.
Naan
Naan is the Singapore Indian version of the pita bread, which is also leavened with yeast. It is cooked in a tandoor, very much similar to a clay oven, brushed with some butter or ghee and then served to customers. Some naans are filled with stuffing like keema - a mixture of lamb and mutton; peshawari - combination of nuts and raisins; and amritsari kulcha - mixture of mashed potatoes, onions and spices. If you like it plain and simple, order the original with the gravy toppings on the side.
Fish Head Curry
Fish Head Curry may be classified as an Indian menu item but has been and still is a firm Singapore favourite. We admit that it does sound gruesome but before you frown upon this Indian food, it is highly recommended that you try it out first. Made from a huge head of a red snapper, cooked in spicy curried gravy that is overwhelmed with tamarind, and completed with a myriad of vegetables like tomatoes, okra and eggplant. This uniquely Singaporean innovation draws its influences from traditional Indian spices with a mix of Chinese and Malay styles of cooking.
Thali
Thali is an Singapore Indian meal consisting of rice as the main, and a vegetable and gravy selection, which is typically dhal, chutney, and pickles. It is common to see Thali being served on a flat steel tray with up to five different segments to hold the various components to this dish. For those who are adventurous and love experiencing the Indian food culture, trying out Thali will leave you satisfied and most likely itching for more!
Thosai
Thosai is a soft, thin, crispy and flimsy South Indian food made of wheat flour crepe that comes curled up into a roll. Just like many of the other Indian breads, the thosai comes with different colourful Indian curry and gravy condiments of vegetables and meats. If you want something that is light on the stomach yet intensified with flavour, taste and variety, then thosai is the perfect one-stop solution for you. Also try other equally mouth-watering thosai innovations like egg thosai, paper thosai, ghee thosai and onion thosai.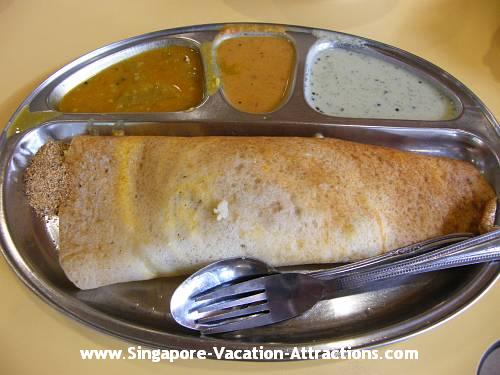 Masala Thosai

Biryani
Biryani prepared in its Indian authenticity is made using Basmati rice, which is cooked together with fragrant spices like cardamom, turmeric, cloves and cinnamon to give it a completely satisfying infusion of flavour and aroma. The rice comes accompanied at the side along with moist, tender and succulent stewed chicken or mutton and topped with a small portion of spicy and tangy achar pickles. The rich powerful blast of flavours from the gravy, meats, pickles and even the rice alone will certainly have you begging for more!
Sup Kambing
Sup Kambing, otherwise known as mutton soup, is simply delicious: rich in flavour, spice and bite. The mutton chunks in the soup are boiled till soft and tender, while the garnishing of fried shallots and cilantro leaves add an extra kick to the whole dish. The colour of the soup may not be the most appealing but the taste is surely very enticing. It is distinguished from the Chinese mutton soup by its soup colour which is slightly thicker in consistency. This Indian food usually goes with tendons or tulang (bone) and is always served together with French loaf bread.
Indian Rojak
Indian Rojak is the pairing of the words 'Indian' and 'Rojak', which is the Malay word translated to mixture. This popular local Indian food is a unique Singaporean creation which shouldn't be confused with the Chinese Rojak. The Indian Rojak consists of deep-fried foods like dough fritters, batter-coated prawns, potato cutlets, squid, tofu and fishcake. The highlight is the dip that comes along. It is a sweet delectable concoction of mashed sweet potatoes and chilli that is mixed to the perfect level of sweetness, spiciness and texture - fun, exciting, and deliciously good!
Indian Rojak
Singapore Vacation Deals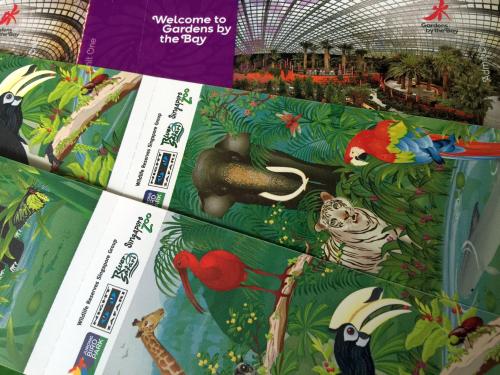 Singapore Attractions Tickets Deal