Top 10 Malay Food in Singapore
You can find cheap and yummy Malay food in hawker centres or fine dining restaurants specialised in Peranakan or Indonesian cuisines.
Singapore Malay food typically consist a lot of rice (usually enriched with rich coconut milk for extra flavour and fragrance), and comes with sauces and condiments like sambal chilli (finely pounded chilli with shrimp paste, onion and garlic). 
With popular Singapore favourites such as Otah Otah, Mee Siam, Laksa, Nasi Lemak, Mee Rebus, Satay, Tauhu Goreng, Curry Puff and Roti John, the Malay culinary culture is one that will keep your taste buds yearning for more. Malay eateries can be found not just along the streets in open-air coffee shops, but also in award-winning fine-dining establishments. Feast your eyes as I let you in on these yummy local Malay food!
Otah Otah
Otah Otah is a favourite Malay delicacy, traditionally made from marinated raw fish paste that is induced with chilli powder and other Malay spices, wrapped firmly in banana or coconut leaves, secured by toothpicks at each end, and finally grilled over smoky charcoal flames. Today, new variations have popped up all over Singapore. You can find plain white otah otah that are done without the spiciness of chilli or even prawn and crab meat versions of the original. But don't say I didn't warn you: the immediate sensation you will get upon unwrapping the traditionally made otah otah, will leave you food-struck and simply lost in translation!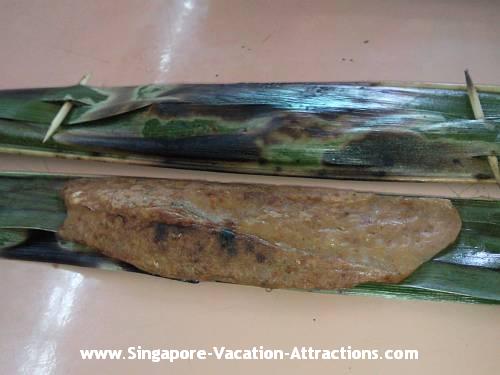 Otah Otah
Mee Siam
Mee Siam is generally a common Malay food made primarily of bee hoon (rice vermicelli), which is blanched and lightly fried before being drowned in a soupy, slightly spicy, sweet-sour gravy that is prepared using ingredients like tamarind to give it some tanginess , tau cheo (salted fermented bean paste), a tiny bit of sugar, dried shrimp, and stock. It is prettily presented with diced dried bean curd cubes, chives and slices of hard-boiled egg. While more on a lighter side, usually eaten during breakfast or lunch, Mee Siam still makes for a satisfying meal.
Mee Siam
Laksa
Laksa literally means "spicy sand", which is exactly what it is. The gravy in this rice noodle dish is traditionally prepared with a plethora of spicy Malay ingredients such as chilli, shallots, blue ginger and garlic, completed with belachan, dried shrimps, prawn stock, and thickened with rich coconut milk. It is then finished off with toppings of cockles, fishcake, fried taupok, prawns, bean sprouts and the ever-so-fragrant laksa leaves. A great bowl of laksa lies in the gravy with the perfect balance of spice, shrimp flavour and coconut milk. Though it's originally created by the Peranakan, also known as Straits Chinese, you will be surprised to see that this food is prepared and sold mainly by the Chinese here. If you call yourself a die-hard foodie, you'll surely enjoy this creation made in heaven!
Laksa
Nasi Lemak
Nasi Lemak is one rice dish like no other. Surprisingly to many, the stars of this Malay food are the rice and the sambal chilli paste. Rich and irresistible in taste and fragrance, the soft and fluffy nasi (rice) is evenly coated with the flavour combination of rich coconut milk, pandan leaves and a dash of salt. The aroma is so strong that it can linger for hours. A prepared plate of Nasi Lemak would typically include sides of fried egg, fried fish, otah otah, cucumber slices and sambal ikan bilis (fried anchovies in chilli and shrimp paste).
Mee Siam
Mee Rebus
Mee Rebus is luxurious all the way through. From thick yellow egg noodles, similar to that used in Chinese Fried Hokkien Mee, to thick and tasty gravy, which is made using potatoes, curry powder, tao cheo (salted soybeans), dried shrimps and peanuts. With a colourful array of garnishes: hard-boiled egg, bean sprouts, chives, fried shallots, chopped green chili, diced fried tofu, halved lime and a small dollop of sambal chilli paste, this Malay food is sure to satisfy any hungry tummy.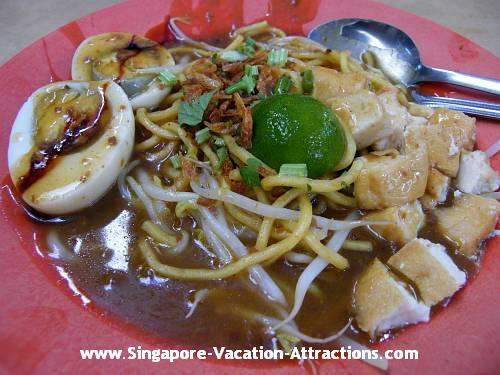 Mee Rebus
Lontong
Lontong is a Singaporean Malay dish of compressed, sliced and cubed steamed rice cakes (known as ketupat in malay) that can either served warm or at room temperature. It is drowned in luscious coconut vegetable gravy, otherwise known as Sayur Lodeh, consisting of namely cabbage, carrots and long beans. The flavours and scents of the curry powder, lemon grass and coconut milk are what rule this dish. Completed with hard-boiled egg, a dash of serunding (desiccated spiced coconut) and sambal, this Malay food is simply sedap (delicious)!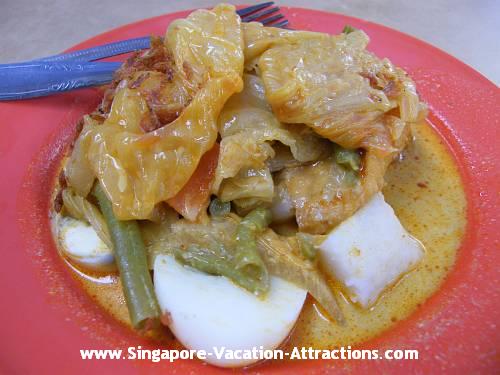 Lontong
Satay
Satay is similar to Kebabs. This well-loved Singaporean Malay street snack is made of bite-sized meat (chicken, beef, mutton), marinated in spices - mainly fennel, coriander and cumin, and skewered on thin bamboo sticks and placed over a hot charcoal-fired grill. The grilling of Satay gives off a lovely aroma that is sure to draw you like a magnet. If you are one that loves smoky, barbecued food, you will find this mouth-watering Malay food good!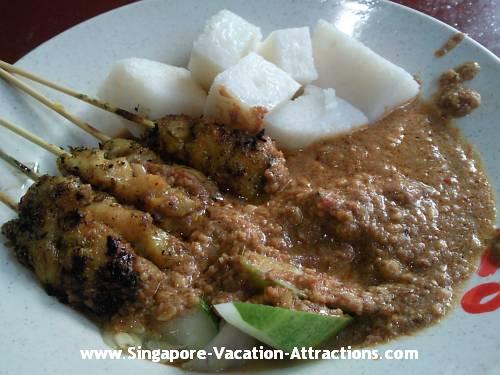 Satay
Tauhu Goreng
Tauhu Goreng is simply a thick slab of deep-fried bean curd, which is cut into four-quarters, generously doused with robust and rough textured peanut sauce, and topped with crunchy fresh bean sprouts and a handful of sliced cucumbers. What makes a good plate of tauhu goreng is the tauhu (bean curd) itself. It has to be firm to the touch, but gives this melt-in-your-mouth sensation when eaten. But of course, it is only complete with sauce that is thick in consistency while having the perfect balance of the four taste elements - sweetness, saltiness, spiciness, and a tinge of tanginess.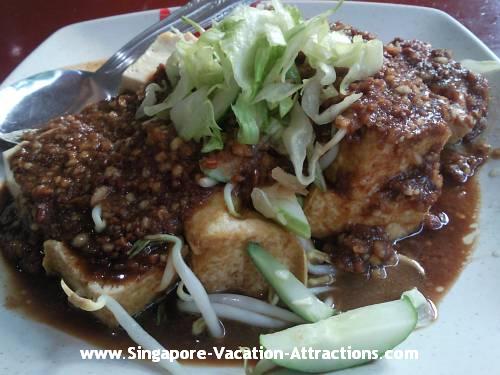 Tauhu Goreng
Curry Puffs
Curry Puffs are to the Malays what Samosas are to the Indians. Hidden within the wraps of a crispy rich buttery flour pastry is a warm, moist and fragrant filing of spicy curried chicken, small potato cubes, and usually a wedge of hard-boiled egg. Classified as a Singaporean finger food item, the curry puff can be enjoyed for breakfast, during tea-time or just about whenever a craving hits your taste buds. Firm on the outside, but once you sink your teeth into its crumbly crust, you'll feel the warm burst of flavour fill your mouth.
Curry Puffs
Roti John
Roti John is simply an egg omelette and bread hybrid. As local as it may sound, roti john was an innovation inspired by the westerners? - love for eating omelettes with bread - thus, the name 'Roti'(bread) and 'John'( a name locals used to call foreigners). It is now a popular Singaporean Malay food made by dipping sliced French baguette bread into a beaten egg mixture of minced meat, onion slices and tomato ketchup, and then pan frying it.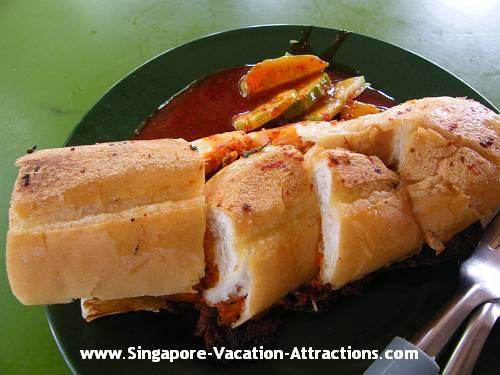 Roti John


Best of Singapore Food
Top 10 Singapore Chinese Food
Top 10 Singapore Indian Food
Top Singapore Restaurant Food
Return from Malay Food to Home page
Singapore Vacation Deals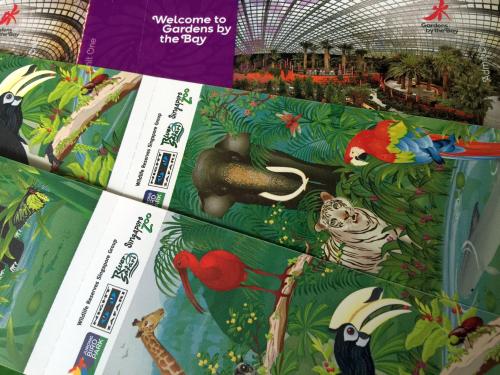 Singapore Attractions Tickets Deal