About Us
Please forgive me if you have spotted some errors in my writing as English is my second language. For that reason, I try my best to provide as many photos as possible to the relevant text. Or should I put it the other way round, instead of text I use photos to 'tell' the stories of the sights I have visited. Then I add some text to those photos to make the article more fun to read.
Those vacation sights that you found here were visited by myself and my family. My daughter favourite attraction is Sentosa Island. She enjoys most at the beach building sand castles and won't return home till she has ridden the Lug and Skyride.
| | |
| --- | --- |
| My two kids, their cousin and my helper in Sentosa Palawan beach. | My daughter Jia Hui and my helper shared a Luge. |
My son loves animal. He would keep nagging at us to bring him back to Singapore Zoo, Night Safari, Jurong Bird Park and Sentosa's Underwater World. To be honest, these wildlife parks are world-class attractions. Now his favourite attraction is River Safari, one of the newest attractions in Singapore. 
| | |
| --- | --- |
| Jia Hui, Jia Liang and their cousin Aloysius in Night Safari. | Jia Liang was feeding goat in Singapore Zoo when he was 6 years old. |
My wife has no preference in any of these attractions. A typical Chinese, her utmost interest is making money at her little food stall. In 2012, after the opening of Gardens by the Bay, she finally found something she enjoys doing.
| | |
| --- | --- |
| My wife and Jia Hui in Sentosa Island. | Two of them still like to go to Singapore Zoo. |
Personally, I found Little India most amazing. This ethnic neighbourhood has a history to tell. It was not put together for the sake of tourism in the first place. Today, it remains as a social and commercial hub for the Indian community.
| | |
| --- | --- |
| My son and me in Night Safari tram. | My family in Gardens by the Bay |
Hi, my name is Derek Teo. I created this site because I found my country is becoming more lively and interesting as I explored those attractions one by one with my family. They were not fun at all twenty years ago.
I'm not bragging for my country, take a quick look of the city by browsing through hundreds of photos at our Singapore Photos Gallery and you will know why I want to share them with you.
I would be glad if you enjoy viewing those photos because photography and travelling are the things that I enjoy the most.
Singapore Attraction Photos
Universal Studios Singapore
Gardens by the Bay Photos
River Safari Photos
Singapore Zoological Park Photos
Sentosa Attractions Photos
Clarke Quay Photos
Mount Faber Park Photos
Singapore Vacation Deals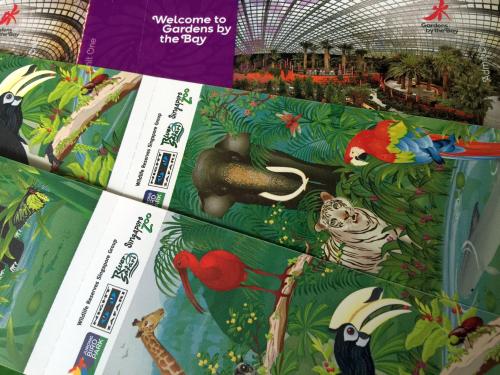 Singapore Attractions Tickets Deal