Singapore's Jurong Bird Park
An Ideal Attraction for People on Family Vacation
Jurong Bird Park is a top-notch Singapore attraction, home to a collection of 8,000 birds from 600 species. There's a multitude of exotic and endangered Southeast Asian breeds, along with Pelicans, Penguins, Flamingoes, Toucans, and a whole lot more.
Frankly, I never thought of bird watching could be that fun. We may not pay much attention to birds in our surrounding because they are either too far away from us or we always see the same 'old' birds. It's a totally different encounters when you are in the bird park.
If this is your first time entering the park, you'll definitely be amazed at the countless types of birds that actually exist. Don't be surprised, like many others, this will probably be one of the most colourful, eye-catching and mesmerizing place you'll ever visit in your lifetime!
What Not to Miss
Walk-in Aviaries
There are few huge Walk-in Aviaries where hundreds and thousands of birds are allowed to fly freely as if they are in their natural habitat. Two of them not to be missed are Lory Loft and Southeast Asian Birds aviaries.
Bird's Feeding
During the Bird's Feeding Time, the birds come to you. There isn't any place that I have come across where the birds are so co-operative with us. They are always ready to pose in front of the camera with you. Check the feeding time for Bee-Eater & Starling feeding at the Waterfall Aviary. The other feeding session for the adorable penguins at the Punguin Expedition is also a must-see.
Bird's Shows
Two of the Bird's Shows are very professionally conducted. If you just have enough time for one show, go for the Birds of Prey show. However, Birds n Buddies show is equally entertaining.
Jurong Bird Park Opening Hours and Ticket Prices
Opening Hours
8.30am to 6pm daily (last entry 5.30pm).
Ticket Prices
Rates for Adult Ticket S$29, Child Ticket S$19 (3 to 12 years old), Senior Citizen Ticket S$13(aged 60 and above). Click here to buy Jurong Birdpark tickets online or call 65-66617830 for any enquiry.


Buy Singapore Attractions Tickets as a Package Deal
Please fill out the below form with at least three attractions (why three attractions?) or more under the option 'Pick your own attractions' and we will send you a free quotation based on your selections by the next working day.
You may also choose any one or more days from the options Day 1, Day 2, Day 3, Day 4, Day 5. We will then compute and send you the total amount of the deal.
All the attractions tickets are valid for at least a month, some as long as 3 months. You may use the tickets on any dates so long as not to exceed the expiry date.
All the below deals only provide you with entrance tickets to the above attractions. It does not include transport and tourist guide. You have to go about the above attractions on your own. 
Go to Jurong Bird Park Photos page for more pictures


Singapore Bird Park Video
Go to Singapore Bird Park Video page for more video
Getting There: How to get to Jurong Bird Park?
From Orchard Road MRT Stations
Board at Orchard, Somerset or Dhoby Ghuat MRT Station(towards Marina Bay Station) and alight at Raffles Place Station. Walk to the other side of the platform to transfer to East-West Line(towards Joo Koon Station).
Alight at Boon Lay Station and take Exit C to Boon Lay Bus Interchange. Take bus number 251 and alight at the bus stop at Jurong Bird Park one stop later. The whole journey should take about 75 minutes(not include waiting time) and a total fare of about S$1.80.
From Little India or Chinatown MRT Stations
Board at Little India, Farrer Park or Chinatown MRT Station(towards Harbourfront Station) and alight at Outram Park Station. Transfer to the East-West Line (another platform within the same station, takes about 1-2 mins walk) towards Joo Koon Station.
Alight at Boon Lay Station and take Exit C to Boon Lay Bus Interchange. Take bus number 251 and alight at Jurong Bird Park bus stop one stop later. The journey should take 65 to 80 minutes(not include waiting time) depending on which station you are boarding. The estimated fare is about S$1.70 to S$2.



More on Singapore Wildlife Parks & Gardens
Singapore Zoo
Zoo Self-Guided Tour
Zoo Itinerary
Photos of Singapore Zoo
Night Safari
Night Safari Self-Guided Tour
River Safari
River Safari Amazon River
Photos of River Safari
Jurong Bird Park Self-Guided Tour
Photos of Jurong Bird Park
Gardens by the Bay
Photos of Garden by the Bay
Singapore Botanic Gardens
Photos of Singapore Botanic Gardens
National Orchid Garden
Photos of National Orchid Garden
Photos of Mount Faber Park
Singapore Vacation Deals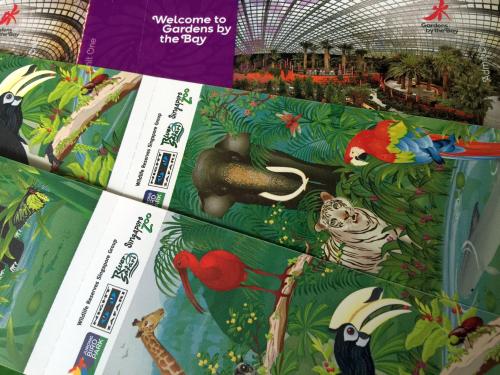 Singapore Attractions Tickets Deal