Singapore Zoo Tour
All you Need to Know for an Enjoyable Zoo Trip
Tips for your Singapore Zoo Tour
Need help for a rewarding zoo tour? Even you have a full day to tour the zoo, it's very unlikely that you have the time to see everything in the zoo within a day. My family and myself have missed all the animal feedings and shows in our first visit to the zoo. During our second visit, I made an effort to see all the animal shows but missed out the animal feeding sessions.
I'm here to advise and highlight to you some of the fun activities you should not missed while touring the zoo. Time is crucial when you plan your tour. You have to plan your time according to the animal show time and feeding time so you have got the right moment to enjoy all the events. Check out Zoo Morning Tour provided by our business partner with free hotel pick up and drop-off services. The tour is led by a local guide.
Singapore Zoo Tour Map
Click here to open a Singapore Zoo tour map in a new window. It was a clear and detail map which shows all the zoo animals with pictures in their respective habitats. This map is especially useful when you plan for your zoo itinerary.
What not to Miss for your Zoo Tour
What's your favourite zoo animal?
First, identify few of the zoo animals you would not want to miss. Browse through the Zoo Animal Photos to pick your favourite animals. In my Recommended Zoo Tour Itinerary, I only show you my family favourite zoo's animal. Feel free to amend your own itinerary to include your favourite animals.
Animal Feeding
In cases where you don't have a chance to see the animal moving around actively, for instance, the lions are likely to sit still or sleep most of the time. When it's time for food, they are too happy to show off their face while looking around for food.
During feeding time, there will be a live commentary given by the zoo keepers. You are encourage to ask questions if you want to know more about these animals. Moreover, for those non-threatening animals like orang utan, golden lion tamarins etc, you have a chance to get up close to them.
Click on the following video clips to view these animal during their feeding sessions:
Golden-Lion Tamarin
White-Faced Saki Monkey
Polar Bear
Animal Show
The Zoo's animal shows are very interesting, educational and entertaining. Anyone who visits the Zoo should not miss them all. These shows will make you and your kids laugh, yell and amaze with the animal performance.
Click on the following video clips to view the following three animal shows:
Splash Safari Show
Rainforest Fights Back Show
Elephants At Work And Play Show
Rain Forest Kidzworld
The Rainforest Kidzworld was opened in Oct 2008. It was a big draw and best zoo attraction to children of all ages. It has all sorts of water sports and activities to keep your kids busy for at least few hours. If your kids have less than half an hour to enjoy it, I would advise you to skip it and come again next time as they will be reluctant to go elsewhere once they step in to the playground.
An ideal planning is to arrive at the Kidzworld in the late afternoon (after 3pm). When the kids have all the fun and are getting tired, it's about time to go home. You will then take a 20-minute boat ride (the dock is just a short distance from the Kidzworld entrance) to Dock 1 which is very near to the main entrance(Exit).
Something worth mentioning about this Rainforest Kidzworld is that it's free for all to enjoy. No entrance charges as it is already included in the Zoo's entrance fees.
Getting Around the Zoo
The best way to explore the Zoo is by foot. It's totally alright to wander around the zoo without the tram ride. Just remember to bring a cap and umbrella to shelter from the sun and rain. My two kids, 6 and 7 years old, have no complain moving around the Zoo with us the whole day. It takes just 15 to 20 minutes to walk from the main entrance to the Rainforest Kidzworld (the furthest end).
Tram Ride
Tram ride is convenient for you to move around the Zoo with your family, especially if your kids are below 5 years old. With unlimited ride, it is easier and more flexible to plan your itinerary.
Tram Ride Ticket:
Adult S$5, Child (3-12 years old) S$3
Where to Eat at the Zoo
I would recommend you to bring your own food and picnic at the Pavilion By the Lake or Garden Pavilion. The choices of breakfast and lunch at the Zoo are limited and expensive. For breakfast, you have a choice of fast food at KFC or Pizzafari just outside the main entrance. If you prefer local food, Ah Meng Kopi will be your only choice. But prepare to pay 2 to 3 times the price of outside food.
For those who have more to spend, you may want to experience Jungle Breakfast with Wildlife at Ah Meng Restaurant. This is where you can have breakfast with the orang utans, elephants and snakes. Check out the below Singapore Zoo morning tour with optional jungle breakfast amongst Orangutans.
For lunch, you either have it at KFC at Rainforest Kidzworld or at Ah Meng Restaurant (nearest Tram Station 3) for local cuisine.
Recommended Zoo Tour Itinerary
If you need help in planning your zoo trip, refer to my recommended Zoo Tour Itinerary for a complete list of things to do at the Zoo.
More on Singapore Wildlife Parks
Singapore Zoo
Zoo Itinerary
Photos of Singapore Zoo
Night Safari
Night Safari Self-Guided Tour
River Safari
River Safari Amazon River
Photos of River Safari
Jurong Bird Park
Jurong Bird Park Self-Guided Tour
Photos of Jurong Bird Park
Singapore Vacation Deals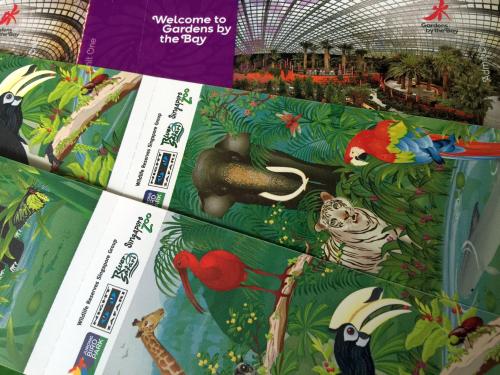 Singapore Attractions Tickets Deal