Top Restaurant Food in Singapore
If you know where to dine, a decent meal in a restaurant is affordable by everyone. However, to dine in a upmarket restaurant in a luxury style can cost you few hundreds dollars per person.
Singapore restaurant food is what you will get if you turn the local dining scene a notch up in ambience, comfort and quality. 
You might find yourself dining in a mid-priced restaurant with a decent meal costing around S$10 to S$50 per person. With a budget like this, you can buy yourself almost any type of cuisine from Chinese to Italian dishes like pasta and pizza. For those who can afford beyond that, Singapore also offers great fine dining alternatives ranging from S$50 to even over S$100 per person.
Singapore is a country with limitless possibilities; there are countless cuisine options from Chinese to Italian, dining places from comfort to luxury and prices for all budgets from as low as $10 to $100 and above per person. Embark on this culinary adventure and experience it for yourself!
Chinese Restaurant Food
What you see is what you get? While many of us see a Chinese restaurant and immediately assume that we'll simply get Chinese cuisine, the Chinese folks see otherwise. Read on and you'll know what I mean.
Cantonese Food
One highly recommended place to go to for mouth-watering Cantonese fine dining cuisine is The Peach Garden Chinese Restaurant. You must try out their popular signature dishes like fried XO carrot cake, salted egg prawns; crisp roasted pecking duck, rough and robust suckling pig and stewed goose.
The Peach Garden Chinese Restaurant
237 Thomson Road #01- 06, Novena Garden
11.30am - 2.30pm & 6.30pm - 10.30pm
Contact: 6254 3383
Other Outlets:
Chulia Street #33-01, OCBC Centre
Contact: 6535 7838
Thomson Plaza #01-88
Contact: 6451 3233
Teochew Food
Living up to its name, Teochew Restaurant Huat Kee at Amoy Street specializes in Teochew restaurant food. VIPs and celebrities often frequent this eatery for good food such as their sliced goose, ha echo (fried prawn roll), ter tang (jellied trotters) and claypot stewed giant eel. Sounds interesting? Well, it's worth the try!
Teochew Restaurant Huat Kee
74 Amoy Street
10.30am - 2.30pm & 6pm - 10.15pm
Contact: 6423 4747
Szechuan Food
The Min Jiang restaurant at Goodwood Park Hotel is known to serve up some good Szechuan restaurant food. Their flavours are specially tuned for those who appreciate such fine taste. Suckling pig with Foie Gras, coffee-flavoured spare ribs, braised shark's fin soup, lobster noodles and the assortment of Dim Sums make this place a bustling food galore.
Min Jiang
22 Scotts Road, Goodwood Park Hotel
11am - 2.30pm & 6pm - 10.30pm
Contact: 6730 1704 / 6737 7411
Other Outlet:
5 Rochester Park
Contact: 6774 0122
Asian Restaurant Food
Singapore not only showcases its Chinese, Malay and Indian ethnic cuisines, it also plays host to other types of cuisines from all over the region. Growing in popularity, you will find Asian food all over Singapore, from hawker centres to restaurants. Below are some places where you can find truly authentic Asian restaurant food.
Japanese Food
Bring in The Land of The Rising Sun with Tatsuya Japanese Restaurant, located at Park Hotel Orchard. Singaporean Ronnie Chia, once slaved in the kitchens of masters in Tokyo, Japan. With his very own charming eatery, he touts his sushi, sashimi, Wagyu Beef, and value-for-money Bento sets, all with that same fiery passion.
Tatsuya Japanese Restaurant
270 Orchard Road #01-05, Park Royal Hotel Orchard
12pm - 2.30pm & 6.30pm - 10.30pm
Contact: 6737 1160
Indian Food
To get some traditional Indian restaurant food, you should visit Rang Mahal at the Pan Pacific Singapore. The Thali platter will sure kick start your appetite for their dishes such as Tandoori King Prawn and their Nalli Gosht Qorma (lamb shank in saffron & cashew). Complete your meal with a sweet- spicy cinnamon kulfi ice cream.
Rang Mahal
7 Raffles Boulevard Marina Square Level 3, The Pan Pacific Singapore
12pm - 2.30pm & 6.30pm - 10.30pm (Sun-Fri); 6.30pm - 10.30pm (Sat)
Contact: 6333 1788
Korean Food
Ju Shin Jung Korean BBQ gets two thumbs up for Korean food. Their menu offerings range from Wang (Black Angus Beef Ribs), Ggotsal (Wagyu Striploin) and Moksa (Marble Pork Collar) to Pajun (Japanese seafood pancake), Kimchi pancake, Jaban (grilled mackerel) and Chamchihae (Sashimi). Just like their popular Korean dramas, their dishes are equally addictive!
Ju Shin Jung Korean BBQ
27 West Coast Highway #01-18/ 19, Yess Centre
6pm - 11pm (Mon); 12pm - 2pm & 6pm - 11pm (Tue-Sun)
Contact: 6464 0872
Other Outlet:
1018 East Coast Parkway #02-01
Contact: 6447 9279
Thai Food
A-Roy Thai brings Thailand to Singapore with Thai chefs, Thai d¨¦cor and Thai food. Start with their refreshingly crispy Catfish Papaya Salad, followed by their piquant tongue-numbing Tom Yam Soup, complemented with Poo Ja (fried crab fish stuffed with crab meat and greens), then their spicy Phad Thai Noodles, and ending off the meal perfectly with either their special Red Rubies dessert or Sweet Tapioca.
A-Roy Thai
81 Upper East Coast Road, Goodwill Court
11.30am - 3pm & 6pm - 10pm
Closed on Mondays
Contact: 6443 0373
Other Outlet:
Funan DigitaLife Mall  #04-06
Contact: 6338 3880
Western Restaurant Food
So we all know that Singapore is a nation that prides itself in the array of local food it offers, but being a cosmopolitan state, this country does not fall short in restaurants with great-tasting western restaurant food. Here are some highly recommended dining places for your dose of Western cuisine while in the east.
American Food
If you want to find some typical American food in Singapore, you'll have to try Lawry's The Prime Rib. This is a food haven for meat lovers. You won't go wrong with the stuff they have on their menu but if you want something really good, go for their classic cuts like the tenderloin steak.
Lawry's The Prime Rib
290 Orchard Road #02-42/44, Orchard Paragon
11.30am - 2.30pm & 5pm - 10pm
Contact: 6836 3333
Brazilian Food
This particular cuisine may not be very popular in Singapore, but Brazil Churrascaria does a pretty good job when it comes to Brazilian food. They have 14 cuts of meat and fish, including beef, ham, tenderloin, chicken, liver and pork. Everything here nicely roasted and prepared to crisp perfection.
Brazil Churrascaria
14/16 Sixth Avenue
6pm - 10.30pm
Contact: 6463 1923
French Food
Les Amis was voted as one the Top 100 Restaurants in the world by Restaurant Magazine 2007. Even in an Asian cultured Singapore, this French Restaurant manages to win local taste buds and the hearts of food connoisseurs. Some of their works include Pan-fried Foie Gras with Pomegranate, Carpacio of Artichoke, Grilled Mushrooms, Ham & Egg Confit, and Pork Racks with Grilled Apple, Mushrooms and Baby Spinach.
Les Amis
1 Scotts Road #02-16 Shaw Centre
12pm - 2pm, 7pm - 10pm
(Closed on Sundays & Public Holidays)
Contact: 6733 2225
Italian Food
Many restaurant food gourmands in Singapore can swear by Garibandi, a cozy Italian restaurant located on Purvis Street. Founder and head chef, Roberto Galetti stirs up a storm in his kitchen, serving exquisite truffles, tantalizing Yorkshire Pork with Apricot & Balsamic Sauce, seductive OssoBuco (Lamb Shank), mesmerizing Prawn Risotto and the best of Italian wine.
Garibandi
36 Purvis Street #01-02
12pm - 3pm & 6.30pm - 11pm
Contact: 6837 1468
Best of Singapore Food
Top 10 Singapore Chinese Food
Top 10 Singapore Malay Food
Top 10 Singapore Indian Food
Return from Restaurant Food to Home page
Singapore Vacation Deals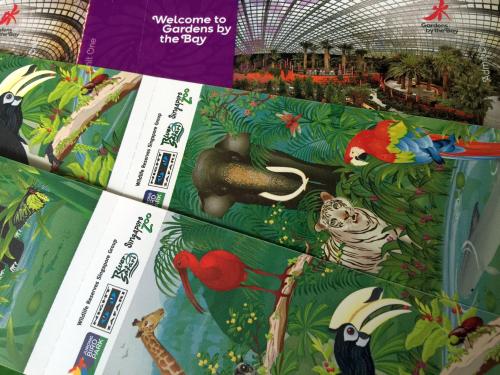 Singapore Attractions Tickets Deal