Singapore's Chilli Crab
The Right Place to Taste Real Good Chilli Crab
The words Chilli Crab may not always follow after Singapore the same way the term Beijing Duck always comes in a pair, but this dish is without a doubt part of authentic Singaporean Food.
While locals in Beijing will beckon for you to try their roasted duck, Singaporeans here will enthusiastically cry for you to try out their locally endorsed Chilli Crab.
For those who have heard of this dish but aren't too sure what all the hype is about, let me explain why food junkies go gaga over this odd looking shell creature.
The preparation process that goes into the cooking of Chili Crab is a long and tedious one. Ask any chef familiar with this, and he'll tell you that a good recipe alone will not do the trick. Skill and experience play a bigger role when it comes to whipping up the perfect dish. That's why visitors to Singapore, should try it right where its true origin lies.
Chilli Crab Prepared by Singapore Chef (03:37)
A Brief History of Chili Crab
Chili Crab is perhaps one of Singapore's most popular culinary pride and joy. Dating all the way back to 1950, this dish was created by renowned Singapore chef, Madam Cher Yam Tian and her husband, Lim Choon Ngee. They were running a seafood stall, later known as Palm Beach Seafood Restaurant, along the seashore in the old days. Chilli Crab is one of their specialty. It was only after much experimentation, trials and countless errors that they finally managed to derive at the chili crab we are now able to enjoy.
Despite all that talk about how difficult it is to prepare a deliciously good plate of Chili Crab, some of you may still be unconvinced about the goodness of this dish. But that's only because I am yet to start on the mouth-watering gravy that plays the quintessential star of this dish.
Don't be fooled by its name nor by its bright red appearance - Chili Crabs taste nothing near the spiciness of chili. In fact, though it may be slightly tingling on the tongue, it is hardly as spicy as it sounds. The gravy is semi-thick, savory with a tinge of sweetness, and made with a base of chili and tomato sauce. Other ingredients that go into its gravy are chopped garlic, corn flour, chopped onion, rice vinegar, beaten eggs, soy sauce etc.
Chilli Crab Pricing
The one thing though, that may set you back a little, is the price you'll have to pay for this dish. Chili Crab is usually sold by the kilograms, and is set based on the market price of the crabs, which on average ranges from S$25- S$80, depending on the types of crabs, the season, the location you plan on dining at, and the style of preparation. But of course, many are still willing to pay the hefty price, strongly believing that the satisfaction they get out of this dish is simply priceless!



Recommended Restaurants
For locals or foodies
For a meal that is truly worth the price you pay, here are some recommendations on where you'll find Chili Crab to die for. One place you'll never go wrong is the famous row of seafood restaurants along East Coast Park or East Coast Seafood Centre. There you'll find No Signboard Seafood (Tel: 64489959), Long Beach Seafood Restaurant (Tel: 64483636), Jumbo Seafood (Tel: 64423435) and Red House Seafood Restaurant (Tel: 64423112). All of which are of known for their high standard seafood dishes and amazing star-gazing dining ambience.
For tourists
However, these seafood restaurants are way out of the tourist area. The following restaurants are located along the Singapore River:
1. Jumbo Seafood (near Boat Quay and Clarke Quay)
#B1-48, The Riverwalk, 20 Upper Cicular Road, Tel: 65343435
30 Merchant Road, #01-01/02, Riverside Point, Tel: 65323435
2. No Signboard Seafood (at Esplanade, Theatres by the Bay)
#01-14/16 The Esplanade, 8 Raffles Ave, Tel: 63369959
#03-02 VivoCity, 1 Harbourfront Walk, Tel: 63769959
3. Palm Beach Seafood Restaurant (near Merlion Park)
#01-08, One Fullerton, 1 Fullerton Road, Tel: 64230040
Our Chilli Crab Review
My friends Loo, James and I went to Jumbo Seafood restaurant for a dinner on 21 Feb 2016, which was a Sunday. We arrived at 6pm at Jumbo Seafood Restaurant Riverside outlet and was told to wait for an hour. If we don't mind walk to another outlet not far away from here, we can be served immediately. Without hesitation, we took about 5 minutes walk to the Jumbo Gallery outlet near Boat Quay. 
From left to right: Derek, Loo and James.
The main purpose why we were there was for the chilli crab. The reason why we choose Jumbo out of so many seafood restaurants is because of location. Its two outlets along the Singapore River are easily accessible by tourists. 
The below review was done by my friends Loo, James and myself. 
1. Management 
It's a listed company in the Singapore Exchange and true enough the staffs are friendly and well trained. 
2. Location
Jumbo has two seafood restaurants along the well known Singapore River; one located near the Boat Quay and the other opposite of Clarke Quay. It wouldn't be difficult for any one to find the restaurants even for a tourist. 
3. Quality of Food
Besides the main dish chilli crab, we also ordered a few other dishes as shown below:
Bamboo Clam steamed with garlic, 3 pieces. Loo and James have not try this dish before and both of them like the clam and the style of cooking.
Bamboo clam steamed with garlic
Scallop with Yamring, 1 plate (6 pcs). This is a new dish to three of us. Loo again claimed that the taste was great, James got to nod his head to agree. 
Fried Rice with Seafood, 1 plate. This time, James was the one to praised the fried rice. He served us one bowl each and the remaining all finished by him. 
Homemade Beancurd, 1 plate (6 pcs). This is the only dish we found it not as good as the others and we probably won't order it again. 
Chilli Crab, 1 crab (1.1 kg). Most chilli crab sauce tastes too sweet, Jumbo ones taste just right. It's not spicy at all.  You won't like sauce if you preferred very hot stuff. The crab was fresh and the meat taste delicious. Overall, we give it a thumbs up. How many kilo gram of crabs should you order? For a crab of 1.1kg plus few other dishes, it's sufficient for 3-4 person consumption. For the same size of crab, if you just order an additional plate of fried rice, it should be good for 2-3 person. 
Mini Bun - Deep Fried, 6 pcs. These buns were meant to be taken with the chilli crab sauce. 
James showed us how to crack the crab
Chinese Tea, 1 kettle. I highly recommend you to try the Pu Er tea. It's my favourite Chinese tea. It goes well with all types of food and helps in digestion. It isn't taste great the first time you try it. But you will appreciate its many benefits in the long terms. 
After we finished the meal, Loo said in delight that this was the best meal he ever had. 
4. Price
To some, the prices are a bit high. If you take into consideration the quality of food, I would say it's worth to pay a little more. The good thing is, the prices quoted by the staffs are transparent so you don't have to worry about being over charged. The charges would be the same whether you are locals or tourists.
Below is the list of dishes we had ordered and the prices for each of them:
Bamboo Clam, 3 pcs at $42.
Scallop with Yamring, 1 plate (6 pcs) at $18. 
Fried Rice with Seafood, 1 plate at $$18
Mini Bun - Deep Fried, 6 pcs at $3.60
Chilli Crab, 1 pcs (1.1 kg) at $96.80
Homemade Beancurd, 1 plate (6 pcs) at $18
Tea, 1 kettle at $3.60
Total price including 10% service charge and 7% GST is $235.40. 
After all, we found that we had made the right choice. All of us were satisfied with the food and the service. 
Don't say I didn't warn you, make sure you arrive early or make reservations before arriving - these chilli crabs are hot on the market!
Other Top 10 Things to Do in Singapore
Singapore Flyer
Singapore River Cruise
National Museum of Singapore
Asian Civilisations Museum
Hawker Food
Wet Market
Singapore Sling
Explore Cultural Singapore
Images of Singapore


Singapore Vacation Deals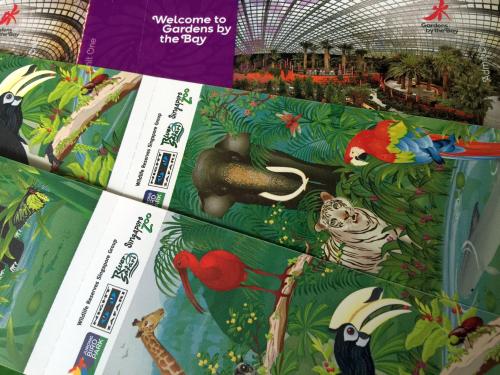 Singapore Attractions Tickets Deal

Return from Chilli Crab to Top 10 Things to Do in Singapore page