Sultan Mosque and Its Surroundings
The Place to Shop and Sample Authentic Muslim Food
Sultan mosque, also known as Masjid Sultan, was built in 1824. It was proposed by Sultan Hussein himself and funded by East India Company. 
The present mosque was rebuilt in 1925 by Denis Santry, an architect from the British architecture firm of Swan & Maclaren. It is the most prominent landmark in Kampong Glam which was bounded by North Bridge Road, Kandahar Street, Baghdad Street and Arab Street.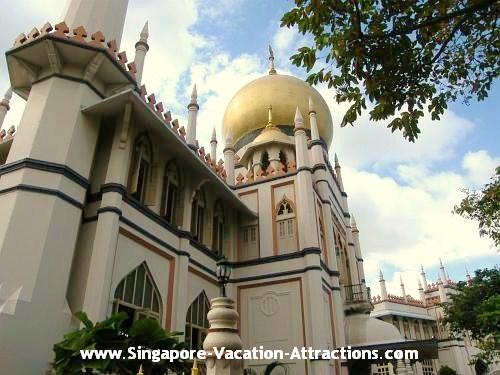 Go to Sultan Mosque and Its Surroundings Photos page for more pictures


Getting There
Alight at Bugis MRT station, look out for signage for Exit E. Once you are out of the escalator, turn left and walk along Victoria Street till you come to Arab Street (at 2nd junction). Turn right and keep walking along Arab Street and you will arrive at the junction of North Bridge Road and Arab Street.
Click on the Singapore Street Map which will show you the location of the Sultan Mosque and how to get there from any part of Singapore by public buses and MRT(subway).
North Bridge Road
Below is a view of Sultan Mosque taken from the junction of North Bridge Road and Arab Street. If you walk along North Bridge Road towards Kandahar Street, you will find a number of indian muslim food restaurants on the left side of the road. The famous Zam Zam restaurant was among one of them.
Murtabak, shown on the below left photo, is Zam Zam's signature dish. It is a pan-fried bread stuffed with onion, egg and minced beef, mutton or chicken. Though it tasted good, I was having difficulty to finish it all as it came with a really big serving size. If you prefer not to have any meat, you may try Roti Prata (the right photo) instead.
Kandahar Street
While walking along North Bridge Road, look out on your right for Kandahar Street. Once you turn in to the street (below left photo), you will find the Malay Heritage Centre on your left, about 30m away from the junction. For those who want to learn more about Malay's history and culture, you may want to pay a visit to the centre.
On the right of the street is Muscat Street that leads to Sultan Mosque. At the junction of the streets is a coffee shop where you can take a break and sampling some of the Malay's 'kuek' (kind of pastries and cookies).
Further along this street is a row of retored shophouses. No. 52-54 is a Malay restaurant Wisvry Padang Cuisine which serve authentic Malay food.
This street is lined with makeshift foodstalls during Ramadan (Muslim fasting month) as many Muslims will gather here to break their fast.
Bussorah Street
In the old days, this street is the heart of the old Arab Kampong. Today, it is lined with rows of conserved shophouses on both sides of the street that lead to the front entrance of the mosque from Baghdad Street.
At the junction of Bussorah and Baghdad Street is Alaturka Turkish Restaurant (below right photo).
Baghdad Street
Baghdad Street cuts across Bussorah Street into two. When you come out from Sultan Mosque and arrived at the junction, make a right turn and you will see two shops selling all sorts of rattan products. Keep walking to the end of the street and you are at the well known Arab Street.
Arab Street
This area was once a part of the site of an old Arab Kampong, which was owned by an Arab merchant, Ayed Ali Bin Mohamed Aljunied. It was named Arab Street as many Arab traders were once found around the area.
These days, shops that lined on both sides of the street sell all kind of fabrics, oriental carpets, perfume, rattan products and Muslim stuff.
A royal Japanese customer brought her friends to shop for carpet at one of her favourite shop. The carpet shown on the right change colour and pattern when you look at it at different angle.
Singapore Vacation Deals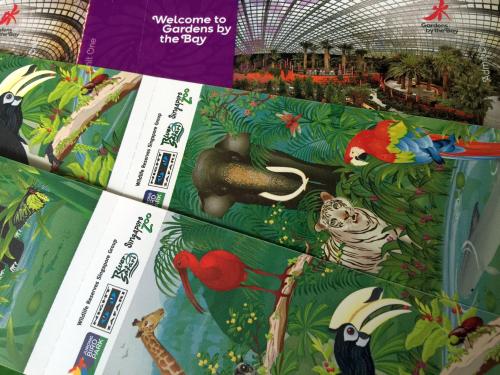 Singapore Attractions Tickets Deal