Esplanade Singapore
Be Entertained by Local Talents
A Brief  History of  Esplanade - Theatres on the Bay
The Esplanade Singapore began its lifelong journey in 1989, when the Advisory Council on Culture and the Arts suggested having a performing arts center in Singapore. After years of discussion, the committee chaired by then Deputy Prime Minister, Mr. Ong Teng Cheong, decided to officially call the performing arts centre, Esplanade - Theatres on the Bay.
Within two years, on 11 August 1996, all that talk was finally paying of with the construction of the Esplanade, marking the beginning of an exciting journey ahead. Kicked off with a ground-breaking ceremony by then Deputy Prime Minister, Dr. Tony Tan, Singaporeans and art fanatics everywhere knew that something spectacular was coming their way.
Singapore is not exactly a musical city comparable to that of London or New York City, but Esplanade Singapore has undergone tremendous transformation over the years. Officially opened on 12 Oct 2002, today Esplanade - Theatres on the Bay is not only the exclusive home to the highly respected Singapore Symphony Orchestra (SSO), but also center stage to a variety of music, theatre and dance performances, presenting itself as an arts venue for world-class entertainment.
Huayi Festival Programme: Puppet Show
Esplanade At a Glance
Visit Esplanade Singapore and check out some of the following entertainment venues they have in store for you:
Theatre
The four-storey 1942-seater Theatre within Esplanade - Theatres on the Bay is inspired by the traditional horseshoe-styled European opera houses, providing an up-close-and-personal setting for both audience and performers.
Concert Hall
Esplanade's Concert Hall is of refined elegance, with a total seating capacity of 1,811. This is one of only five halls in the entire world that features such state-of-the-art acoustics, which includes reverberation chambers and an acoustic canopy that is tailored for different musical performances, to produce the best of surround sound.
Forecourt
The Forecourt is just in front of the main entrance - a great alfresco venue for outdoor events and social gatherings.
| | |
| --- | --- |
| Forecourt | Performance at the Forecourt |
Concourse
Another meeting point for visitors to Esplanade is the Concourse. Right next to the Forecourt, this is where you can find art installations and free-of-charge mini indoor performances.
| | |
| --- | --- |
| Concourse | Performance at the Concourse |
Courtyard
Seen from the Roof Terrace is Esplanade Singapore's very own Courtyard, lined with various food establishments - a place where visitors can relax while enjoying their deliciously prepared meal.
Courtyard with outdoor theatre in the background.
Outdoor Theatre
The Outdoor Theatre stretches across the 300m long waterfront along Marina Bay with standing capacity of 600. Here, audiences can watch performances under the starry night sky.
| | |
| --- | --- |
| Outdoor Theatre | Performance at Outdoor Theatre |
Stage at Powerhouse
Just like the Outdoor Theatre, Stage @ Powerhouse is located along the promenade to stage free-entry performances for some added life and sound. A temporary stage will be setting up in the empty space in front of the powerhouse if there is a performance.
| | |
| --- | --- |
| Stage @Powerhouse | Performance at Stage @Powerhouse |
Outdoor Food Court
Just next to the Powerhouse is Gluttons Bay, an alfresco-style food court offering a myriad of local favorites that will definitely whet your appetite!
| | |
| --- | --- |
| Outdoor Food Court | Also known as Gluttons Bay |
Jendela (Visual Arts Space)
Located on the 2nd level of Esplanade Singapore, the Jendela, a visual arts gallery occupying 216 sq m, showcases a collection of creative artworks from artists all over the world.
Recital Studio
Shaped like a fan, the Recital Studio is not only designed with a clear performance view but also for crystal clear acoustics.
Library at Esplanade
The Library @Esplanade acts as a resource library for information on performing arts. Located on the third floor, this will be a great place to learn of Singapore's arts and cultural scene.
Roof Terrace
The Roof Terrace of the Esplanade Singapore lets you enjoy the cool breeze blowing from the Marina Bay while taking opportunity of the picture perfect scenery, and relaxing on the green pasture all at the same time.
| | |
| --- | --- |
| Roof Terrace | View from Roof Terrace |
Programmes at Esplanade
Esplanade Singapore has also planned out a line-up of festive events to commemorate special occasion, some of which include:
Huayi
Huayi is an annual event that celebrates traditional and contemporary Chinese artworks, with its main focus on the Chinese New Year.
Kalaa Utsayam
Kalaa Utsayam marks the Indian Festival of Arts, featuring an assortment of Indian cultural performances such as music, theatre and dance.
Pesta Raya
Pesta Raya is yet another festival held annually during Hari Raya Puasa. This event highlights Malay artistic talents in the areas of dance, theatre and music.
Moonfest
Moonfest is an Esplanade Singapore's original - held during the Mid-autumn festival in celebration of Chinese folk tradition, with displays of Traditional Chinese Opera, music, dance, and many more.
Singapore's National Day
Singapore's National Day is celebrated every year at the Esplanade - Theatres on the Bay. Embrace the ethnicity of the different cultures as they present local musical heritage at its finest.
Celebrate December
Celebrate December is an event where Esplanade brings a heartwarming closure to the year, and welcomes the start of a new year with open arms. Be touched by Singaporeans and their expressions of heartfelt thoughts.
Free Programmes
The Esplanade Singapore has so much to offer to everyone, and if you haven't already had a taste of it, you might like to head down to the Concourse after work in the evenings to witness the daily musical performance - with genres ranging from soothing traditional ethnic to heart-thumping rock.
Similar to that, Esplanade - On the Waterfront gives musical performers of all genres, a chance to showcase their talent every weekend from Friday to Sunday, and Eve of and on Public Holidays.
The entertainment doesn't stop there; Beautiful Sunday is a once-a-month, live local music performance held at the Esplanade Concert Hall. Remember, only one Sunday of the month at 3pm, so be sure not to miss it!
Getting There: How to Get to Esplanade Singapore?
By MRT Train
Take a Circle Line MRT train to Esplanade Station and take a short walk to Esplande. It shouldn't take you more than 8 minutes to reach there.
By Public Buses
From Orchard Road to Esplanade Singapore
From Orchard road, the bus service number 77 and 171 will take you to the bus stop at Pan Pacific Hotel. The journey should take less than 20 minutes and cost less than S$1.50. From there, it's only a few minutes walk to the Esplanade. You may board from the following bus stops along Orchard Road:
Tang Plaza
Meritus Mandarin Hotel
Concorde Hotel Singapore
Dhoby Ghaut MRT Station (outside Plaza Singapura)
Tourist Attractions in Marina Bay
Marina Bay Sands Integrated Resort
Gardens by the Bay
Photos of Gardens by the Bay
Singapore Flyer
Photos of Singapore Flyer
Merlion Park
Hotels in Marina Bay
Other Top 10 Attractions in Singapore
Singapore Integrated Resorts
Sentosa Island
Singapore Zoo
Singapore River
Little India
Chinatown Town
Kampong Glam
Orchard Road
Singapore Botanic Gardens
Singapore Vacation Deals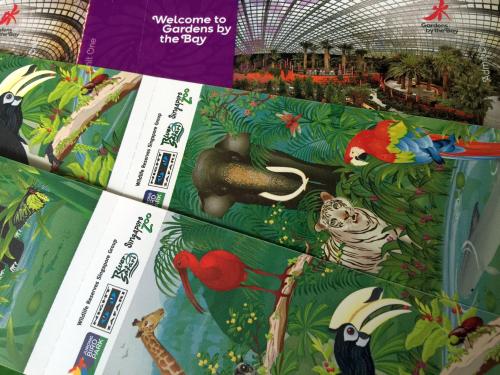 Singapore Attractions Tickets Deal
Return to Top 10 Singapore Attractions page