Singapore Integrated Resorts
A Preview and Guide to the Two Singapore IR
An Overview of Singapore Integrated Resorts
The Singapore Integrated Resorts or Singapore IR, is the nation's latest and most hyped about architectural project. Currently, only two resorts have been awarded licenses - Marina Bay Sands and Resorts World at Sentosa. 
As their names state, these two integrated resorts will be strategically located at the prestigiously renowned Marina Bay and on Singapore's popular tourist destination, Sentosa island.
Before all the anticipation however, eye brows were being raised as Singaporeans expressed their thoughts over the consequences of having casinos built within the country. It was only after what seemed like endless controversy and heated debates, that the Singapore government decided to address the concerns, and go ahead with the project.
Is the Integrated Resort a Casino or Resort?
Unlike the typical resort or casino, Singapore Integrated Resorts will offer you the best of both worlds, combining them into one massively entertaining wonderland suited for both the young and old alike.
Come down as an entire family and be amazed at how every one will be equally entertained. Whether you're searching for something exhilirating or down right relaxing, there will be activities such as theme park rides to spa treatments to satisfy all your wants and needs. While the adults are kept busy, the kids are not left behind. You'd be elated to know that the kids too, will be well taken care of. They enjoy special VIP privileges as members of Resorts World Kids Club, which promises to offer them an experience they will never forget.
Not One but Two Singapore Integrated Resorts
Las Vegas Sands and Genting International are the two reputable developers with the highest proposed bids, that have been given the green light to manage and operate the IR in Singapore. With all their hands-on experience in this field, we know for sure that something great is in store for all of us!
The Singapore IR promise us a line-up of entertainment beyond what we can ever imagine. So, if you are wondering what you can expect from Marina Bay Sands and Resorts World Sentosa, let me enlighten you.
Marina Bay Sands Integrated Resort or Marina IR, developed by one of the world's largest casino companies, Las Vegas Sands, will feature a 24-hour running casino, three towering hotels bridged by a rooftop Sands SkyPark, an arts and sciences museum, state-of-the-art convention halls and the magnificence of shopping, dining and entertanment.
Developed by Genting International, Resorts World Sentosa Integrated Resort or Sentosa IR doesn't fall short either. Aside from a casino, Sentosa IR is a collection of hotel accomodations and fun-filled attractions. Some attractions you'll find  here include South-East Asia's very first Universal Studios, the world's largest Marine Life Park, Maritime Xperential Museum, Equarius Water theme park, The ESPA's Spa Wellness, meeting and conference facilities, a grand ballroom, theatres for stage performances, shopping, dining, and a whole lot more!
In fact, that's not all. One of the highlights of Sentosa IR is the list of six different hotels with six completely unique themes of their own to cater to whatever suits your fancy.
The Difference between the Two Singapore Integrated Resorts
Putting the similarities aside, each of the two Singapore IR is created with its own paramount unique feature.
While both Singapore IR are built to provide limitless entertainment, premium casinos and hotel accommodation, unlike Resorts World Sentosa IR, which focuses on being a fun-filled family destination, Marina Bay Sands IR is especially valued for being a world-class venue for meetings, incentives, conventions and exhibitions - making it the perfect place for exhilarating fun and prestige.
So, don't just visit one but both of these exuberating Integrated Resorts only here in Singapore, and experience for yourself the true beauty defined through the hearts of Marina IR and Sentosa IR!
Other Top 10 Attractions in Singapore
Sentosa Island
Singapore Zoo
Singapore River
Little India
Chinatown Town
Kampong Glam
Orchard Road
Singapore Botanic Gardens
Esplanade Singapore
Best of Singapore Tourist Attractions
Top 10 Singapore Attractions
Top 10 Singapore Night Attractions
Top 10 Things to do in Singapore
Universal Studios Singapore

Return to Top 10 Singapore Attractions page
Return from Singapore Integrated Resorts to Home page
Singapore Vacation Deals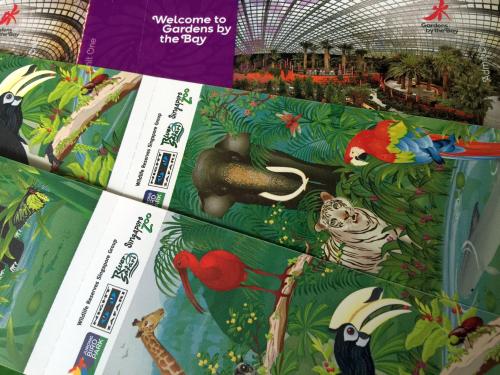 Singapore Attractions Tickets Deal