Top 10 Chinese Food in Singapore
Budget travellers will love cheap and yummy hawker food. For fine dining, there are restaurants that serve Cantonese, Teochew and Szechuan cuisines.
Chinese food in Singapore is classified into the core dialect groups - all of which are distinctive in their own way. Fujian is light and more subtle on the palate, with emphasis placed on the natural flavours from the ingredients. Cantonese cuisine is probably the most popular among the others. They pride their food in flavour, variety, nutrition and presentation as proven in the intricacy of their dim sum and shark's fin soup.
Then, there is Teochew cuisine, which is similarly subtle to Cantonese food but known for dishes like their Teochew porridge, claypot shark's fin soup and yam paste dessert. Other common ones include Hakka, known for Hakka Yong Tau Fu; Hokkien, known for their Fried Hokkien Mee; and Hainanese, known for their Hainanese Chicken Rice.
It's a known fact that Singaporeans like to eat, the following are the top 10 Chinese food which you can find in most Hawker Centres, Food Courts and Coffee Shops. For tourists, the best places to sample these local Chinese food are in the Five Hawker Centres Dotted Around Chinatown Area. As for fine dining, please visit our Restaurant Food page for more information.
Chicken Rice
Chicken Rice is a dish that Singaporeans usually associate with the Hainanese culture. This prided local Chinese food comes with a choice of either moist succulent chicken or crisp roasted chicken. Don't forget the rice however, as Chicken Rice is really nothing without the rice. Chicken rice is cooked in fragrant chicken stock with knotted screw-pine leaves for a burst of aroma. Served with a small portion of sweet dark soy sauce, grated ginger and piquant-tangy chilli sauce, this is a meal on its own that will simply take your breath away! Visit Our Recommended Chicken Rice Stall.
Roasted Duck Rice
Roasted Duck Rice is one of the Chinese food that is often overlooked because of the adored chicken rice, which constantly steals the limelight. The duck meat is cooked soft and tender, beautifully marinated with all spice powder, and roasted till crispy and glossy brown - which leads many left intrigued by the combination of moist and succulent flesh, and the thin and crisp skin. Taking a bite into the roasted duck will allow a sensational ooze of flavours to spread in your mouth, giving it an amazing aftertaste that last long after your meal. While some stalls serve steamed white rice, others may offer rice similar to that of fragrant chicken-broth infused rice. Visit Our Recommended Roasted Duck Rice Stall.
Popiah
Popiah, just like a spring roll, is a cylindrical shaped wrap with a bunch of hidden gems and flavour just waiting to burst out! It takes skill to make a pretty looking roll, which ideally should be firm and does not have its sauce or filling seeping through the skin. Taste the sweet-savoury goodness coming from the warm and moist julienned turnips, chopped egg bits, prawns, peanuts and crunchy cucumber shreds. The beauty of this snack lies in having a little of everything and the mix of flavours you get from every single bite. Visit Our Recommended Popiah Stall.
Char Kway Teow
Char Kway Teow is literally translated to English as fried flat rice noodles. Though the name seems pretty boring, this dish is one of the most popular Chinese food in Singapore. The pre-cooked soft and smooth rice noodle is thoroughly fried in a large heated flaming wok, thrown in together with ingredients like sliced Chinese sausages (lap cheong), fresh cockles, chives, beaten eggs, fishcake, crunchy bean sprouts and the best part of it all, yes, is the crispy deep-fried fragrant bits of pork lard. Sounds unhealthy, but it is definitely worth busting your diet for. Visit Our Recommended Char Kway Teow Stall.
Fried Hokkien Mee
Fried Hokkien Mee, also known as fried prawn noodle, is a popular dish created by the denomination of Hokkiens in Singapore. Made from thick yellow egg noodles with thin rice vermicelli, stir-fried in a flavourful combination of pork and seafood stock with tender slices of pork, fresh prawns, squid, bean sprouts and chopped garlic, Fried Hokkien Mee is a Singapore Chinese food that has been standing strong as one of the most loved local favorites in the country. You will often find this dish served hot from the wok with a squeeze of green lime and topped with a generous dollop of spicy sambal chili. Visit Our Recommended Fried Hokkien Mee Stall.
Dim Sum
Dim Sum, a well known Chinese food worldwide, is perhaps one of the more popular Cantonese staples. Just as cute as the names sounds, these Chinese delicacies mean "little hearts", and come in a variety of deep-fried, baked or steamed treats such as bao (red bean bun, pork bun, lotus bun), har gao (shrimp dumpling), siew mai (pork & shrimp dumpling), yam cake, pork ribs, egg tarts and a host of countless other counterparts. They can be part of breakfast, teatime, lunch or even dinner. They are traditionally served in a small round bamboo crate that is also used for steaming, and makes for a truly authentic meal. Visit Our Recommended Dim Sum Restaurant.
Chilli Crab
Chilli Crab is known as Singapore's very own national seafood dish - a must-try for anyone and everyone visiting the country for the very first time. This sensual dish appeals to all your culinary senses. An unusual Chinese food, it smells pleasantly aromatic, tastes amazingly good, appears beautifully smothered in a volcano of bright red gravy, which feels creamy and thick in consistency. While the crabs are the star of the show, they are nothing without the sweet tasting gravy, which whipped up using beaten eggs, tomato sauce, chili sauce and lots of garlic, giving you a mesmerizingly good treat! Visit Our Recommended Chilli Crab Restaurants.
Wanton Mee
Wanton Mee is a classic Cantonese dish made of fine egg noodles with mini bite-sized dumplings that are filled with meat and sometimes shrimps, and individually wrapped with a tiny sheet of flour skin. This Chinese food is usually served with slices of char siew and leafy vegetables at the side, and comes in either the dry or soup version. The dry version of wanton mee has its success defined not only by the spring noodles but also the sauce the noodles are topped with.  A great bowl of soup wanton mee on the other hand, is defined by the springy texture of the noodles at every bite and the tastiness of the soup at every slurp.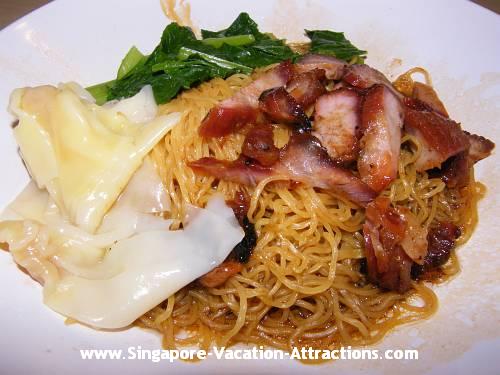 Wanton Mee


Bak Kut Teh
Bak Kut Teh when translated word for word is "meat, bone, tea" in the Hokkien dialect. Don't get turned off by its name just yet because this tummy-warming Chinese food is a turn-on for enthusiastic local foodies. The pork ribs are boiled for hours straight, and are drowned in peppery herbal broth that exudes a distinctively strong aroma, bound to whet your appetite. And while many stalls sell the soup with rice, you'll be lucky to find a stall that has it served with deep-fried dough fritters to give it extra kick of flavour and crunch!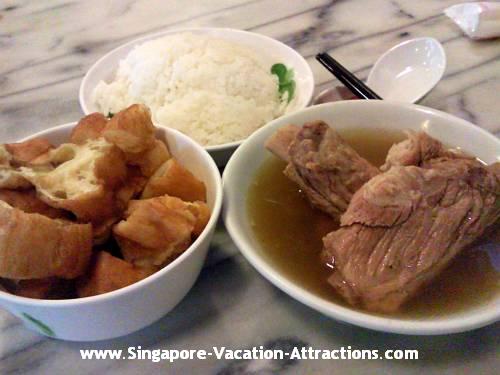 Bak Kut Teh


Fried Carrot Cake
Fried Carrot Cake, otherwise known as Chai Tow Kway in the Teochew and Hokkien dialects, is not exactly the typical sweet confectionery you tend to find in Western bakeries. Completely unlike an American carrot cake, Chinese carrot cake is in fact a mushy savoury steamed flour cake made from radish, which is cut into small bite-sized cubes, fried with beaten eggs and salted turnips, and comes in black and white versions. The white version being fried plain while the black is with added sweet dark soy sauce ¨C both of which are equally tasty and addictive!
Fried Carrot Cake
Singapore Vacation Deals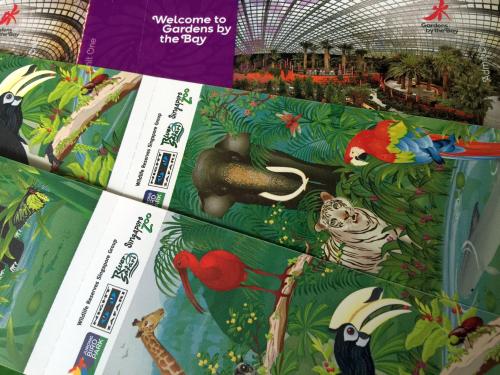 Singapore Attractions Tickets Deal