About Jewel Changi Airport
Jewel Changi Airport was officially opened on 17 Apr 2019. Here is a fastest way to find out more about Jewel Changi Airport. It's a mega shopping mall with an indoor forest Shiseido Forest Valley and a 40 metres high waterfall HSBC Rain Vortex. Travellers can have a short term stay at Yotelair Singapore Changi Airport or rest and relax at Changi Lounge located at the first floor. 
Jewel Changi Airport costs S$1.7 billion and took 4 years to build. 
There are total 7 levels of shopping areas, including five floors above ground and two levels underground. 
With 281 retail shops, of which 110 are F&B; shops, one could easily spend few hours at Jewel Changi Airport.
A perfect meeting place at basement 2. 
Most shoppers who pass by here will pause for a while, admire the scenery then take a few photos before move on. 
Located at 4th floor, Changi Experience Studio is an interactive digital experience studio which you can enjoy interactive games, projection experiences, immersive shows and gallery exhibits. 
Jewel Changi Airport Food Review
Shake Shack Fast Food Restaurant
Jewel Changi Airport Attractions in Canopy Park
The Canopy Park located at the fifth floor will be open on 8 Jun 2019. Kids and children would have a great time to enjoy the numerous attractions in the park. Check out here for the 10 attractions in the park, including Changi Experience Studio which is located at the 4th floor.
Canopy Park, situated at the topmost floor, is where you could find few of the attractions like Bouncing and walking nets, Hedge and mirror mazes, discovery slides, Foggy bowls, Petal garden and Topiary walk. All to be opened on 10 Jun 2019.
Canopy Bridge, also located in the Canopy Park, allows you to get the closest look at the HSBC Rain Vortex (the 40 metres high waterfall). 
In Canopy Park, there's a small path on the left of Lift lobby E that can lead you to the Shiseido Forest Valley. 
The Indoor Forest and Waterfall
A breath-taking view of the nature and waterfall from different floors of the shopping mall. 
Ever seen a mega shopping mall come together nicely with the nature? 
There are few entrances to the waterfall and gardens from the shopping mall. 
Jewel Changi Airport has more than 900 trees and palms, 60,000 shrubs and 120 different types of plants. 
Find a quiet corner in Shiseido Forest Valley to rest and relax after a long hours of travelling. 
Jewel Changi Airport Traveller's Guide
There are many good facilities and amenities for travellers to relax and have fun. Click here to find out more on free [email protected], getting around Terminals 1 to 4, Early Check-in Lounge, GST Refund, Baggage Storage, Changi Lounge etc. 
Singapore Vacation Deals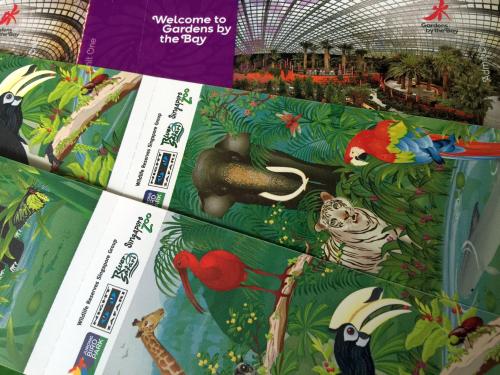 Singapore Attractions Tickets Deal
Have A Great Tip, Thought, Review or Story About Jewel Changi Airport?
Not only travellers love Jewel Changi Airport on their first visit, local residents like members of my family all love this place.

If you had been to Jewel Changi Airport, share with us your tip, thought, review or story about Jewel. Many of our visitors would love to hear from you!

Why we encourage all of you to share your views?
- share your reviews, comments, ideas here so that any one who intend to visit Jewel will benefit from your reviews and feedback.

- It's a huge, multi-purposes complex that need a large group of people to provide good and constructive feedback to make it a better place for everyone to enjoy.

What to share?
- write a review of a cafe, restaurant or hotel you had visited

- tell us your favourite retail shops in Jewel

- any of the facilities or amenities in Jewel which you think could be beneficial to us.

- any of the activities which you really enjoy doing in Jewel.

- any one thing you highly recommend us to try or do in Jewel.


Return to from Jewel Changi Airport to Top 10 Singapore Attractions