Jewel Changi Travellers Guide
Jewel Changi is a paradise for travellers. Tourists, businessman and transit passengers will find the facilities and amenities here very useful. The below guide will tell you what and where are these facilities and amenities.
Follow the steps above to get free wifi at Jewel Changi Airport.
The link bridge to T2/T4 is located at level 3, just beside Jumbo Seafood restaurant. 
The link bridge to T3 is located at Level 3, just beside O' Coffee Club and Din Tai Fung. 
Jewel Changi is directly link to Terminal 1 arrival hall, which is just opposite Sincere Watch or Coach shops. 
If you arrived at Jewel Changi from Terminal 1 Arrival Hall, the Early Check-in Loung will be on your left. Plan your check in a few hours ahead so that you can have enough time to shop, dine or relax there. 
Listed here are the participating airlines which provide early check-in at Jewel Changi.  
You may also use the Fast Check-in to process the check in yourself. There are staffs to assist you if you need help. 
Changi Lounge is located directly opposite of the Early Check-in Lounge. The lounge provides shower and napping amenities, as well as business facilities and refreshments. Use of the lounge is chargeable at $38/adult and $27/child for a three hours usage. Click here for more information on Changi Lounge.
Next to the Changi Lounge is a service centre for the GST Refund. You may claim your refund using the above Electronic Tourist Refund Scheme kiosks. To be eligible for the claim, you have to get ready for the following items: your passport, plane ticket, purchased items and receipts. 
The Baggage Storage is located next to the Early Check-in Lounge. It's a convenient place to deposit your luggage so that you can move around Jewel freely without any load.
The above clearly stated the storage rate. Note that the rate is based on per item. 
Next to the Baggage Storage is a resting area. 
If you are new to Jewel Changi and need help, there are Concierges at B2, L1, L2, L3 and L5 whom will help to answer your queries. 
Yotelair Singapore Changi Airport hotel is located at the 4th floor of Jewel Changi. A minimum of 4 hours short stay is allowed.
This foreign currency exchange machine is located next to Yotelair (one more at basement 1). You could only exchange foreign currency to Singapore dollars only at the moment. A setback, though a very useful machine and with good exchange rates, is that the machine is too sensitive. You got to try a number of times before it accepted your note. 
Singapore Vacation Deals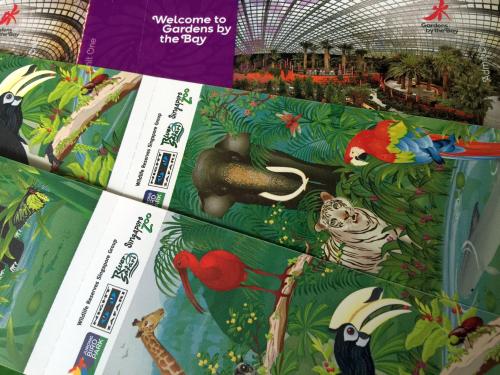 Singapore Attractions Tickets Deal
Have A Great Tip, Thought, Review or Story About Jewel Changi Airport?
Not only travellers love Jewel Changi Airport on their first visit, local residents like members of my family all love this place.

If you had been to Jewel Changi Airport, share with us your tip, thought, review or story about Jewel. Many of our visitors would love to hear from you!

Why we encourage all of you to share your views?
- share your reviews, comments, ideas here so that any one who intend to visit Jewel will benefit from your reviews and feedback.

- It's a huge, multi-purposes complex that need a large group of people to provide good and constructive feedback to make it a better place for everyone to enjoy.

What to share?
- write a review of a cafe, restaurant or hotel you had visited

- tell us your favourite retail shops in Jewel

- any of the facilities or amenities in Jewel which you think could be beneficial to us.

- any of the activities which you really enjoy doing in Jewel.

- any one thing you highly recommend us to try or do in Jewel.


Return to Jewel Changi Airport