HSBC Rain Vortex and Shiseido Forest Valley
HSBC Rain Vortex is the centrepiece of Jewel Changi Airport. The 40 metres high waterfall is situated right in the centre of Sheseido Forest Valley. The indoor forest has more than 900 trees and palms, 60,000 shrubs and 120 different types of plants. It is surrounded by a shopping mall with more than 280 shops.
HSBC Rain Vortex can be viewed directly from every floor of the shopping mall. There are few entry points where you can get in to the indoor forest directly from the mall. You will find yourself getting busy with your camera when you are standing in front of the waterfall. The scenery is beautiful and it's worth to stay a bit longer.
One of the entrances to the HSBC Rain Vortex (the 40 metres high waterfall) and Shiseido Forest Valley. 
You can easily find these awe-inspired plants and palm trees at every corner of this indoor forest. 
Could you see the flow of water behind these trees?
The cascading waterfalls on the east trail of Shiseido Forest Valley. 
Come early in the morning to witness a ray of rainbow set against the backdrop of Shiseido Forest Valley.
It's better to view the waterfall from level 1 and slowly go up by one level to have a different perspective of the views. 
You could take a leisure hike from the ground level to the Jewel's topmost level where the Canopy Park is located. 
There are many viewing galleries around Jewel. Where is the best vantage point to view and take photos of the waterfall? Proceed to lift lobby H, take the lift to the 3rd or 4th floor. Turn left while exit the lift, ahead of you is the best viewing point. Also it's the best place to view the light and sound show.  
This photo was taken early in the morning at the above viewing gallery.
The Skytrain brings transit passengers from T1 to T2 and T3. It operates from 5 am to 2.30 am at a frequency of 4 minutes. Click here to find out more on trevellers guide to Jewel Changi facilities and amenities. 
The centrepiece attraction of Jewel, the 40 metres high HSBC Rain Vortex.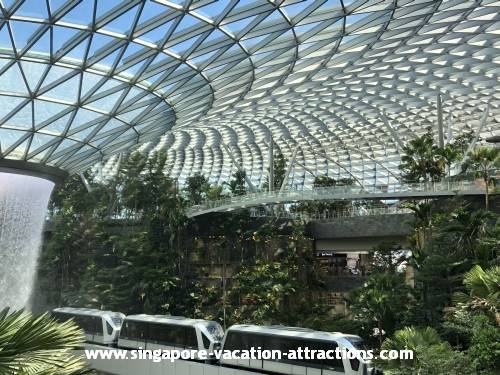 The Canopy Bridge (in the middle of the photo) is the closest you can get to view the HSBC Rain Vortex.
Come at night at 7.30, 8.30, 9.30,10.30, 11.30 or 12.30 to catch a mesmerising Light & Sound show. Visit Jewel Changi Travellers Guide to find out more on Jewel's facilities and amenities.
Singapore Vacation Deals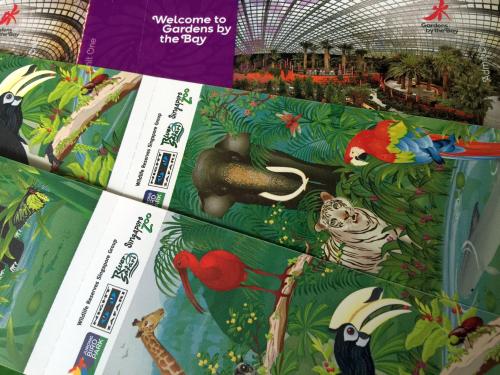 Singapore Attractions Tickets Deal
Have A Great Tip, Thought, Review or Story About Jewel Changi Airport?
Not only travellers love Jewel Changi Airport on their first visit, local residents like members of my family all love this place.

If you had been to Jewel Changi Airport, share with us your tip, thought, review or story about Jewel. Many of our visitors would love to hear from you!

Why we encourage all of you to share your views?
- share your reviews, comments, ideas here so that any one who intend to visit Jewel will benefit from your reviews and feedback.

- It's a huge, multi-purposes complex that need a large group of people to provide good and constructive feedback to make it a better place for everyone to enjoy.

What to share?
- write a review of a cafe, restaurant or hotel you had visited

- tell us your favourite retail shops in Jewel

- any of the facilities or amenities in Jewel which you think could be beneficial to us.

- any of the activities which you really enjoy doing in Jewel.

- any one thing you highly recommend us to try or do in Jewel.


Return to Jewel Changi Airport