Indian Temple is Inspiring
The Architecture of the Temple is even Remarkable
Sri Srinivasa Perumal Temple
It is one of the oldest indian temple located in Little India. I felt easy and comfortable to wander around this temple. I was the only tourist (if I'm counted as one) and the rest were worshippers busy with their praying.
It's a totally different feeling when I was inside Sri Mariamman Temple, located in Chinatown. This place was quiet and inspiring, with harmonious chanting of the priests in prayer occasionally.
No one will stop you from taking photos and video of the temple. I wandered around the temple as if I was invisible to them.
Sri Srinivasa Perumal Temple
The temple was built in 1855 and is a typical South India temple with a Gopuram, a pyramid-shaped tower with six tiers of sculptures, above its main entrance. It is devoted to the worship of Vishun (also known as Perumal), one of the Hindu trinity, the Preserver of the Universe who represents mercy and goodness.
Opening Hours for the Temple
6.30am to 9pm
Getting to Sri Srinivasa Perumal Temple
Click on the Singapore Street Map which will show you the location of the temple and how to get to the temple from any part of Singapore by public buses and MRT(subway).
Wandering Around the Temple
The photos shown below are the Gopuram at the main entrance. The decorative sculptures are fascinating to look at. It's built like a tower shaped so that anyone can see it from far. This enable a worshipper who cannot visit the temple but is closes by to send their prayer from a distance.
As stunning as the grand facade of the temple is its artistic interior. When you wander around the temple, take time to admire the details.
The priest as shown on the right photo was friendly. He even approached me to take a photo for him.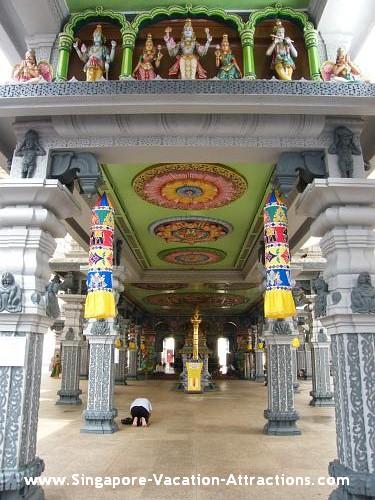 Go to Indian Temple Photos page for more pictures
Other Little India Tourist Attractions
The Charms of Little India Street

Return to Singapore Little India page
Singapore Vacation Deals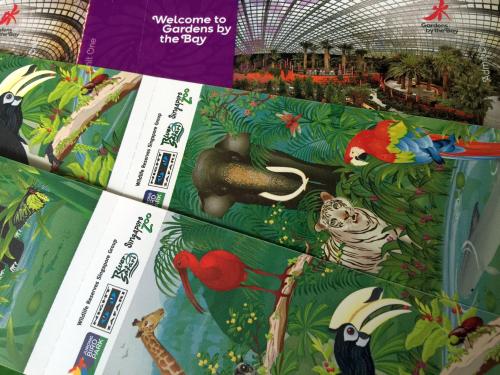 Singapore Attractions Tickets Deal