Universal Studios Singapore Tour Guide
Tips to Tour the Theme Park Smartly
Latest Update:
Universal Studios Singapore Tour Tips
13 useful Universal Studios Singapore Tips to save you time and money. Get help and advices from these tips to plan for an enjoyable trip to the theme park.
Re-opening of Universal Studios Singapore Roller Coaster
After closing for more than a year since 21 Jul 2013, the star attraction of Universal Studios Singapore, the Battlestar Galactica roller coaster, will reopen in 25 May 2022. 
The roller coaster will operate with a new look when it opens. The four-seater vehicle will be replaced by two-seater vehicles. The tracks, however, will remain the same.
Battlestar Galactica Roller Coaster, Sci-Fi City (01:39)
Universal Studios Hot Deals
Universal Studios Tickets Deal
Buy the following three tickets: Universal Studios, Two Ways Cable Car and any one of the following three attractions: Luge and Skyride, 4D Adventure Land 3 choose 1 or Wings of Time at a discounted price of just S$97 per adult or S$73 per child.
Please fill up the above request form and we will reply you by the next working day. In our email, you will find all the information you needed to know on collection of tickets and making payment for the deal. 
Lastly, remember to click on the 'Submit' button to send your request to us. 
Universal Studios Singapore, officially opens on 18 Mar 2010, is lighting a fire of excitement in the hearts of thrill seekers and fun lovers worldwide.
As part of a growing and innovative part of the world, this newest Universal Studios theme park will have rides and attractions unique to Singapore which will attract not only fortunate locals but also people from around the world wanting to experience this most innovative and impressive theme park as well as the local Singaporean culture.
Visitors to the park will not only experience exciting rides and lively shows, they will be thrown into some of their very favorite adventures from the big screen. From watching live stunts in the Waterworld attraction to riding down the river with the beloved characters of Madagascar, visitors will actually get to be a part of their favorite films.
The Seven Distinct Zones
Guests at Universal Studios Singapore will get to experience seven distinct zones in the park: Hollywood, New York, Sci-Fi City, Ancient Egypt, Lost World, Far Far Away, and Madagascar. All total the park boasts 24 rides and attractions, 18 of which are unique to Universal Studios Singapore. Visitors will also enjoy a plethora of dining options and gift shops to satisfy even the most discerning tastes.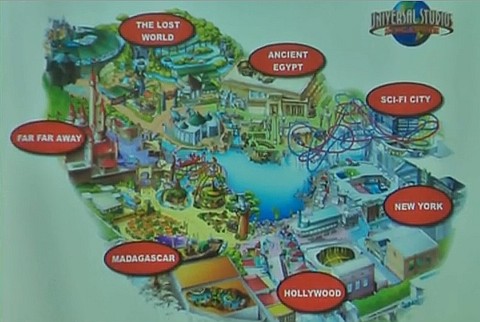 Map of Universal Studios Singapore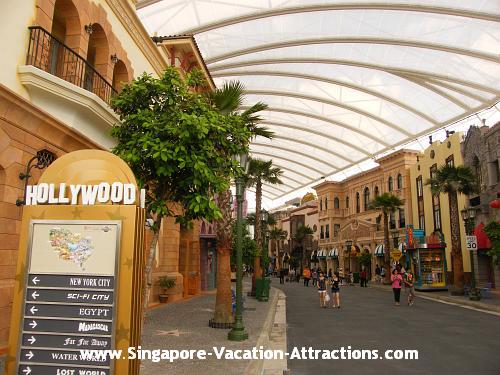 The entrance to the new park makes up the first zone, Hollywood. The Hollywood zone replicates the gorgeous art nouveau buildings of 1940's Hollywood and all of the glamour that went with the time period. The streets of Hollywood are lined with unique shops, such as Silver Screen Collectibles and tasty restaurants such as Mel's Diner. Guests can watch a live Boradway musical performance "Monstrocity" at Pantages Theater.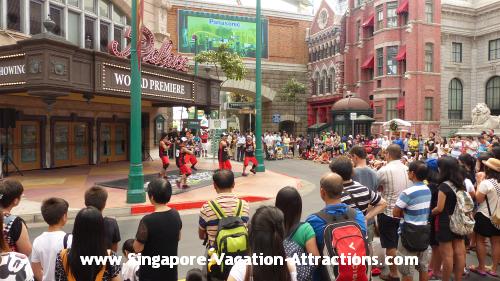 From the streets of Hollywood visitors suddenly stroll onto the streets of New York, the next zone in Universal Studios Singapore. The streetscape of 1940's New York, complete with brownstones and faux gas lamps provides a front for attractions that take guests behind the scenes of movies and television. Also included in New York is perhaps one of the tastiest steak houses in Singapore, KT's Grill.
After leaving New York visitors emerge into Sci-Fi City, the perfect zone for fans of science fiction and fans of the hit show Battlestar Galactica. In Sci-Fi City guests can choose to side with Humans or Cylons and ride one of two unique roller coasters that twine together creating several "near misses" that are not only terrifying but also very symbolic of the battle between Humans and Cylons in the show.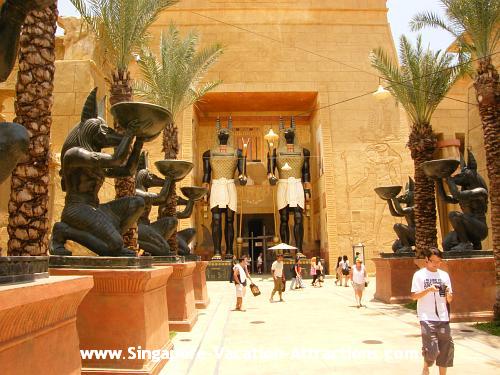 From the future to the past, guests next step into Ancient Egypt, the fourth zone in Universal Studios Singapore. In Ancient Egypt guests can enter the popular movie The Mummy or seek buried treasures. Hungry guests can also sate their appetites at Oasis Spice Cafe, with spicy Mediterranean and Malay cuisine.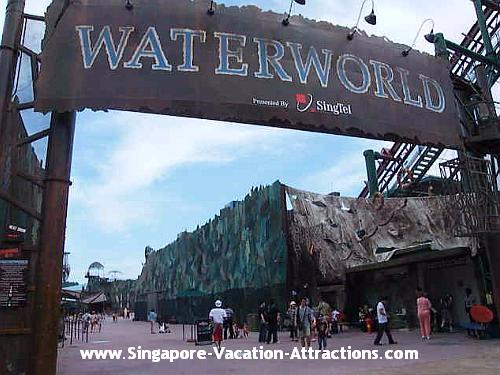 Trekking out of Ancient Egypt leads visitors even further back in time, to The Lost World. In the Lost World guests can experience hit action movies Jurassic Park and Waterworld. Whether riding down a river plagued with voracious T-Rex's or watching talented stunt men in the explosive Waterworld live action show, guests are in for a lot of excitement in this area.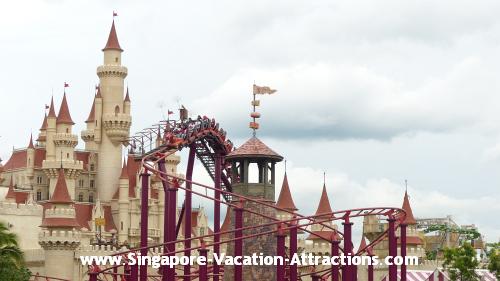 If guests are still on their feet they wander from the Lost World into the world of fairy tales, also known as Far Far Away. Based on the whimsical and hilarious movie Shrek, Far Far Away features exciting 4-D Shrek films and live concerts with everyone's favorite equine, Donkey. If guests need refreshing they can make a stop at the Fairy Godmother's potion Shop to mix up a quick magical potion at the juice bar before heading to the final zone.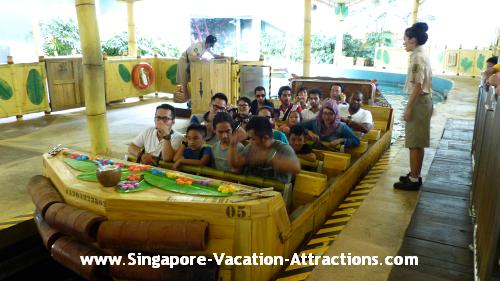 Rounding out the experience at the themed park is the Madagascar zone. Based on the charming animated movie chronicling the antics of shipwrecked animals, the Madagascar zone offers a river ride for the whole family as well as two restaurants to satisfy hungry and tired guests.
Universal Studios Singapore Opening Hours and Ticket Prices
Universal Studios Singapore Opening Hours
Sun to Fri: 10am to 7pm daily
Sat: 10am to 8pm
Universal Studios Singapore Ticket Prices
No where else in the world can people experience the movies in the way offered at the new Universal Studios Singapore. 
The theme park offers very reasonable rates, ranging from $74 for a one day adult pass to $118 for a two day adult pass. Children and seniors can also enjoy a discounted rate (all prices are in Singapore dollars). Refer to table below for entrance fees. For booking, refer to Booking Universal Studios Tickets Online.
| | | |
| --- | --- | --- |
| | One-Day Pass | Annual Pass |
| Adult (Aged 13 to 59) | | |
| Child (Aged 4 to 12) | | |
| Senior (Aged 60 and above) | | |
Getting There: How to Get to Universal Studios Singapore?
By Public Buses
1. RWS 8
Board at the bus stop outside of VivoCity. You may take any of the following buses to reach this bus stop: 10, 30, 65, 80, 93, 97, 100, 131, 143, 145, 166, 188 and 855. The fare for a round trip is S$2. Operating hours from 6am to 11.30pm daily.
2. 963R
Board at the bus stop at Woodlands Regional Interchange, which is directly below Woodlands MRT Station. The fare is about S$2. This service is only available on Saturdays, Sundays and Public Holidays. The first and last bus at Woodlands Interchange are 7am and 10pm respectively. At the Resorts World Sentosa, the operating hours are from 8.30am to 11.30pm.
By Sentosa Express
Take a MRT train to HarbourFront MRT Station, which is link to VivoCity Mall, then transfer to the Sentosa Express train located at level 3 of VivoCity(Lobby L). Align at Waterfront Station. The fare is S$3 inclusive of Sentosa Island admission charge.
By MRT Train
Take a North-East Line train to HarbourFront Station. You may then transfer to a public bus RWS 8 or the Sentosa Express train to reach Universal Studios.
By Car
You may enter directly to Resorts World Sentosa basement car park without passing through the Sentosa gantry. By this way, only car park charges apply. If you enter via Sentosa gantry(to any one of the hotels entrance), an additional admission charge to Sentosa Island apply. Show your hotel booking slip to the gantry for an island admission waiver.
By Taxi
The same charges apply, please refer to the above section 'By Car'. In addition, all visitors departing from Resorts World Sentosa IR will be required to pay a surcharge of S$3. You can save on the surcharge if you take a Yellow-Top taxi instead.
Parking at Universal Studios Singapore and Car Park Charges
Where to Park Your Car at Universal Studios
The nearest and most convenient to park your car if you drive there is to park at one of the four hotels car parks, i.e, Festive Hotel, Crockfords Tower, Hotel Michael and Hard Rock Hotel at the basement of Resorts World Sentosa Integrated Resort.
Resort World Sentosa Car Park Charges
Monday to Thursday from 7am to 7pm
$7 for the first hour, $1 for the subsequent half hour. The maximum parking fees is capped at $28 per day. $6 per entry after 7pm.
Friday, Saturday, Sunday and Public Holidays
$8 for the first hour, $2 for the subsequent half hour. The maximum parking fees is capped at $28 per day. $8 per entry after 7pm.
A theme park for the whole family, Singapore's Universal Studios has attractions for everyone from the young, to the young at heart. Adults can seek thrills on the heart-pounding roller coasters and thrill rides while kids can enjoy the magic of gentle rides like the Dino-Soarin' attraction. Even grandma can enjoy the park, with live shows like "Monstrocity" and family friendly rides such as Madagascar: The Crate Adventure.
No wonder interest is so high in this thrilling new theme park. Get more information about Universal Studios Hot Deals with a hotel pickup service provided by our business partner.
Universal Studios Singapore Photos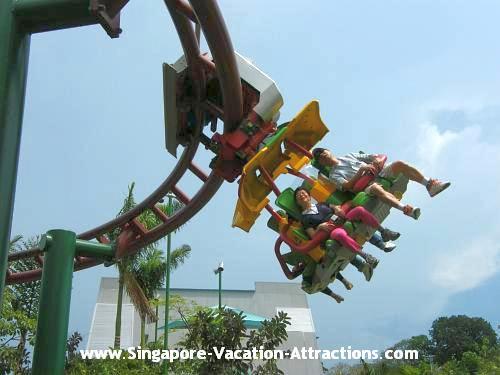 Go to Singapore Universal Studios Photos page for more pictures


Must-See Tourist Attractions in Sentosa Island
Latest Attraction - Resorts World Sentosa Integrated Resort
Imbiah Lookout - Eight Attractions in one location
Underwater World and Dolphin Lagoon
Sentosa Beach
Best of Singapore Tourist Attractions
Top 10 Singapore Attractions
Top 10 Singapore Night Attractions
Top 10 Things to do in Singapore
Singapore Vacation Deals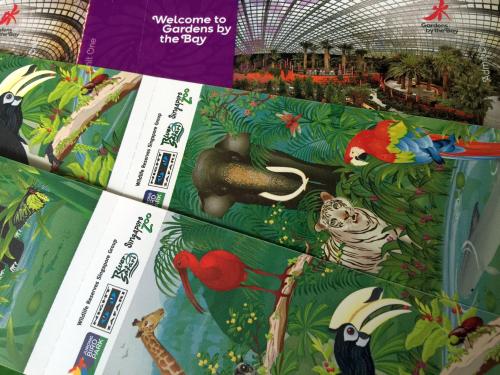 Singapore Attractions Tickets Deal

Return to Resorts World Sentosa IR page