New York Universal Studios Singapore
Bright Lights, Big City
In Singapore, New York City can seem like a world away; but no longer is that the case thanks to New York USS (Universal Studios Singapore). Here citizens of the world can step back in time to the less frantic but still classic New York of the 1940¡¯s complete with cobblestone streets, faux gas lamps and elegant brownstones.
In fact, strolling from Hollywood into New York provides a snapshot of two iconic U.S. cities on two different coasts at the same time, talk about a time warp! Just like Hollywood USS, New York USS also boasts climate control, with rain and shade cover as well as air cooling.
New York Map, Universal Studios Singapore
Stage 28
At Stage 28, a fully functional film and television sound stage, guests can sit in as audiences during real filming of actual films and television shows. Universal Studios plans to encourage many shows, from sitcoms to live television to produce their shows on its sound stage, creating a marvelous viewing opportunity for guests and a captivated audience for producers. Stage 28 will also provide a venue for special events within the park.
Lights, Camera, Action!
At the Lights, Camera, Action with Steven Spielberg attraction guests are guided by a recorded Steven Spielberg, who invites them to experience the magic of movie making and special effects on a real sound stage.
After an exciting introduction, guests are lead onto the sound stage where they begin to experience the filming of a Category 5 hurricane, where the special effects can create a scene as terrifying as the real thing! For anyone who's ever been fascinated at what goes on during the making of a movie, this attraction is the perfect opportunity to finally satiate that curiosity.
Dining Options in New York Themed Zone
After such a thrilling experience guests are likely to be famished, and New York USS provides two tasty dining options for guest that bring a slice of New York to Singapore. For the pizza lover there is Loui's New York Pizza, offering rich and thick slices of genuine New York style pizza pie.
For the visitor seeking a more upscale dining experience there is KT's grill, offering what has been billed as "one of the best steaks in Singapore" by Universal Studios, sandwiches, soups, salads, a fresh oyster bar, and Asian fusion cuisine.
Street Shows
For those who simply want to stroll the streets and enjoy the scenery, New York USS also offers a wide variety of street shows at different times and locations. Singing, dancing, juggling and perhaps even the occasional mime can all be expected on the streets of this recreated Big Apple.
New York City holds fascination for people around the world, and is an icon of American culture. Though it may be many thousands of miles away, now Singapore has its own little slice of New York for all to enjoy, and does it ever look like a captivating and appetizing slice of the pie.
Other Universal Studios Singapore(USS) Themed Zones
Hollywood USS
Sci-Fi City USS
Ancient Egypt USS
The Lost World USS
Far Far Away USS
Madagascar USS

Return from New York USS to Universal Studios Singapore page
Singapore Vacation Deals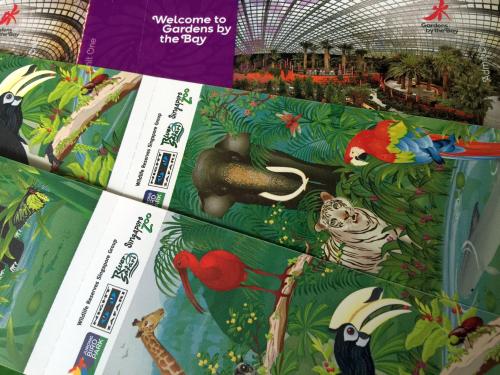 Singapore Attractions Tickets Deal