Our Favourite Sentosa Beach
Choose your Favourite ones among Tanjong, Palawan and Siloso Beaches 
Which Beaches to Go?
Sentosa beach stretches for more than 3km along the southern shore of the island. It was divided into three segments as Tanjong, Palawan and Siloso beaches. Of all three beaches, Tanjong Beach is not as crowded as the other two and therefore is ideal for people who are looking for a blissfully quiet place to swim and relax.
For youngsters and sport enthusiasts, head to Siloso Beach where watersport, beach volleyball and other recreational facilities are available along the beach. A number of restaurants and beach bars are also located here. If you are looking for a bar or restaurant along the beach, you may take a look at Coastes Bar, which received quite a good review.
For children and families, Palawan Beach is the most ideal. You could watch an animal show at the Palawan Amphitheatre, cross a suspension bridge to the Southernmost Point of Continental Asia and climb a viewing tower to have an bird's-eye view of Sentosa Island.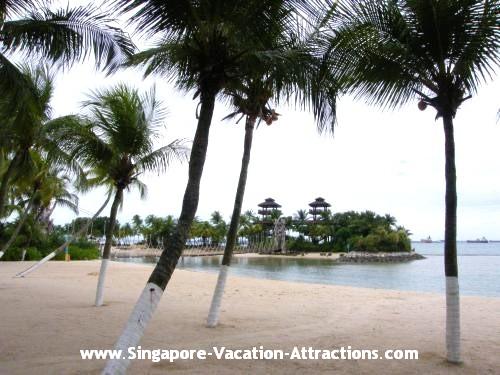 Go to Sentosa Beach Photos page for more pictures


Getting There: How to go to Sentosa Beach
From Vivocity level 3, take the Sentosa Express and alight at the Beach station. When you are out of the station, you can see a tram station not far away. To go to Palawan or Tanjong Beach, join the blue line queue. Otherwise join the green line to go to Siloso Beach. There are signboards elected along the beach to show you how to get around the three beaches.
The below left photo is a shot of Tanjong Beach, an obvious choice for someone who prefers a peace and quiet surrounding. Siloso Beach, on the other hand is ideal for sport enthusiasts.
Fort Siloso, which was built in the 1880s by the British for the defence of Singapore, is also located not far away from the Siloso Beach.
It is also the site of Wings of Time, a live performance and a must-see attraction for the first timer.
Palawan Beach is my family favourite beach as it provides more amenities and attractions for the kids. Don't miss the free animal show conducted at the Palawan Amphitheatre, all kids will love it. Watch a video clip of the show here. Show timings are 12pm, 12.30pm, 2pm, 3pm, 3.30pm, 4.30pm and 5pm.
There are beach bars, food court and few restaurants that serve Chinese, Indian and Western food. For budget traveller, the following foodcourt located along Palawan beach offer the cheapest local food you could ever found in the island. If you have more to spend, you may try one of the beach bars along Siloso beach. Be prepare then, to pay more than S$75 per person.
Sponsored Ads
There's also a Suspension Bridge that connect Palawan Beach to the Southernmost Point of Continental Asia, don't miss it.


Once crossing the bridge, you will come to the following lovely ground just beside the seaside at the other end of the bridge. Here would be a better place for swimming as it's more cosy under the shade of coconut trees.
Climb to the top of a viewing tower to get a panoramic view of Sentosa Island.
More on Sentosa Island Tourist Attractions
Photos of Sentosa Beaches
Sentosa Island
Sentosa Attractions at Imbiah Lookup
Sentosa Newest Attractions
Photos of Sentosa Attractions
Sentosa Underwater World
Photos of Sentosa Underwater World
Resorts World Sentosa Integrated Resort
Universal Studios Singapore
Photos of Universal Studios Singapore
Hotels in Sentosa Island
Singapore Vacation Deals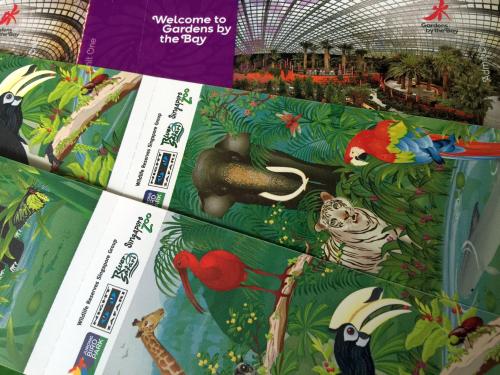 Singapore Attractions Tickets Deal