Resorts World Sentosa Integrated Resort
A New Playground for the Whole Family
Resorts World Sentosa integrated resort or Sentosa IR is Singapore's very first grand 49-hectare integrated resort, officially opening its doors in early 2010. As the name states, this new development is located on Singapore's prided island-attraction, Sentosa. Contained within are six hotels, a casino, Universal Studios Singapore, The Marine Life Park, the Maritime Experiential Museum and the Equarius Water Park.
A Preview of Resorts World Sentosa IR Hotels
If Genting Malaysia rings a bell in your ears, then you will probably know what to expect from Sentosa IR. Conceptualized by the same people behind Malaysia's reputed leisure and gaming destination, Resorts World Sentosa integrated resort promises to be equally exuberating or if not, it will surely be better!
Sentosa IR and its Nearby Attractions
The S$6 billion Resorts World, situated on the island of Sentosa, is near to some of Singapore's attractions and landmarks - Mount Faber, which makes for the perfect place to enjoy the sights and sounds of the harbour and the Straits of Singapore, and where you may ride on a Cable Car that brings you over to the island; VivoCity, Singapore's largest shopping mall, conveniently connected to the Harbour Front MRT Station, and a one-stop solution to all your shopping needs; St James Power Station, one of Singapore's most happening nightspots for frequent clubbers; and Singapore Cruise Centre, the place you should be if you want to sail the seas and explore the region.
Family-Friendly Resort
Resorts World Sentosa integrated resort is uniquely designed to cater to an eclectic crowd of both the young and old. While adults leave their worries behind and enjoy the thrills and spills of the theme park, children up to the age of 17 can join the Resorts World Kids Club which offers the young patrons special benefits such as meet-the-dolphin sessions, parties at Universal Studios and a whole list of other surprises in store for them!
Business and Convention Centres
Resorts World Sentosa integrated resort isn't all about fun and play. You'll know they mean business when you step foot into the Grand Ballroom and witness the spectacular grandeur of its theatre-style seating which holds up to a capacity of 7,300. That's not all! Planted beneath Festive Hotel is a 1,500 sqm plenary hall, big enough to seat 1,600. With the latest audio-visual equipment, the place is suited to host major events, product launches and even its resident musical extravaganza, Voyage de la Vie.
Resorts World Sentosa Casino
Another hidden treasure trove is the 15,000 square metre casino that runs all day long. So if you're itching for some Ka-Ching, you might like to visit the Resorts World Casino, take some risks and place your bets! Who knows? It might just be your lucky night!
The Maritime Xperential Museum
For something less 'dangerous', you can set sail on the journey of a lifetime as you come on board the Maritime Xperential Museum. Just like a storybook, this will be a magical journey where you can travel through the historical journey of pirates, shipwrecks, treasures and a whole lot more that is far beyond your imagination.
Six Hotels Each with a Unique Themes
Visitors of Resorts World Sentosa integrated resort who choose to wake up to a fairytale morning, have the choice of six different hotels with completely different themes to suit their fancy. With a total of 1,800 over rooms, whether it is Maxims Tower, Crockfords Tower, Hotel Michael, Festive Hotel, Hard Rock Hotel or Equarius Hotel, every single one of them is distinctively created to sweep you off your feet!
Thrill-seekers, listen up! You better believe your ears because Universal Studios has travelled across the ocean and landed on the shores of Singapore! Thematic attractions like The Lost World, Egypt and Hollywood Boulevard are all here to amaze you with an experience that is simply breath-taking! This movie-like theme park showcases 24 rides and attractions, with dining and shops all designed to take you through a fictional wonderland - an excursion so glamorous and thrilling, even adults will feel like kids all over again! Read more »
A Preview of Universal Studios Singapore
Equarius Water Park
Wait, there's more! Think theme park with the splish and splash, and you'll get the Equarius Water Park at Sentosa IR. Built like your typical theme park, but with a twist - a wet and wild twist! It is no surprise that visitors to this attraction are bound to leave with droplets of water trickling down their backs.
The ESPA's Spa Wellness
And if you thought Resorts World Sentosa integrated resrot is all about excitment and adrenaline-pumping fun, it's more than that. Caring for your well-being is also part of their agenda. The ESPA's Spa Wellness sanctuary at Sentosa IR offers you a health and wellness rejuvenation. If you are seeking to treat yourself to a relaxing mind and body regeneration, you might like to give this a try. Their unique services include nutrition management, stress management, lifestlyle coaching and a whole range of therapy treatments.
Marine Life Park
Once you are feeling recharged and energized, you should visit the 8-hectare Marine Life Park, which has earned itself the title of The World's Largest Oceanarium. With over 700,000 fishes, and interactive multi-sensory equipment, this attraction will prove to be an entertaining and educational experience for all. More excitingly, guests will be given the opportunity to get up close with dolphins, and dive with and feed the Tiger sharks.
How to Get to Resorts World Sentosa?
Resorts World Sentosa Integrated Resort is located just next to the Universal Studios Singapore. Follow this link Getting to Resorts World Sentosa which has full instructions showing you how to get there by bus, car, MRT, taxi and sentosa express.
There's just so much to do at Resorts World Sentosa integrated resort. With every single attraction and activity so enticing, you'll be bound to regret if you leave without a fully exploring all its sights, sounds, thrills and spills.
More on Integrated Resorts
Marina Bay Sands Integrated Resort
More on Sentosa Island Tourist Attractions
Universal Studios Singapore
Photos of Universal Studios Singapore
Sentosa Island
Sentosa Attractions at Imbiah Lookup
Sentosa Newest Attractions
Photos of Sentosa Attractions
Sentosa Beaches
Photos of Sentosa Beaches
Sentosa Underwater World
Photos of Sentosa Underwater World
Hotels in Sentosa Island
Singapore Vacation Deals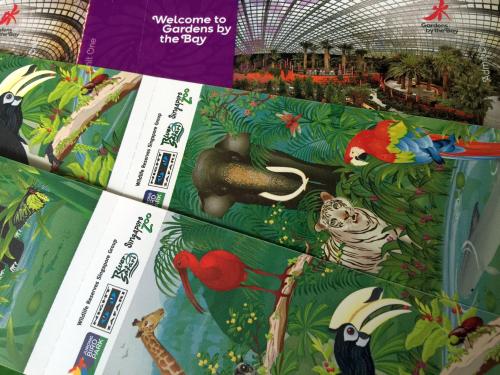 Singapore Attractions Tickets Deal
Return from Resorts World Sentosa Integrated Resort to Singapore Integrated Resorts page