St James Power Station
The Best Nightspot for Singing, Dancing and Clubbing
A Brief History of St James Power Station
Built in the early 1900s, St James Power Station was Singapore's very first power supply station. Occupying 76,000 sq ft with an old English-style architecture of red bricks and chimneys, it was made to cease operations and shut down in 1962 due to the frequent breakdowns and its inability to generate sufficient electricity.
In 2006, this run-down power station vicinity was given a makeover and transformed into one of Singapore's largest entertainment venues. The plan for the power station was to make it ideal for food, drinks, dance, music, and even just chilling out. Till today, this building is still standing strong and is now a roaring success among the hippest and trendiest clubbers.
St James Power Station's adopts the innovative concept of housing nine party outlets under one roof, with each club owning a distinctive identity, style and sounds. Better still, for a fixed entry fee, you get to enjoy all nine of them!
One Nightspot that Holds Nine Party Outlets
Dragonfly
Distinguished by the type of crowd it attracts, which consists of mostly what Singaporeans label as Ah Lians and Ah Bengs - commonly stereotyped as the slightly uncouth and the verbally and fashionably expressive youthful lot. Performers here play a good mix of live English and Mandarin hits, while dancers do what they do best by transforming the place into a slightly classier than usual getai, which is a traditional Chinese stage performance consisting of old classic tunes, dancing and bright colorful costumes.
Dragonfly @ St James Power Station (03:51)
Gallery Bar
Strategically located at the second level, the Gallery Bar offers a magnificent bird's-eye view of all the other outlets from above. Watch as the clubbing scene goes by while you chill luxuriously in a chic bar lounge setting.
Mono
Mono is the one and only venue where you can enjoy a great karaoke session. With 10 uniquely designed rooms for private parties and bar that seat up to 50 people, Mono makes for a nice cozy corner to sing the night away!
Movida
For a different sound out of the usual club beats, spend your night at Movida. This outlet features sounds from various parts of the globe, including musical vibes from Africa, the Caribbean, Middle East and South America. This is the place for anyone from anywhere and everywhere!
Peppermint Park
Feel the cool evening breeze and take in a breath of fresh air at Peppermint Park. This is a favourite spot for many working professionals looking to kick off their shoes and let down their hair after a long day's work. Unwind with a few drinks as you sit before the backdrop of St James Power Station and admire the beautiful architecture of VivoCity.
Powerhouse
This 10,000 sq ft dance floor is the largest in St James Power Station. Being the main attraction for most avid clubbers visiting the club, this party complex plays only the grooviest beats and hippest sounds. St James Powerhouse is the place to see and be seen!
Bellini Room
With a capacity holding up to 250, Bellini Room houses a live band and great singing performers that offer you a mix of swing, big band and soothing music. Think along the lines of Frank Sinatra and Tony Bennett - that's just about what you'll get at the Bellini Room.
The Boiler Room
The Boiler Room sure makes your night a boiling hot one! Listen to the hottest live music from all kinds of genres from soul and jazz, to R&B; and hip-hop. Feel the heat and grove to the beats!
The Lobby
The Lobby is a bar where sports fans can chill out with friends, indulge in a few drinks, lounge in comfort and watch the latest sports matches on big in-house screens.
Which One Suits you Best?
So, we know St James Power Station is just simply amazing with so many choices to choose from. With so little time and so much to do, what would be the best bet? If you had to pick just one, the Powerhouse would be the one outlet that truly defines what it is really all about. It's no wonder why so much space is dedicated to this one outlet alone. Step in with anticipation of a great night ahead, and step out in anticipation of another return to this heart-thumping club all over again!
Here's a quick tip for all you newbies out there - if you love the crowd and enjoy the company, Friday and Saturday nights are the best to visit a very packed St James Power Station. So, be prepared for some squeezing and sweating! But if you would rather a quiet night's out, I strongly suggest you steer clear from those two days and stick to any other day of the week.
Other Singapore Night Attractions
Night Safari Singapore
Merlion Park
Clarke Quay
Trishaw Ride around Bugis Area
Singapore River Night Cruise
Chinatown Street Market
Cable Car and The Jewel Box at Mount Faber
Zouk Singapore
Return to Top 10 Singapore Night Attractions page
Return from St James Power Station to Home page 
Singapore Vacation Deals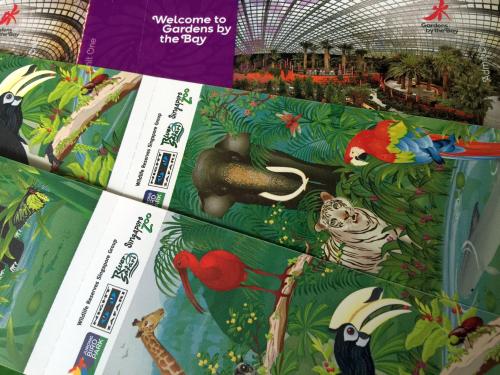 Singapore Attractions Tickets Deal