Zouk Singapore
The Definite Club to Visit When in Singapore
A Brief History of Zouk Singapore
Walk by Zouk Singapore today, and you will see a dance club with fans bobbing their heads to groovy beats and dancing to spinning tunes. Turn the clock back to the year 1919 and what you see instead are three old warehouses built along the Singapore River.
After a major renovation and facelift in 1991, the houses were being converted into three interconnected clubs within its premises. The club name, Zouk was derived from the French word for 'party' and it is no surprise when all you can expect from this place is to party all night through!
Why Visit Zouk Singapore?
For the past 10 years, Zouk has morphed into a cosmopolitan nightspot, where international acts of renown top DJs and music artistes blast the dance floors with their undeniably award-winning talents. Some familiar names that set Zouk apart from other nightclubs include Nouvelle Talents, Above & Beyond, Armin Van Buuren, Tiga, Ricardo Villalobos, Sven Vath, Dixon, Brodinski, Steve Aoki, Deadmau5 and A-Trak.
Crookers@Zouk Singapore (01:58)
Topping that off, Zouk Singapore has won itself overwhelming recognition over the years. Its name was placed on the list of finalists and winners as Nightspot of the Year at the Singapore Tourism Awards for a total of 11 years, from 1996 to 2002 & 2004 to 2007.
MixMag November 2005 issue listed it as one of The World's Top 10 Killer Clubs; and DJ Mag (UK) ranked it as No.10 in The Top 50 Clubs in the world charts, for 2006 & 2007. In the recent years of 2008 and 2009, it has also earned itself the Singapore Service Star Award for Wine Bar and the title of Best Club from JUICE Magazine Singapore.
Being among the more recognized dance clubs in the world, Zouk is definitely a nightspot to visit while in Singapore. Only the best of modern sounds are played here for your pleasure. So, even if you are not much of a dancer yourself, sitting back and enjoying the music is a good enough excuse to make a trip down and chill the night away.
The Four Main Musical Outlets
You can in fact choose from the four musical outlets one that suits your musical taste, preferences and most importantly, your moods. Zouk Singapore comprises of four outlets, including itself that are connected together. Each of them is uniquely designed to cater to the different type of clubbers.
Zouk
Built in 1991 as the main dance floor, it is the largest and probably the most upbeat of all the stations. Playing rap, hip hop and RnB tunes with state-of-the-art sound and lighting, some would say that this place is suited for the young, but I say that as long as you are feeling young, this is just the place for you! Open Wednesdays, Fridays and Saturdays.
Velvet Underground
Velvet underground was built at a later stage in 1994. It is a quieter and more relaxed lounge, which plays house and soul tunes, catering mostly to those of class and sophistication. Velvet Underground in itself is further divided into two arenas - one with softer music and the other, which is slightly more upbeat. The soft warm lighting and red velvety color that fills the interior complements the soulful sounds of lounge, chill and vocal house to make this simply ideal for chilling out. Open Wednesdays to Saturdays.
Phuture
Phuture was born in 1996 specializing in broken beats, and is usually jam-packed with fast music lovers and frantic dancers. If you love to dance, this is the place for you! Phuture goes to the beats of house, trance and techno music that keeps you shaking to the beat! Open Wednesdays, Fridays and Saturdays.
Wine Bar
Unlike the other stations, Wine Bar offers free admission to all clubbers. Situated right outside Zouk, Wine Bar is where you can expect to spend a quiet night, having a few drinks and chilling in the good company of good ole friends. Open Mondays to Saturdays.
Ladies' Night
Ladies are in for a treat every Wednesday night. Zouk Singapore special Ladies' Night, also known as Mambo Jambo or Mambo Night, offers all ladies free entry into the club after 9pm. If you are an avid clubber, you won't have to wait for a Wednesday to enjoy a nights out. Other popular nightspots in Singapore also give nightlife seekers something to look forward to every single night of the week.
Some of the better-known spots that are popular among the youths in Singapore include St James Power Station, which has an amazing list of nine uniquely different outlets within the complex; Attica, where you will find the rich and famous; Bar None, Butter Factory, and Coastes bar for a cool relaxing drink on Sentosa Beach.
Other Singapore Night Attractions
Night Safari Singapore
Merlion Park
Clarke Quay
St James Power Station
Trishaw Ride around Bugis Area
Singapore River Night Cruise
Chinatown Street Market
Cable Car and The Jewel Box at Mount Faber

Return to Singapore Night Attractions page
Return from Zouk Singapore to Home page
Singapore Vacation Deals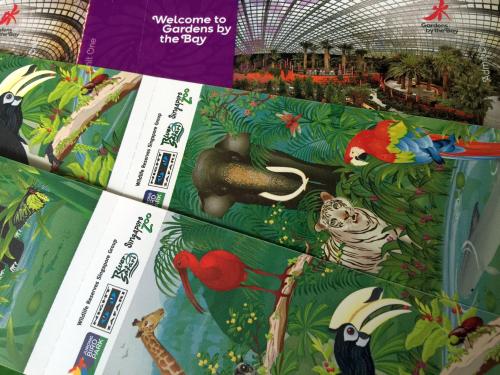 Singapore Attractions Tickets Deal