Top 10 Things to Do in Singapore
Unique Things to Do for Tourists and Travellers
There are countless things to do in Singapore that even locals are still kept amazed at the wonders this country has to offer. Singapore may appear insignificantly tiny on the world map but don't be fooled by its size - this mini is sure to pack a punch! Here are the top 10 things not to be missed:
Singapore Flyer

Cruising Down Singapore River
The most enjoyable things to do in Singapore for families is to hop on a bumboat and take a leisurely Cruise along Singapore River as you admire the spectacular view of Old Colonial Buildings, old shophouses along the river bank and the contrast of Singapore's modern skyscraper skyline. As you listen to the on-board commentaries, try picturing the chaotic scene of early settlers making a living on this same river, which is now so peacefully serene. read more »
| | |
| --- | --- |
| Bumboat | |
Buy Singapore Attractions Tickets as a Package Deal
Please fill out the below form with at least three attractions (why three attractions?) or more under the option 'Pick your own attractions' and we will send you a free quotation based on your selections by the next working day.
You may also choose any one or more days from the options Day 1, Day 2, Day 3, Day 4, Day 5. We will then compute and send you the total amount of the deal.
All the attractions tickets are valid for at least a month, some as long as 3 months. You may use the tickets on any dates so long as not to exceed the expiry date.
All the below deals only provide you with entrance tickets to the above attractions. It does not include transport and tourist guide. You have to go about the above attractions on your own. 
Chilli Crab
| | |
| --- | --- |
| | Singaporean food is never complete without mentioning the tantalizing abundance of seafood dishes. For foodie, one of the things to do in Singapore is to sampling the uniquely Singaporean Chilli Crab. This dish is skillfully prepared, fried, and then smothered in thick, tangy, sweet and savory gravy. If you haven't had a taste of Chilli Crab, trying it is something that you must not miss out in your itinerary on your visit to Singapore. read more » |

Visit National Museum of Singapore or Asian Civilisations Museum
For history buffs, one of the things to do in Singapore is to visit the National Museum of Singapore or the Asian Civilisations Museum to understand the cultural and historical background of Singapore. Though small, this country has a rich heritage that is well depicted in these two museums, showcasing its journey from struggles to victories.
Hawker Food for Local Fare
One thing Singapore is famous for is its exciting culinary fare found at hawker centers splattered everywhere. The wide array of Hawker Food is an excuse good enough for you to turn to gluttony. Don't forget to try out the Singaporean favorites such as Laksa, Chicken Rice, Fried Hokkien Prawn Mee, Rojak, and Minced Pork Noodles. The list never ends, but you'll never know until you try them out for yourself! read more »
Wet Market
One of the unique things to do in Singapore is visiting a wet market. Wet markets are found in almost every heartland in Singapore. Unlike a typical supermarket known to all of us, a wet market adopts an open-space concept, without air-conditioning, and is basically - wet. The one reason why Singaporeans are willing to sacrifice the luxury of doing their grocery shopping in a supermarket is the freshness of the produce sold in the wet markets. read more »

Swing To the Singapore Sling
| | |
| --- | --- |
| | The Singapore Sling though made popular as a cocktail drink throughout the world, was in fact created and concocted in Singapore. This alcoholic beverage has been around for decades - long enough for its original recipe to have been lost, making it a drink that is full of mystery. Try out the mysterious blend of flavors, and who knows, you might just be able to unlock the secret behind this cocktail. read more » |

Explore Cultural Singapore
Singapore has always had a rich cultural scene built around the four different races - Chinese, Malay, Indian and Eurasian. An educational visit is never complete without visiting their places of worship. Chinese Temples, Indian Temples and Malay Mosques can easily be found in the respective tourist attractions of Chinatown, Little India and Kampong Glam.
Tropical Fruits and Juices
A variety of Tropical Fruits and juices such as Banana, Papaya, Mango, Starfruit and Durian are found in most parts of Singapore. Although some are seasonal, only available at certain times of the years, you'll find fruit stalls selling other tropical fruits if not equally, definitely more deliciously exotic! Singapore is one country with an amazingly fresh and juicy assortment of fruits available all year round and all worth trying - whether it's freshly sliced or freshly juiced.
Images of Singapore
One of the popular things to do in Singapore for people on family vacation is to experience historical Singapore at the revamped Images of Singapore where legends and folklores are uncovered. Located on the Sentosa Island, this attraction will make for a jaw-dropping journey as you learn of the history, culture, values and beliefs that formed the nation that it has become today. read more »
Where to Stay in Singapore
Hotels in Marina Bay
Hotels in Sentosa Island
Hotels in Chinatown
Hotels in Little India
Hotels along Singapore River
Hotels in Orchard Road
Hotels in Bugis
Hotels in Colonial District
Best of Singapore Tourist Attractions
Top 10 Singapore Attractions
Top 10 Singapore Night Attractions

Return from 10 Things to Do in Singapore to Home page
Singapore Vacation Deals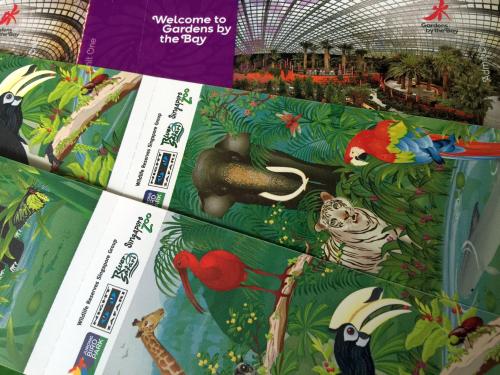 Singapore Attractions Tickets Deal