Singapore Food
Picture yourself savouring Chinese, Indian, Indonesian, Eurasian, Japanese, Korean, Thai, Italian, Frence, American or any International food, all in one place.
Singapore food is available in an infinite range of choices and variety. It runs the gamut from local Chinese, Malay and Indian to Eurasian and international. 
Singapore is a nation where food reigns as king; with generation after generation of food-lovers, our taste buds have evolved to appreciate good food. Eating is like a national pastime in Singapore.
Local or Restaurant Food
For local food, most of us head to the Hawker Centre, Coffee Shop or Food Courts. Hawker centres and coffee shops are usually the slightly cheaper alternative to food courts, but for that dollar more, an air-conditioned food court might be a better choice in sunny Singapore. But if food quality and variety are what you are really looking for, the hawker centre will be a great option.
For those who are new to the local dining scene, some typical Singapore food to try out are Malay's Satay, Indian's Fish Head Curry and the famously Chinese Chicken Rice.
As for fine dining, there are good restaurant food in Singapore that serve Chinese, Asian or Western Food.
Hawker Centres
Hawker food, one of the best Singapore food, is unique to Asian culture, and Singapore is probably one of the best places to find the widest varieties of hawker fare. From the beginnings of this nation to this very day, Singapore has managed to maintain its reputation for being a top-notch culinary wonderland. Today, there are roughly 120 established Hawker Centres located all over the country, each are home to an average of 100 food and drinks stalls.
Some of the more well-known ones include the Chinatown Complex Food Centre, East Coast Lagoon Food Village, Lau Pa Sat, Tiong Bahru Food Centre and Newton Food Centre. As for tourists, I strongly recommend you to visit any one of the Five Popular Hawker Centres dotted around Chinatown.
Coffee Shops
Similar to Hawker Centres, coffee shops also adopt open-air dining; only serving a much smaller range of local food. Also known as 'kopi-tiam', the Hokkien translation for coffee-shop, these establishments are usually found at small corners of housing estates all over the island, with majority of their customers frequently sitting around and sipping on their kopi.
Food Courts
Singapore Food Courts are again, very much similar to hawker centres. Along with the development of Singapore, most hawkers moved their businesses indoors to air-conditioned food courts. This indoor street-fare is usually a mix of Singapore's primary ethnic cuisines - Chinese, Malay and Indian.
Singapore Food Types and Variety
Chinese Food
The Chinese Foods you find in Singapore are beyond count. They can range from spicy to bland, steamed to deep-fried, soupy to dry, and the list goes on. The popular ones are Fried Hokkien Mee, Wanton Mee and Char Kway Teow - all are highly recommended Singapore food for first-time visitors.
Malay and Peranakan Food
The Malay and Peranakan Food culture in Singapore involves intense color, spice and flavour. Malay food often comes in the form of Nasi Padang, where you get to select the types of meat or vegetable dishes you want along with your rice. The must-try dish, no doubt, is the Satay. You can also order noodle dishes like Mee Siam, Mee Rebus or Laksa.
Indian Food
Indian Food can be Southern (hot, spicy and rich) or Northern (milder and lighter) dishes. Indian Muslim food from the south is more popular in Singapore. Food items like Murtabak, Chicken or Mutton Biryani, and Fish Head Curry are few great-tasting Singapore food.
Asian Food in Singapore
Asian food covers a very wide spectrum of cuisines from all over the region. Though they are not very popular in the hawker centers and coffee shops just yet, there are Japanese, Korean, Thai and Indonesian food stalls growing in popularity in Singapore food courts.
Restaurant Food in Singapore
While Singapore may boast of its local food and hawker fare, it does not fall short either when it comes to scrumptious food in fine dining restaurants. Who says Singapore is all about sun and sweat? Dine in comfort, luxury and style in these highly recommended culinary establishments.
Chinese Restaurants
While Chinese cuisine can be further classified into the various dialect food groups such as Cantonese, Teochew, Hokkien and Hakka, you will find that Chinese Restaurants in Singapore typically adopt a certain style of dining. Dim Sums (bite-sized food creations served in bamboo crates) are common in Chinese restaurants; Fried rice and noodles are usually the main part of the meal, and they are accompanied by central dishes like Gong Bao Chicken, Sweet & Sour pork, steamed fish, and Shark?¡¥s Fin Soup, which are shared by everyone around the table. Check out our recommended Chinese Food Restaurants.
Western Food Restaurants
French Food in Singapore
We often hear that French people just don't get fat even though they have one of the most exquisite cuisines in the world. Visit any French Restaurant in Singapore and you will find your answer - they go by the rule of quality over quantity. Prices on their menu may be over the top despite the small portions served, but it is almost impossible to beat the standards the French restaurants have set for fine dining. Just like an France, authentic French restaurants in Singapore offer their local delicacies like truffles, Foie Gras (goose liver), Escargots (baked snails) and Caviar (fish roe). Check out our recommended French Food Restaurants.
Italian Food in Singapore
Cheese and wine play a major part in completing an Italian meal. The dishes you find in Singapore Italian Restaurants are usually prepared with cheese and later topped with more cheese before consumption. There is a varied range of cheeses that come in different tastes and forms - sliced, shredded, powdered, grated and cubed. Common items you will find in an Italian restaurant menu are salads, pasta, spaghetti, pizza, lasagna and definitely the wine, which is something they are famous for and take a lot of pride in. Italian restaurants are often set in a romantic ambience - always an ideal place for a date! Check out our recommended Italian Food Restaurants.
Asian Food Restaurants
Indian Food
Visit any Indian Restaurant in Singapore and chances are, most of the menu items are Southern Indian food. Differentiated from their Northern Indian counterpart through the use of chilli, tamarind and spices, South Indian meals usually leave your taste buds biting and numb. To get the best of Indian food culture, visit an Indian restaurant and order a bowl of Curry Fish Head along with a loaf of bread, and trust me, you'll soon realise why it is considered as one of the best Singapore food! Check out our recommended Indian Food Restaurants.
Malay and Indonesian Food
The kind of Malay food you find in Singapore restaurants are often a combination of natural Indonesian and Thai flavours. Some of which include ginger, turmeric, chillies, lemon grass and dried shrimp paste that are used to throw in a punch to their curries. Malay and Indonesian cuisine are also usually very rich in coconut milk and ground peanuts, which give the gravies extra texture. The most popular curry you'll see on their menus is rending, a dry and dark coconut gravy served over meats. Another common restaurant menu item is Nasi Padang - rice served with meat, vegetables and slathered in spicy gravy.
Thai Food in Singapore
Thai Restaurant Food places a great deal of emphasis on striking spicy aromas and flavours. Their cooking style is also focused on balance, details and variety. It is not uncommon to have all five taste components in one dish - sweet, savoury, bitter, tangy and spicy. Thai dishes are also usually very rich, especially their curries such as green seafood curry, which make use of coconut milk for extra texture and taste. For something lighter, their local favourite noodle dish, Phad Thai or rice dishes like Pineapple rice, Olive Rice or Parprik Rice are equally good.  Check out our recommended Thai Food Restaurants.
Japanese Food in Singapore
To many Singaporeans, especially the youngsters, Japanese food is comparable to some of the top Singapore food. Japanese Restaurant Food can come in a whole range of styles. Just to list the common few, there is Sashimi, Teppanyaki, Sushi and Bento sets. The Japanese restaurants you find in Singapore usually offer a variety on their menu. Sashimi is raw slices of various sea foods like fish and squid; Teppanyaki is a style of cooking where a Japanese chef will pan-fry your meal right before you on a heated metal surface; Sushi is similar to Sashimi, but with added Japanese rice; and Bento is a boxed meal with different compartments holding many types of food like battered seafood, vegetables and sushi. Check out our recommended Japanese Food Restaurants.
Best of Singapore Food
Top 10 Singapore Chinese Food
Top 10 Singapore Malay Food
Top 10 Singapore Indian Food
Top Singapore Restaurant Food
Best of Singapore Tourist Attractions
Top 10 Singapore Attractions
Top 10 Singapore Night Attractions
Top 10 Things to Do in Singapore
Universal Studios Singapore

Return from Singapore Food to Home page
Singapore Vacation Deals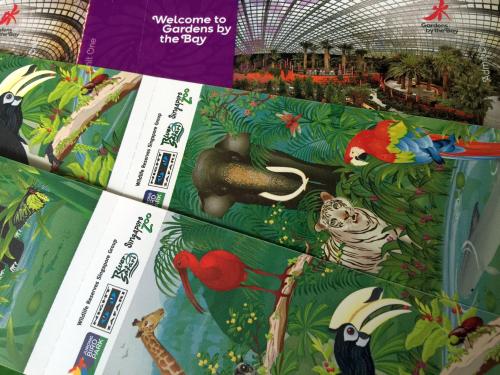 Singapore Attractions Tickets Deal