Sentosa Newest Attractions
Sentosa Island is home to some of the coolest Attractions in Singapore, and they're constantly adding more. Sentosa newest attractions offer something for everyone, from the adventure seeker to the romantic dreamer.
Madame Tussauds Singapore Wax Museum
One of the Sentosa newest attractions, Madame Tussauds Singapore is a world famous wax museum you will not want to miss. If you never have a chance to take photos with your favourite celebrities or sports stars, this wax museum will fulfill your wish.
The wax figures are divided into the following categories: History and Leaders, A List, Film, Sports and Music. In Madame Tussauds Singapore, you can look forward to taking photos with the Prime Minister Lee Hsien Loong, our first President Encik Yusof Ishak, sports star Fandi Ahmad, Singer Stefanie Sun, actor-host Gurmit Singh and film-maker Jack Neo.
Wax figures of other international stars will also be display here, they include Queen Elizabeth II, Muhammad Ali, Madonna, Tom Cruise, Bruce Lee, Michelle Yeoh, David Beckham, Yao Ming, Tiger Woods, Elvis Presley, Lady Gaga, Beyonc, Sebastian Vettel, Angelina Jolie, Lewis Hamilton, Audrey Hepburn, Amitabh Bachchan, Brad Pitt, Leonardo DiCaprio,  Madhuri Dixit,Marilyn Monroe, Nelson Mandela, Nicole Kidman, Sachin Tendulkar and Serena Williams.
Make a guess how much does a wax figure cost? About S$300,000.
Adult Ticket: S$38, Child Ticket (3-12 years old): S$28, Senior Citizen Ticket (aged 60 and above): S$30
You can get better rates by booking online at Madame Tussauds website.
Madame Tussauds Singapore Opening Hours
10am to 9pm daily
iFly Singapore
At iFly Singapore, you and your family can experience all the thrills of jumping out of an airplane without the terror of plummeting thousands of feet to the ground in a state-of-the-art wind tunnel. The tunnel recreates the exact feeling of flying through the air that you would get while skydiving, but costs significantly less and is much safer.
Everyone gets to enjoy at least two skydiving experiences in the chamber, complete with instructions by professionals and gear rentals to keep you safe. "Jump" alone or in a group and execute astonishing stunts as you make your descent.
iFly Singapore Ticket Prices
$99 for two sky dives, $80 for super off peak hours (Sat & Sun: 8pm to10.30pm, Mon, Tue and Thu: 10.30am to 12pm)
iFly Singapore Opening Hours
Monday to Sunday (except Wednesday): 9am to 10pm, first flight at 10.30am.
Wednesday: 10.30am to 10pm, first flight at 12pm.
Crane Dance and Lake of Dream
The Crane Dance, featuring massive animatronics birds that rise the equivalent of 10 stories into the sky, is the perfect way to end your day on Sentosa Island. The show, which features lights, sound, and spectacular water effects is ideal for the whole family, or for couples looking for a bit of romance.
Crane Dance tells the beautiful story of two mechanical birds that fall in love with each other, and their love eventually transforms them into real birds.  The 10 minute show runs nightly, starting at 9pm, and is free for all.
After watching the Crane Dance at 9pm, you'll still have time to head over to Festive Walk and catch another spectacular night show at 9.30pm, the Lake of Dreams. You'll enjoy flaming dragons, water effects, and dazzling laser light shows set in the gorgeous fountain near the casino. Like the Crane Dance, Lake of Dreams is a free show.
Flying Trapeze
If you have ever wondered what it would be like to fly across the Big Top like the trapeze artists, The Flying Trapeze is definitely for you. If you're feeling adventurous, soar through the air and try your luck and timing at grabbing on to the next trapeze. If swinging through the sky is not your thing, it is just as exciting to stop by and watch others give it a whirl.
Flying Trapeze Ticket Prices
S$10 per swing, or S$20 for three swings.
Flying Trapeze Opening Hours
2:30 to 6:30pm Monday through Friday and until 7pm on weekends and public holidays.
Megazip Adventure Park
The Megazip Adventure Park is the first park of its type in Singapore, and definitely a must for adventure-seekers.
MegaZip
Latch on to a zip line and take a heart-stopping flight over the jungle canopy.
MegaZip Ticket Price: $39
ParaJump
Take a flying leap from 50 metre off the ground while attached to safety harness and see just what it's like during the freefall part of a parachute jump.
ParaJump Ticket Price: $19
ClimbMax
For the younger (or less daring) visitors, ClimbMax allows you to climb a high rope adventure course.
ClimbMax Ticket Price: $39
NorthFace
The NorthFace replicates the experience of cliff climbing without the danger of falling.
NorthFace Ticket Price: $19
MegaBounce
It's like a mini version of GX-5 at Clarke Quay. The difference is you jump on a trampoline with your leg muscle to a height as high as 8 metres.
MegaBounce Ticket Prices: $15
Megazip Adventure Park Combo Tickets
If you plan to do everything, you could save money by purchasing a Dragon ticket which include all the above activities (except MegaBounce) at a price of $85. Book tickets online at MegaZip website.
GoGreen Segway
The GoGreen Segway is a great way for beginners and experienced riders alike to tour the island or zip around on a track full of thrilling twists and turns. Take a spin around the GoGreen circuit with the family or embark on an ecological adventure through Sentosa's gorgeous beaches with an experienced tour guide. Lessons are available for the inexperienced riders.
Keep in mind that the Eco Adventure only allows riders age 10 and up, and the Circuit ride requires children to be at least 105 centimeters tall.
GoGreen Segway Ticket Prices
Circuit Ride priced at S$12 for one round.
Eco Adventure runs S$38 for $30 mins.
GoGreen Segway Opening Hours
10am to 9.30pm daily.
Wave House Sentosa
Like the Megazip Adventure Park, the Wave House Sentosa is another first of its kind in Asia. Although Singapore has gorgeous beaches and stunning blue waters, it had no waves to speak of for surfing enthusiasts, so it had to build one.
The Wave House Sentosa replicates the perfect 10-foot wave to provide the exhilarating experience of surfing on the California coast, yet with the ability to absorb the impacts of wiping out, making it an authentic experience without the authentic dangers.
At night, the Wave House becomes the hottest spot on the island for dancing and music, with internationally renowned DJs stopping by to spin tunes. In between surfing and dancing, stop in at the Wave House Restaurant & Bar for delicious Californian Asian feast.
Wave House Ticket Prices
FlowRider: $35/hr on Weekdays, $40/hr on Weekends.
1 hr FlowRider +  1hr FlowBarrel: $70 on Weekdays, $80 on Weekends.
Wave House Opening Hours
11am to 10pm daily.
Buy Singapore Attractions Tickets as a Package Deal
Please fill out the below form with at least three attractions (why three attractions?) or more under the option 'Pick your own attractions' and we will send you a free quotation based on your selections by the next working day.
You may also choose any one or more days from the options Day 1, Day 2, Day 3, Day 4, Day 5. We will then compute and send you the total amount of the deal.
All the attractions tickets are valid for at least a month, some as long as 3 months. You may use the tickets on any dates so long as not to exceed the expiry date.
All the below deals only provide you with entrance tickets to the above attractions. It does not include transport and tourist guide. You have to go about the above attractions on your own. 
Where to Stay in Sentosa Island
Highly Recommended Hotels in Sentosa
Budget Hotels Near Sentosa
Mid-Range Hotels in Sentosa
Luxury Hotels in Sentosa
Hotels Near Universal Studios Singapore
More on Sentosa Island Tourist Attractions
Sentosa Island
Sentosa Attractions at Imbiah Lookup
Photos of Sentosa Attractions
Sentosa Beaches
Photos of Sentosa Beaches
Sentosa Underwater World
Photos of Sentosa Underwater World
Resorts World Sentosa Integrated Resort
Universal Studios Singapore
Photos of Universal Studios Singapore
Hotels in Sentosa Island
Singapore Vacation Deals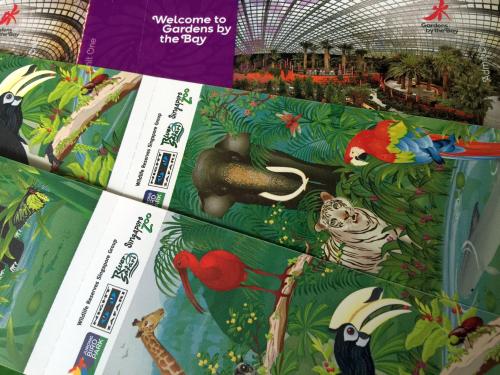 Singapore Attractions Tickets Deal