Hollywood Universal Studios Singapore
Where East Meets West
As the first zone of the park, Hollywood USS (Universal Studios Singapore) greets guests to the new Universal Studios Singapore in a wide avenue of art nouveau buildings and marquees. 
Hollywood Map, Universal Studios Singapore

Meant as an entrance plaza for visitors to the park, Hollywood Singapore boasts gorgeous architecture, mimicking the golden era of 1940's Hollywood, and a plethora of shops and dining for guests of all tastes and ages. Hollywood also boasts excellent climate control, with a shade and rain cover canopy above, and an air cooling system to keep guests refreshed in any weather.
Hollywood, Universal Studios Singapore (01:41)
New Musical Broadway Show 'Monstrocity'
Hollywood USS is also home to one of the unique attractions of the park, the Pantages Theater. A fully functional, 1500 seat theater that can house even the most spectacular Broadway show, the Pantages is currently showing the Universal Studios original musical 'Monstrocity'.
Produced locally in Singapore, 'Monstrocity' brings together a cast of seven world class singers and dancers to bring to life all of Universal Studio's favourite vintage monsters, from Frankenstein and his bride to the blood sucking Count Dracula, all on one stage! As a Universal Studios Singapore original attraction, only guests at the new park can enjoy this spectacular new show. Oh, to be so lucky.
Dining Options in Hollywood Themed Zone
In addition to the fabulous Pantages, Hollywood  USS also boasts three dining establishments. Mel's Diner is a classic 1950s American diner, delivering hearty fare such as burgers, fries, and thick and creamy milkshakes. The Celebrity Cafe offers lighter fare, serving bistro style food such as sandwiches, pies, and desserts for even the most ravenous sweet tooth. Finally, for those native Singaporeans looking for food that hits a bit closer to home, the Hollywood China Bistro offers traditional Cantonese dishes.
Shopping in Hollywood Themed Zone
Not only is Hollywood Universal Studios Singapore a dining center in the park, it is also a shopping Mecca. Five stores line the lamp studded streets, including ware for shoppers of all tastes. For anyone who loved the park and wants a souvenir to remember it by, the Universal Studios store is a one stop shop, with collectibles from all seven zones of the park.
At Silver Screen Collectibles guests can purchase posters and memorabilia of their favorite celebrities, including animated screen siren Betty Boop (sorry Jessica Rabbit). For the rabid sweet tooth a stop at Superstar Candies is a must, but be sure to save your treats for after the wild coasters!
Any Shrek or Madagascar lovers must make a pit stop at the Star Characters store, which features gifts and souvenirs for fans of all the Dreamworks films. Finally, in a tribute to a classic Hollywood store, the Brown Derby is a hat shop shaped like, well, a hat! Inside visitors can distinguish themselves with anything from a dignified bowler to a crazy jester's hat.
Whether just arriving at Universal Studios Singapore or exiting after a whirlwind day, Hollywood USS makes a great place to shop, dine, play and relax.
Other Universal Studios Singapore(USS) Themed Zones
New York USS
Sci-Fi City USS
Ancient Egypt USS
The Lost World USS
Far Far Away USS
Madagascar USS

Return from New York USS to Universal Studios Singapore page
Singapore Vacation Deals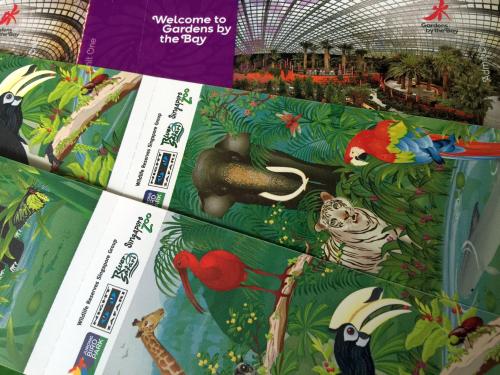 Singapore Attractions Tickets Deal