Bugis Street
A New Concept of Street Shopping
A Brief History of Bugis Street
The present day Bugis Street, next to Bugis Village, is a place known for its shopping and food galore, but the history behind the major transformation of this shopping district, is an infamous colourful past.
In the 1960s, it was a popular attraction for most western tourists - not for the same reasons as today. This was a central nightly meeting spot where transvestites and transsexuals were often seen gathered around in groups. It was this transgender culture, which made the area one of Singapore's Top Tourist Attractions.
The old Bugis had long gone, the site was being developed into a huge Shopping Complex known as Bugis Junction. The new Bugis Street, which is directly opposite Bugis Junction, is a street shopping concept advocated by Singapore Tourism Board.
The New Bugis Street
Visit Bugis Street today, and you will see that this place is a mega maze of lanes and alleys lined with stalls selling all sorts of items at affordable prices. Stretching from Victoria Street all the way to Albert Street, this two-storey flea market gives you an entire day's worth of fantastic bargain shopping.
Explore the twist and turns, the alleys and lanes of Bugis Street, and you'll discover countless clothing stores, small eateries and stalls selling youthful and trendy fashion accessories like sunglasses, hats, watches, necklaces, shoes and bags.
Many youths usually flock here to feed their fashion hunger, especially when they know they can get double the dose for that same buck. Likewise, tourists who are unfamiliar with the area tend to walk in with pure curiosity but usually walk out with a big shopping bag packed with items from bazaar deals and steals!
Located just at the entrance of Bugis Street, directly opposite Bugis Junction, the fruit juice stand will be the first to catch your attention. Not only will you find tropical fruit juices but also other Asian favourites like sour plum, water chestnut, barley and lime juices. I would suggest you grab a cool refreshing drink before you start your shopping trip as this shopping paradise is simply never-ending.
Move along and you will notice that the ground floor is dedicated mainly to fashion apparels with just a few outstanding ones selling fashion accessories and fun knick-knacks. Don't get too excited yet as the real hidden gems are on the second floor, which you will be glad to know, is fully air-conditioned to make your shopping a bit more chilled and comfortable.
Look Out for Few of the Special Stalls
Some recommended stores to look out for are: His Closet - selling Korean-inspired fashion apparels and accessories designed for men and all specially brought in from Hong Kong; Toy Zenz - a store selling miniature figurines of food items such as kitchen stoves, tiny tea cups and biscuit tins, and also robot and anime personas for the avid collectors; and Coolbag Talk - with mostly handmade bags of all colours, shapes and sizes to match your dressing and to suit any occasion.
Then there's The Cute Things, also located on level 2, offering adorably cute looking undies for the girls. They have ones printed with cartoon characters like Hello Kitty and even classier ones 'branded' with logos such as Adidas, Puma and Dior.
Animal lovers can visit Dog's Hideout, to get your little doggies cute outfits, play toys and snack treats. They also have doggie mugs, ashtrays and other very interesting items specially designed for you and your four-legged best friend!
The next store, Tattoo is for those who want to stand out in the crowd. If you are feeling daring and adventurous, get yourself inked at this store with designs or prints to suit your personality!
End your Bugis Street shopping trip at the sit-down Bugis Cafe, where you can order yourself something nice to eat like their golden crisp Fish & Chips, sandwiches, or their tea-time bites like the nuts and raisin muffin and seafood pie.
Kuan Im Thong Hood Cho Temple
From Bugis Street, you can decide to take a slow stroll to the Kuan Im Thong Hood Cho temple, which takes just a mere ten minutes to get to. While making your way there, you'll be entertained by buskers playing the harmonica, singing to old Mandarin classics, showing off their musical talents through their Pipa instrument.
A Roadside Vendor Selling Dancing Toy(02:02)
You will also be passing by fortune tellers, trishaw riders awaiting their next customer, and small make-shift stalls selling anything from modern clothing and accessories to traditional Chinese decorative items.
It is almost impossible to miss the Kuan Im Thong Hood Cho temple, which is a highly recognized religious attraction not only in the Bugis area, but also as a popular place of worship in Singapore. Built in 1884, this temple is truly a work of art, portraying fine authentic craftsmanship, seen through the intricate architecture.
Everyday, hundreds of devotees to what the Chinese call their Goddess of Mercy, Kuan Yin arrive here early to pray for blessings. This is especially so on the eve of Chinese New Year as the temple will be packed with crowds of people waiting their turn to pray for blessings for an auspicious new year. And if you would like to visit, make sure you arrive early before their doors close at 6pm everyday.
Where to Stay in Bugis Street
Highly Recommended Hotels in Bugis
Hostels in Bugis
Cheap Hotels in Bugis
Budget Hotels in Bugis
Mid-Range Hotels in Bugis
Family Hotels in Bugis.

Return to Singapore Night Attractions page
Return to Shopping Malls in Bugis page
Return from Bugis Street to Home page
Singapore Vacation Deals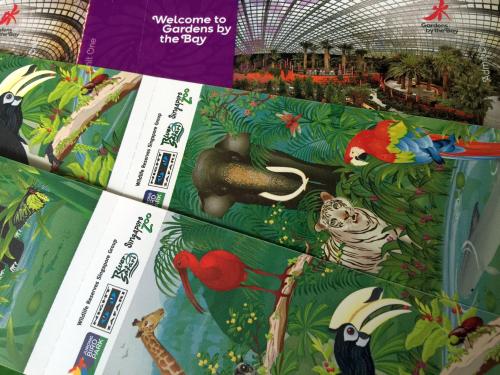 Singapore Attractions Tickets Deal