Ancient Egypt Universal Studios Singapore
Don't Awaken the Mummy!
Archaeology lovers and amateur Egyptologists rejoice, there are new lands for you to explore in Ancient Egypt USS (Universal Studios Singapore)! A distinct zone in Universal Studios Singapore, Ancient Egypt brings to life the ruins and sands of Ancient Egypt.
But this is no tacky replica. Pictures from Universal Studios Singapore reveal exquisite black statues of Anubis and grand sandstone temples with columns to dwarf an elephant. Guests in this recreated world will find themselves transported to a place and time of wonder, danger and magic.
Ancient Egypt Map, Universal Studios Singapore
Revenge of the Mummy
The star attraction of Ancient Egypt USS is the Revenge of the Mummy ride. A psychological thrill ride, Revenge of the Mummy is a roller coaster that winds through a pitch black building, leaving you clueless as to where you are going or what is going to happen next. Full of sharp turns, sudden reverses and precipitous drops, guests should expect their stomachs to drop and their hearts to be in their throats for the entire ride!
Based on the movie The Mummy, guests ride in mine cars through a dark tunnel, which suddenly comes to fiery life as the mummy Imhotep begins to chase you. Dogged by Imhotep, his undead minions, scarab beetles and more, throughout the ride guests are never quite sure they'll make it out alive, until the ride finally delivers guests back into safety. Based on a similar ride at Universal Studios Hollywood, representatives for the Singapore park say the ride has been redesigned and is more lifelike and thrilling than ever.
Treasure Hunter
For the family with small children or tamer tastes, Ancient Egypt also offers Universal Studios Singapore original ride dubbed Treasure Hunter. Families will ride in older style Jeeps which passengers will "drive" through the ruins of ancient Egypt, discovering treasures and mysterious artifacts along the way.
Dinning Option in Ancient Egypt Themed Zone
By now guests are probably hungry and thirsty, who wouldn't be after being chased by an undead mummy who is thousands of years old? Fortunately Ancient Egypt USS boasts one of the most original dining experiences in the park, the Oasis Spice Cafe. Aromatic and spicy Indian, Mediterranean and Malay cuisines are served buffet style in this restaurant, offering guests exotic and filling options on a family friendly budget.
Shopping Option in Ancient Egypt Themed Zone
For adults and children alike Carter's Curiosities can provide the perfect souvenir for those who enjoyed Ancient Egypt USS. This shop offers not only movie memorabilia but also accurate replicas of artifacts found in real Egyptian dig sites as well as fossils and other curiosities found not only in the park but also in the real Egypt. This unique shop is a great place to stop for amateur archaeologists and Egyptologists alike.
Introduced as a new zone to the Universal Studios line of theme parks, Ancient Egypt Singapore has something to offer everyone, from thrill seeking couples to families with children. Even if guests aren't interested in the rides, Ancient Egypt USS is well worth visiting simply for the pleasure of the exquisitely recreated temples and ruins.
Other Universal Studios Singapore(USS) Themed Zones
Hollywood USS
New York USS
Sci-Fi City USS
The Lost World USS
Far Far Away USS
Madagascar USS
Return from Ancient Egypt USS to Universal Studios Singapore page
Singapore Vacation Deals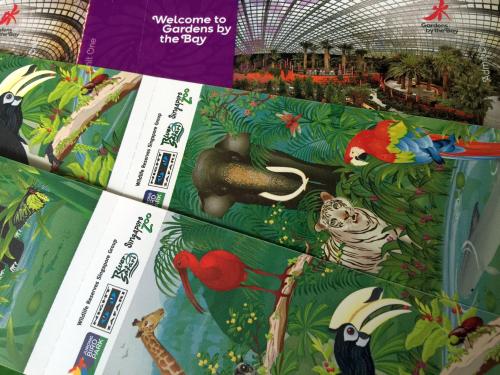 Singapore Attractions Tickets Deal