National Museum of Singapore
A snapshot of Singapore's History, Traditions and Cultures
The National Museum of Singapore embarked on the journey to its birth in 1887, which is no surprise why it is the oldest museum in Singapore. 
The National Museum uses a cutting edge approach, which both the Singapore History and Living Galleries have adopted, in presenting historical and cultural Singapore.
It offers a chain of dynamic festivals, events and exhibitions right through the year. The list includes art installations, performances, film screenings, artifact displays, and psychedelic night festivals.
Night Festival at National Museum of Singapore
A Brief History of National Museum of Singapore
Behind the National Museum of Singapore is a rich historical background of its own. Beginning in 1887, was the opening of the Raffles Library and Museum by the Governor of the Straits Settlements. At this point in time, it was already made popular for its natural history collection and its ethnology and archaeology collections.
Years later from 1942 to 1945, while the Japanese had won occupation over Singapore, the Raffles Library was put under the charge of a Japanese Professor. And in 1960, the museum was made to separate from the library. However, following Singapore's independence in 1965, the Raffles Museum was renamed the National Museum of Singapore.
Following a massive renovation in 2003, the Singapore National Museum reopened its doors three years later, inviting the public to a building now grown to twice its size, and featuring state-of-the-art multimedia exhibits that bring history to life.
Singapore History Gallery
The Singapore History Gallery is like a storybook that tells the tale of Singapore's life story from rags to riches. This 2,800 square meter gallery brings you through the 14th century to modern day, allowing visitors to witness the struggles of early settlers and the drama of major national events.
You may even request for the museum's specially designed electronic companion, which acts as an audio, visual and textual guide?complete with an LCD screen, earphones and a keypad. This device has English, Mandarin, Malay and Japanese narrations, descriptions and related videos that complement the artifacts in the gallery.
Singapore Living Galleries
Next up in the National Museum of Singapore is the Singapore Living Galleries, covering elements of Singaporean life: Film & Wayang, Photography, Fashion, and Food.
The Film & Wayang Gallery celebrates Singapore's creativity. Visitors to this gallery in the Singapore National Museum get to view excerpts of early iconic films, movie paraphernalia, and even listen to different movie soundtracks written by local legendary superstar, P. Ramlee. Other features include a showcase of Chinese opera costumes and accessories, puppet stage performances, the development of Chinese opera, and the birth of homegrown films.
The Singapore National Museum summarizes 100 years of Singapore history within the Photography Gallery. Immerse yourself in the display of photographs, picture albums and the Daguerreotype of Singapore Town, produced just shortly after the daguerreotype photographic process was invented.
And who'd ever think that a museum would actually dedicate an entire gallery to fashion? Well, The National Museum of Singapore did just that! The Fashion Gallery exhibits garments and costumes worn by women of different cultures, between the 1950s and the 1970s. Feel the textiles on display, and be amazed by the intricate embroidery of traditional outfits such as the Malay Kebaya and the Indian Sari.
Finish your tour by visiting the Food Gallery, where you learn about the various foods and their ethnic diversity, the cultural background behind each of them and local innovations that are truly Singaporean. But it doesn't end there  - be sure to take a whiff out of the array of aromatic spices, used in local cuisine ?a no surprise why Singapore is famous for being a culinary wonderland.
Wine and Dine in Singapore National Museum
When it comes to food, The National Museum of Singapore doesn't only serve those with an eye for art. It also caters to those with taste buds for classy fine dining. At the break of dawn, the soaring circular marble structure shaped like a dome, is transformed into a grand looking restaurant.
Named Novus, this restaurant offers European cuisine with an Asian twist, including Five-Spiced Duck with Poached Quince, and Crispy Skinned Snow Cod topped with Garlic Pain Perdu- a perfect way to end off your day at the National Museum of Singapore!
National Museum Ticket Prices and Opening Hours
Singapore National Museum Opening Hours
Singapore History Gallery
10am to 6pm daily (last admission 5.30pm)
Singapore Living Galleries
10am to 8pm daily (last admission 7.30pm), free admission from 6pm to 8pm daily.
Singapore National Museum Ticket Prices
Adult ticket S$10, Child ticket S$5(under 18 years), Student(with valid student pass) and Senior(tourist 60 years and above) ticket S$5. Free admission for child(6 years and under) and Senior(Singaporean or Permanent Resident 60 years and above).
Free Guided Tours
1. Tour of the Museum
Every second and last weekend of the month at 2.30pm
2. Singapore History Gallery Tour
Every Mondays to Fridays at 11am and 2pm and every Saturdays and Sundays at 11.30am, 2pm and 3.3opm.
Hotels Near Singapore National Museum
Highly Recommended Hotels in Colonial District
Budget Hotels in Colonial District
Mid-Range Hotels in Colonial District
Luxury Hotels in Colonial District
Family Hotels in Colonial District
Other Top 10 Things to Do in Singapore
Singapore Flyer
Singapore River Cruise
Chilli Crabs
Asian Civilisations Museum
Hawker Food
Wet Market
Singapore Sling
Explore Cultural Singapore
Images of Singapore

Return from National Museum of Singapore to Top 10 Things to Do in Singapore page
Singapore Vacation Deals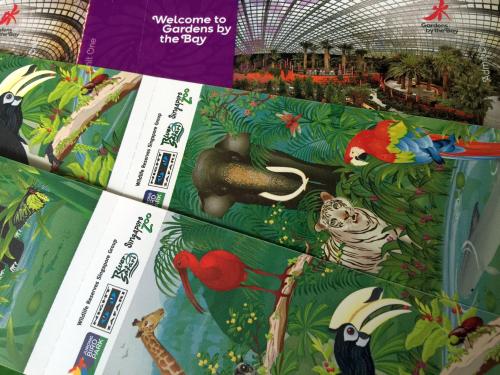 Singapore Attractions Tickets Deal