National Orchid Garden
A Hidden Gem within Singapore Botanic Gardens
The National Orchid Garden is the largest display of orchids in the world. Come here to enjoy and appreciate the beauty and diversity of orchids.
Personally, I'm not fascinated about flowers or to be more specific orchids. But the moment I step into the garden, I was awed by the beauty of the various types of orchids.
You won't want to leave this place without taking lots of photos. So, be prepared to stay here longer than you would have planned for. Get a Map of the Orchid Garden.
National Orchid Garden
The following are some of the attractions you should visit, the most impressive of all is the Tan Hoon Siang Mist House.
Tan Hoon Siang Mist House
Set against a backdrop of botanical décor, amidst lush greenery and beautiful displays of rare Orchids from different parts of the world, the Tan Hoon Siang Mist House is a must-see highlight of the orchid garden.
Yuen- Peng McNeice Bromeliad Collection
Bringing some Central and South America across the globe, right into the grounds of the orchid garden, visitors will be excited to see the array of over 300 species and 500 different hybrids of exotic and unusual plants here.
Cool House
The Cool House within the orchid garden is dressed to look like a tropical forest where beauty is defined by nature. Here, you'll see a vast display or orchids and carnivorous plants surrounded by cool misty air that sweeps through the entire area, giving it a realistic experience not to be forgotten!
| | |
| --- | --- |
| Cool House | Celebrity Orchid Garden |
Orchidarium
The Orchidarium is another must-see of the orchid garden, where visitors get to admire a spectrum of wild orchids. And although they may not be your typical cultivated orchids that are pretty and free-flowering, these wild blooming ones are the real deal - uniquely delicate and intricate.
VIP Orchid Garden
The VIP Orchid Garden is a truly dignified feature of the Orchid Garden. The reason for its rather interesting title lies in the collection of hybrids, which have been named after internationally renowned VIPs, who have stepped foot and made their mark on the ground of this tourist attraction.
Burkill Hall
This distinctive colonial bungalow, built in 1866, was once home the directors of the National Orchid Garden. Over the years however, the hall has changed and now functions as a venue to host events and exhibitions.
Crane Fountain
The Crane Fountain together with the Tiger Orchid Fountain, are the main attractions among the orchid terraces that sit on this big three-hectare plot of land. But what really makes this place even more attractive is the tropical foliage, adding a generous dose of zing and vibrancy to the scene!
More on Singapore Gardens & Wildlife Parks
Photos of National Orchid Garden
Singapore Botanic Gardens
Photos of Singapore Botanic Gardens
Gardens by the Bay
Photos of Garden by the Bay
Photos of Mount Faber Park
Singapore Zoo
Zoo Self-Guided Tour
Zoo Itinerary
Photos of Singapore Zoo
Night Safari
Night Safari Self-Guided Tour
River Safari
River Safari Amazon River
Photos of River Safari
Jurong Bird Park
Jurong Bird Park Self-Guided Tour
Photos of Jurong Bird Park
Singapore Vacation Deals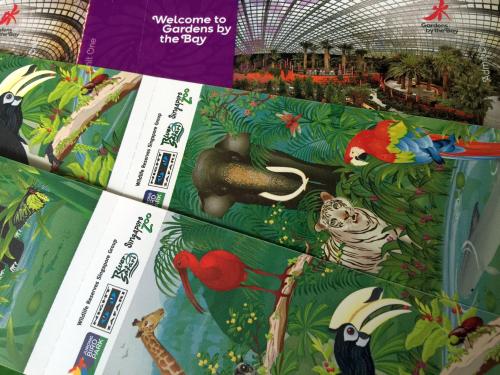 Singapore Attractions Tickets Deal
Return from National Orchid Garden to Singapore Botanic Gardens page