A Recommended Zoo Itinerary
that will Make your Zoo Tour Rewarding
The following zoo itinerary was drafted out after several visits to the Zoo. I have improved it over time and included lots of pictures and video clips which I have taken at the Zoo. By going through the itinerary, you would have a good preview of the Zoo and a clear picture of what to expect when you visiting the Zoo. 
Singapore Zoo Itinerary
9 - 9.15am

Head left to Treetops Trail to spot Siamang above of you and False Ghavial beneath you.
9.15 -9.45am
Follow Tiger Trek to see White Tiger. Don't miss Gibbon, which is not far away from the White Tiger habitat.
Catch the White Tiger swimming and moving around early in the morning. If you come and see them in the afternoon under the hot sun, they are likely sitting still under the shade. Gibbon is another animal which is very active in the morning. You will hear them screaming and jumping about and perform all kinds of tricks under the rope.
View video clips of White Tiger and Gibbon in action.
9.45 - 10.30am
Polar Bear feeding time at 10.05am. Be there 10 minutes before the feeding time, otherwise you may not be able to get a seat.
View a video clip of Polar Bear in action.
10.30 - 11am
Wild Africa to see Cheetah and Lion. Feel free to amend the zoo itinerary to include your favourite animals instead.
View a video clip of Cheetah in actin.
11 - 11.30am
Free ranging Orang Utan boardwalk. View a video clip of Orang Utan in action.
11.30 - 12.15pm

Great Rift Valley of Ethiopia
This is a big exhibit which accommodate more than 70 Hamadryas Baboons. You may view these animal in various spots around the exhibit, but the best viewing point is at the viewing gallery behind a glass panel where the Baboons are right in front of you.
View a video clip of Hamadryas Baboon in action.
Primate Kingdom
Come at 2pm when the monkeys are fed with food. There will be a zoo keeper giving a live commentary about the characteristics and behaviours of various monkeys.
View a video clip of Golden Lion Tamarin in action.
12.15 - 1.15pm
Picnic at Pavilion By the Laken or Garden Pavilion. It's advisable to bring your own food.
1.15 - 2pm
Rainforest Fights Back show at 1.30pm at Shaw Foundation Amphitheatre. Be there 10-15 minutes before the show, otherwise you may not be able to get a seat.
View Rainforest Fight Back Show Video clips here.
2.15 - 3pm
Splash Safari Show at 2.30pm at Splash Amphitheatre. Be there 10-15 minutes before the show on weekdays and at least 20 minutes before the show on weekends and public holidays. Otherwise you won't be able to get a seat as this theatre is much smaller than the Shaw Foundation Amphitheatre.
View the Splash Safari Show Video clips here.
3 - 4.30pm
Rainforest Kidzworld. Remember to bring swimwear for your kids. Walk or take a tram from station 3 to station 2. Skip Fragile Forest and extend to 5.30pm if your kids need more time for Kidzworld.
You may want to change your zoo itinerary to replace the Kidzworld with Elephant at Work and Play Show at 3.30pm at Elephants of Asia if the playground isn't right for you.
View Rainforest Kidzworld video clip here.
4.30 - 5.30pm
Fragile Forest. Get close encounter with tree kangaroo, flying foxes, lemurs, mousedeer and many other friendly forest inhabitants.
View Fragile Forest video clip here.
5.30 - 6pm
Take a tram ride to Station 3 and walk to the main entrance(Exit). Last tram at 5.30pm.
If you have only half day to tour the zoo, you may want to check out Singapore Zoo official website for a morning or afternoon Half-day Zoo Itinerary.
More on Singapore Wildlife Parks & Gardens
Singapore Zoo
Zoo Self-Guided Tour
Photos of Singapore Zoo
Night Safari
Night Safari Self-Guided Tour
River Safari
River Safari Amazon River
Photos of River Safari
Jurong Bird Park
Jurong Bird Park Self-Guided Tour
Photos of Jurong Bird Park
Gardens by the Bay
Photos of Garden by the Bay
Singapore Botanic Gardens
Photos of Singapore Botanic Gardens
National Orchid Garden
Photos of National Orchid Garden
Photos of Mount Faber Park
Singapore Vacation Deals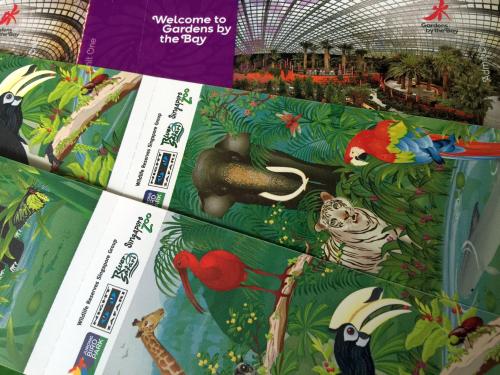 Singapore Attractions Tickets Deal

Return from Zoo Itinerary to Singapore Zoo page