Jurong Bird Park Tour
Tips you Need to Know for an Enjoyable Trip
Follow this self-guided Jurong Bird Park tour to explore the park smartly. Although it's not a very big park, where you can walk from one end to the other within half an hours, you do need to plan your itinerary in advance in order to tally with the time of bird's shows and feeding sessions that interest you. For instance, you will have to be there before 10am to catch the 'Birds of Prey' show, otherwise the next show is at 4pm.
Tram ride is a good way to tour the park if you do not have enough time to see it all or you have old folks and small kids with you. Otherwise, you may save money on the ride as I mentioned above it's a small park anyway.
Jurong Bird Park is a fun place not just for the kids but adults as well, as can be seen from the following photos.
It's also a great place for people enjoy taking of bird's photos in close proximity. I was enlightened to see few of the shots were so well taken, not to mention that I just used a normal camera without any expensive accessories.
Jurong Bird Park Tour Map
Click on Jurong Bird Park Tour Map to open it in a new window. It is a useful map which shows where the various aviaries and bird's shows locations are and the panorail train route. This map would be helpful when you want to plan for a trip to the park.
What not to Miss for your Jurong Bird Park Tour
Walk-in Aviary
Lory Loft
For a enjoyable Jurong Bird Park tour, visitors must not miss out on the world's largest Lory flight aviary, the Lory Loft. Tour round the walk-in aviary where huge suspension bridges stretch across the enclosed compound, allowing you to be part of this spectacular 3000 square meter and 9 stories high showcase of close to a thousand Lories.

Waterfall Aviary
Another key attraction would be the African Waterfall Aviary, the largest walk-in aviary in the world, where you can find a man-made waterfall stretching 30 meters high and 1500 free-flying birds from Africa and South America. You'll get an up-close and personal experience with the birds, plus a relaxing stroll along the paths of the landscaped tropical rainforest.
Southeast Asian Bird Aviary
It doesn't end there, another walk-in aviary, called the Southeast Asia Bird Aviary, is where 260 species of birds are kept, some of which are of endangered species from various parts of the region. Every day at the strike of noon, a simulated thunderstorm is created to give visitors a feel of an actual rainforest habitat that is also bound to make for a truly unforgettable experience!
Tram Ride
The Singapore Jurong Bird Park can be explored on foot, but there are tram rides with running commentaries, made available to tired visitors who want a more relaxing tour round the park. A ride on the tram is a great way to skim through the exhibits in a more organized and structured manner, ensuring you don't miss out on the key attractions at the park.
Tram Tickets:
Adult S$5, Child (3-12 years old) S$3
Bird's Show
The daily guided tours around the Jurong Bird Park, alongside the scheduled feeding sessions give visitors a truly enlightening experience. But it will never be complete without attending the Birds of Prey Show, where you get to watch the majestic flight of eagles, hawks and falcons as they soar through treetops and sweep you off your feet.
Birds of Prey Show
Timings: 10.00am and 4pm
Venue: Fuji Hawk Walk
Go to Birds of Prey Show Video page for more video


Another lovely show Birds n Buddies, which puts up a colourful display of performing acts, featuring a star-studded cast of local residents. Take this opportunity to interact with these cute and playful creatures! And trust me when I tell you that these bird shows are the greatest and most exciting highlight for any child visiting the park.
Birds n Buddies Show
Timings: 11.00am and 3pm
Venue: Pools Amphitheatre
Go to Birds n Buddies Show Video page for more video
Bird-Feeding Sessions
If you want to catch the birds having their meals, take note of their feeding times to make sure you don't miss them in action! The Bee-Eater & Starling Feeding, located at the Waterfall Aviary can be viewed by visitors at the scheduled times daily.
Also stop by the Penguin Expedition where you can admire 200 over penguins belonging to five different species - Humboldt, Rockhopper, Macaroni, Fairy and King Penguin. Better still, try to make it in time for their feeding session and catch them as they waddle greedily for their meal. Take notes of the following feeding timing to help you in planning a rewarding Jurong Bird Park tour.
Bee-Eater & Starling Chitchat
Timings: 10.30am & 2.30pm
Venue: African Waterfall Aviary
Penguin Chitchat
Timings: 10.30am & 3.30pm
Venue: Penguin Expedition
Lory Feeding
Timing: 8.30am-6pm
Venue: Lory Loft
Other Interesting Exhibits
African Wetlands
Proceed to the African Wetlands ?an exhibit that won itself the Aseanta Award in 2007 - displaying how the birds co-exist with us humans. Here, you can look out for birds such as Shoebills, Saddle-billed storks, Australian Pelicans and many more.
Flamingo Lake
Also be sure to make a stopover at the landscaped Flamingo Lake, situated beside a beautiful 3-storey glass house within the park, and playing habitat to 1001 flamingos. Watch in awe as these playful birds prance around in the water as you enjoy the feel of the cool evening breeze.
Go to Jurong Bird Park Video page for more video


World of Darkness
The World of Darkness is another highlight of the Jurong Bird Park - built like a nocturnal house, where 60 birds from 17 species, including Snowy Owls, Night Herons, and Kiwis can be observed in pitch darkness. The special technology of reverse lighting that converts day to night and night to day makes this place a must-see for everyone!
Dining at Jurong Bird Park
And if you're finding something to fill your growling stomach, theres Bongo Burgers, a fully air-conditioned diners serving western cuisine such as burgers, hotdogs and finger snacks situated conveniently within the premises of Jurong Bird Park.
There's also the Terrace Kiosk offering finger food and local cuisine, overlooking the Flamingo Lake where visitors can partake in breakfast with mealtime entertainment from melodious singing Macaws.
And there's no better way than to end off a meal with some Ben & Jerry's ice cream ?also the perfect way to cool down on a hot and sunny day after ending your Jurong Bird Park tour!
Buy Singapore Attractions Tickets as a Package Deal
Please fill out the below form with at least three attractions (why three attractions?) or more under the option 'Pick your own attractions' and we will send you a free quotation based on your selections by the next working day.
You may also choose any one or more days from the options Day 1, Day 2, Day 3, Day 4, Day 5. We will then compute and send you the total amount of the deal.
All the attractions tickets are valid for at least a month, some as long as 3 months. You may use the tickets on any dates so long as not to exceed the expiry date.
All the below deals only provide you with entrance tickets to the above attractions. It does not include transport and tourist guide. You have to go about the above attractions on your own. 
More on Singapore Wildlife Parks & Gardens
Singapore Zoo
Zoo Self-Guided Tour
Zoo Itinerary
Photos of Singapore Zoo
Night Safari
Night Safari Self-Guided Tour
River Safari
River Safari Amazon River
Photos of River Safari
Jurong Bird Park
Photos of Jurong Bird Park
Gardens by the Bay
Photos of Garden by the Bay
Singapore Botanic Gardens
Photos of Singapore Botanic Gardens
National Orchid Garden
Photos of National Orchid Garden
Photos of Mount Faber Park
Singapore Vacation Deals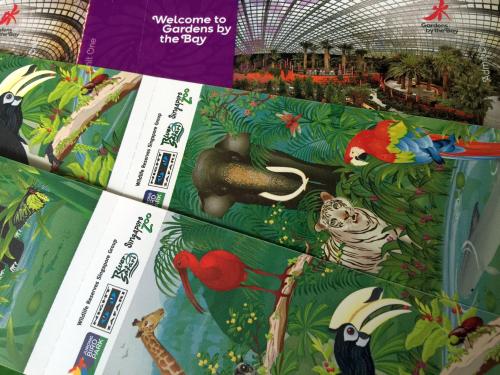 Singapore Attractions Tickets Deal

Return to Jurong Bird Park page