Shake Shack Jewel Changi Airport
Food Review
A famous New York burger chain, Shake Shack Jewel Changi Airport finally made its debut in Singapore on April 17, 2019. The highly anticipated opening saw snaking queues with long waiting hours of 1-2 hours, even weeks after its opening.
Contrary to its current global success, it had humble beginnings, starting only as a hot dog cart inside Madison Square Park, NYC. After dining at the chain's first Singapore outlet, located in Jewel Changi Airport, it is evident how the humble hot dot cart rose to become one of the most prominent burger chains in America.
When visiting Jewel Changi Airport, it is definitely hard to miss Shake Shack. With its gigantic sophisticated entrance and friendly staff that are there to direct you in upon approaching the restaurant, it is hard to resist the urge to just step in and grab a burger. Shake Shack prides itself in serving 100% all-natural Angus beef and using premium ingredients for its signature beef burgers, flat-top dogs, crinkle cut fries, frozen custard blends and milkshakes.
Types of Shake Shack Burgers
We've heard many things about Shake Shack and were really excited to finally try it out, after it had opened in Singapore for 9 months. That is why we decided to go all out and order all five burgers that were on the menu. The five burgers that we ordered, and the only five burgers that were on the menu, were the ShackBurger, SmokeShack, 'Shroom Burger, Shack Stack and Hamburger.

Our order
We started with the ShackBurger (single $9.20, double $12.70), since we had heard that it was the most famous Shake Shack burger on the list. At first glance, the single beef burger looked smaller than what we had expected, because for its price point of $9.50, we had thought that maybe it would be larger. It rather resembled the size of MacDonald's cheeseburger. Size aside, when we bit into the burger, the juiciness of the burger was amazing. The beef patty was so flavourful and juicy, and the combination of the melted cheese, balanced out by the tomato slices and lettuce, was a delight. The burger bun was especially soft and the patty was succulent and moist. 

The Shackburger
The double ShackBurger ($3.50 pricier), looked much thicker and dolloped with much more cheese sauce. In my brother's words, he commented that it was "much more worth it". It did look like a more filling meal. If you are a heavy eater, I would recommend the double ShackBurger ($12.70). All in all, price aside, it was a decent cheeseburger. It is simple, not anything fancy, just a tasty and good-quality beef burger.

The double Shackburger
Next on the list was the 'Shroom Burger ($10.80), the only vegetarian burger on the menu. Some of you might be apprehensive to order a meatless burger, especially in a restaurant that is famous for its beef burgers. You might be worried whether the taste of the burger would be on par with the taste of the other burgers on the list. We had similar sentiments. However, we were blown away.

The 'Shroom Burger was such a lovely surprise! It is so juicy. Like, so juicy. The deep-fried coated Portobello mushroom was filled with its signature ShackSauce, which oozed out like golden lava. The patty was coated with what looked like bread crumbs. The frying of the burger patty was so well-done, and the crispiness of the burger was imminent. The inside was light and airy, with the mushroom being so soft and moist. The combination of the three was an utter delight. We might just have this instead of a cheeseburger, really. It is that good. A must-try!
If you're feeling a little fancy, try our favourite burger: the over-the-top Shack Stack ($14.30). It features a combination of both the 'Shroom Burger and Shack Burger. Visibly stunning, two burger patties - the crispy Shroom patty and juicy Shack patty - are wedged in between tomato slices, lettuce, burger buns and Shake Shack's signature ShackSauce. It is evidently larger than the Shack Burger and 'Shroom Burger. 

If you thought that the 'Shroom Burger was already an explosion of flavours and different textures, be prepared for the Shack Stack to take it to the next level. The mixing of the flavours from both the crispiness and moistness of the 'Shroom Burger and the juiciness of the beef patty from the Shack Burger was simply delightful. Adding on to those wonderful flavours, there was also a burst of cheese sauce that was dripping out from inside the 'Shroom patty. 
It felt as though we were giving our taste buds a good treat. You have to try this when you come and visit. It is definitely everything you ever need in a burger.
Not forgetting the fries, we ordered a set of cheese fries ($5.90).

The Dessert
We finished off our meal with a decadent dessert - one of the three Singapore exclusive frozen custards - Shack Attack ($7.50 for single, $9.50 for double). It came in a small paper cup, basically just a scoop of its chocolate custard. Shack Attack was above expectations, though not exceptional. 

The chocolate custard tasted like ice cream, and was swirled with a good amount of Plain Vanilla (a well-known local bakery) brownie, Shack fudge sauce, Lemuel (a home-grown chocolatier) chocolate chunks and chocolate sprinkles. (Though rich, it was not too sweet and had just a good amount of bitterness from the chocolate to create a good balance.) It was rich and chewy and gooey, and just makes you feel like a kid on Christmas Day all over again.
What We Loved
1. The burger is designed to prevent any leakages of the burger ingredients and sauces, and it held very well together. It was mostly hassle-free, while we enjoyed our burger and we enjoyed eating it.
2. The bun was really good. It was nicely buttered, and extremely soft.
3. You could tell that the beef was fresh and of good quality. We loved how juicy and flavourful it was and greatly appreciated the use of good-quality ingredients in the burger.
What We Did Not Like
Even though the burger was above average, it was a little on the pricier side. The cheapest burger was the single cheeseburger that was already $9.20. And the most expensive burger on the list, the double SmokeShack (which was also our favourite), stretched out to a good $14.40. Though good for your taste buds, it might not be as good for your wallet.
Our Tips for Shake Shack Jewel Changi Airport
1. Go early (and on a weekday), preferably before 12pm. Shake Shack opens at 10am, and often does not experience snaking queues till dinnertime. We visited the shop at 10:30am, and the shop was only half-filled. There was no queue at the counter, and ordering was a breeze, with our food arriving in 5 minutes. So go early for a relaxed meal, and avoid all the long queues that tend to build up nearing lunchtimes and dinnertime.
2. Don't order any drinks (If you're on a budget) and just help yourselves with the free drinking water available at the counters.
3. Share the desserts. The desserts, though small in portion, are still incredibly rich. If you don't have an exceptionally large sweet tooth, we would highly recommend for at least two to three people to share a single cup. If not, it might be too overbearing.
Our Review for Shake Shack Jewel Changi Airport
Our favourite: the Shack Stack.
Price: $$ 
Service: 3/5 (wasn't bad, but wasn't great)
Food: 4/5
Overall: 6.5/10
Should you come here to eat: Yes
Click here for more dinning options at Jewel Changi Airport.
Good News For Fans Of Shake Shack
Shake Shack has announced that it would be opening a second outlet on Neil Road, slated to open during the first quarter of 2020. This new outlet would be located closer to town, and you could drop by after a day's full of shopping at Orchard Road. To complement the culturally-rich neighbourhood at Tanjong Pagar, Shake Shack has partnered local artist Samantha Lo to design the hoarding artwork. Be sure to check it out when it opens in 2020!
Singapore Vacation Deals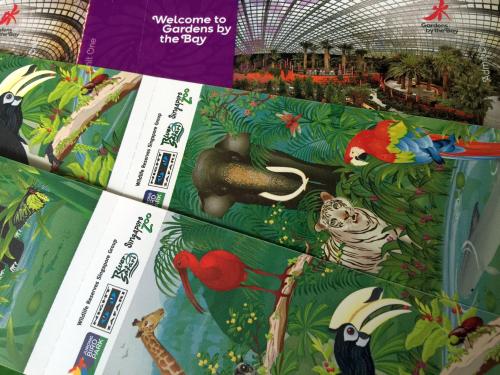 Singapore Attractions Tickets Deal