Chinese New Year Celebrations in Singapore
Chingay Parade, River Hong Bao, Huayi-Chinese Festival of Arts are just part of the Lunar New Year celebrations, not forgetting the annual New Year Light-Up in Chinatown.
Chinese New Year or Lunar New Year is of utmost importance to the Chinese culture all over the world, and Singapore is no exception.
This festive occasion marks the New Year on the Chinese lunar calendar, starting anytime from late January to late February every year, and lasting for a stretch of 15 days with the first two days declared as Public Holidays.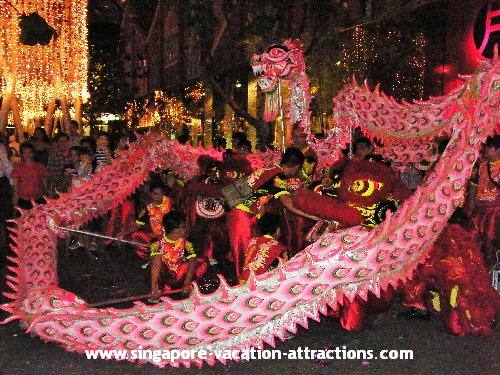 Chinese custom decrees that all debts from the past year be cleared, with homes spring-cleaned and new clothing to replace the old - in other words, a brand new start. Chinese New Year is also a time for families to get together and reaffirm ties at the family reunion dinner that traditionally takes place on the eve.
Myth & Legend
Legend has it that Lunar New Year started back in ancient days, when a mythical beast known as 'Nien', would linger around villages on the first day on the New Year to prey on livestock and devour crops, the villagers and even the little children.
At first, the villagers believed that in order to protect themselves, all they had to do was to place food at their door fronts at the beginning of every year. They later learned that Nien feared the colour red. Since then, the villagers would hang red lanterns and red spring couplets on their windows and doors, and use red firecrackers to scare away the Nien.
Today, though people no longer believe that Nien is still in existence, the tradition and practices have been brought on from generation to generation in Chinese societies all over the world.
Chinese New Year Celebrations in Singapore
In Singapore, there are other celebrations that are held in accordance with Chinese New Year: the Chingay Parade, River Hong Bao and the Huayi - Chinese Festival of Arts.
If you are keen on the celebrations, you might want to take a trip down to catch the annually celebrated Chingay Parade, which usually takes place along the Marina Bay to usher in the Lunar New Year. While the parade once focused on the true meaning of Lunar New Year with floats such as the Chinese Zodiac animals and the Chinese God of Fortune, it has now evolved into a multi-cultural and international event with performing acts like samba dancers and modern-day magicians.
Apart from the Chingay Parade, you might like to check out the 10-day long Chinese Festival of Arts - Huayi, at the Esplanade Singapore. This event is specially organized for those who appreciate traditional and contemporary Chinese arts and culture. Be intrigued by the stellar line- up of song and dance.
Chinese New Year Celebrations in Chinatown
To be part of this Chinese festival in Singapore, Chinatown is the perfect place to soak up the atmosphere where street after street is lighted up and jammed packed with people jostling for Chinese New Year food.
Lunar New Year Celebrations in Chinatown(02:22)
Especially for the Lunar New Year festivities, for the month prior to till the end of the celebrations, the crowded streets of Chinatown will be lined with bright red lanterns, banners and street vendors selling a variety of traditional festive goodies and delicacies such as barbecued meats, preserved sausages and waxed duck.
| | |
| --- | --- |
| Shop in Chinatown selling Chinese New Year decorative stuffs. | Shopping in Chinatown |
If you are lucky, you might just be able to catch lion dancers throng the streets while making deafening noises, which are traditionally symbolical of keeping evil mythical creatures at bay.
Visit Chinatown festivals website for all the following events and activities in Chinatown:
Chinatown Chinese New Year Countdown Party

Festive Street Bazaar and Festive Carnival

Nightly Stage Shows

International Lion Dance Competition and many more.
Lunar New Year Symbolisms
If you hang around during the Lunar New Year season long enough, you would have noticed that red is the predominant colour used for the celebrations. The colour red is believed by the Chinese to resemble joy, virtue, truth and sincerity.
Traditionally, Chinese costumes worn during the Lunar New Year were often red as well. As depicted in the ancient Chinese legend, red was used to frighten away the beast 'Nien'. With this in mind, the Chinese wore red to scare away evil spirits and bad luck.
On top of that, the Chinese folks typically wear new clothing from head to toe symbolizing a new beginning for a brand new year. Another feature of Lunar New Year, more so in old-Singapore, is the use of firecrackers, which have now been banned due to their hazardous explosions. These firecrackers explode with loud crackling noises when ignited - so deafening that they are thought by the Chinese to keep evil spirits away.
When it comes to the decorations, red couplets with phrases to signify abundance, happiness and longevity are displayed at the main door. Also, red lanterns are hanged at storefronts and homes to symbolize auspiciousness, and pots of kumquats and flower are place around the home to brighten up the house, as a sign of luck and joy.
Chinese New Year Food
Chinese New Year food are usually offered to visitors to wish them a prosperous New Year ahead. Common and traditional ones include bak kwa (thinly sliced fragrant barbecued pork), prawn rolls (a paste of dried prawns rolled in thin wraps and deep fried till very crisp), love letters (paper-thin sweet crisp egg-rolls), pineapple tarts (thick pineapple jam served on bite-sized crumbly pastry), kueh baulu (small sponge cakes that are slightly crisp on the outside and spongy soft on the inside), kueh bangkit (white powdery biscuits that melt in your mouth), groundnuts to symbolize good health and longevity, candy to symbolize a sweet year ahead and chocolates wrapped to look like gold coins to symbolize wealth and prosperity.
Lunar New Year Superstitions
When it comes to superstitions, the Chinese know best. They take these beliefs so seriously; it could literally mean life or death to them. Here are just a few of the superstitions revolving around Lunar New Year:
Watch what you say - One should refrain from using 'unlucky' words like 'die' or 'bad luck'.  The Chinese also warn that if children were to quarrel and be beaten by their elders, they might end up more rebellious and boisterous throughout the year.
No sweeping - The Chinese usually sweep their homes before the Lunar New Year. They believe that sweeping on New Year's Day itself is as good as sweeping luck out of the house.
Avoid black - Wearing black is taboo as it is associated with death. Wear the auspicious red instead.
Be extra careful - Take precaution when handling fragile items. Breaking anything would mean a broken family or even a death in the family.
Chinese New Year Rituals
Behind the commercial hype of Chinese New Year are the religious rituals practiced by the traditional Chinese. You will find them heading to Chinese temples where they can present offerings of meats and fruits, and prayers to their gods.
Days before Lunar New Year arrives, families do a thorough spring-cleaning of their homes to sweep away any bad luck and to make way for a clean new start to a new year. It is also practiced, till this very day, the gathering of the entire family on New Year's Eve for the family reunion dinner where members of the family are able to come together to reaffirm their love and build stronger relationship ties.
In ancestral worship, Chinese families pay respect to their ancestors with the offering of food, fruits and flowers. Their act of offerings and prayers are not only a form of respect but also their way of welcoming their ancestors to join in the reunion dinner celebrations.
House visitations are also common practices during the Chinese New Year. Most people will bring along with them a pair of mandarin oranges during the visits to their older relatives or even to their friends as a symbol of good fortune.
You might have also heard of the red packet, which the Chinese literally translate to as Hong Bao, containing money in them. Married couples usually give these out to their own children and to children who visit them, as a sign on prosperity and good luck.
Chinese New Year Tips for Tourists
Chinese New Year alone is one festival in Singapore that has so much to offer to tourists. From the festivities on its own to the Chingay Parade, River Hong Bao and the Huayi Festival at the Esplanade Singapore, you can be certain that you'll be kept in awe all the way.
You may wonder when's the coming Chinese New Year dates fall on? Check out the Public Holidays in Singapore and plan your vacation to Singapore to coincide with the coming Lunar New Year.
Festivals in Singapore
Singapore Festivals and Events Calendar
Traditional Festivals in Singapore
Thaipusam Festival
Singapore Vacation Deals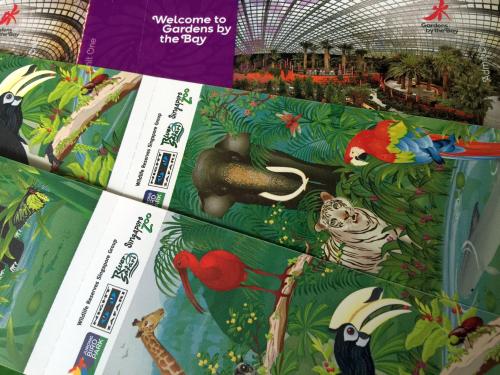 Singapore Attractions Tickets Deal

Return to Festivals in Singapore page