Singapore's Thaipusam Festival
A Holy Hindu Festival Celebrated by Indians in Singapore. The ceremony starts at 5am before sunrise and goes on till night.
Thaipusam festival is an important Indian festival in Singapore. Falling during the month of January, this festival is perhaps the most spectacular Hindu festival in Singapore, celebrated with much gusto and enthusiasm.
Among cities, Singapore has one of the largest Indian populations outside of India. The Indians form the third largest ethnic group in Singapore, and within this group are two very diversified sets of beliefs, cultures and religions. While a small percentage of Indians have adopted modern lifestyles, majority remains faithful to their tradition and culture. In Singapore, more than half of the ethnic Indians practice Hinduism, celebrating traditional festivals like Deepavali and Thaipusam.
Thaipusam Festival
The word 'Thaipusam' is broken into Thai, which means "10th" and pusam meaning "when the moon is the brightest". Therefore, celebrated during the full moon in the Tamil month of Thai, between January and February.
Thaipusam is thought by many to be an eye-opening orgy of seemingly painful body piercing and religious practices. The Hindus celebrate Thaipusam festival as a thanksgiving to their Lord Subramaniam, who is the child god representing virtue, youthfulness, beauty and valour.
Thaipusam Festival 2010(02:34)
Besides these, the Hindus also believe that Lord Subramaniam is the universal giver of favours. Hence, many who make vows and pledges to him show their gratitude by going through sacrificial self-mortification during the Thaipusam festival.
Thaipusam Legend
Thaipusam commemorates the feats and acknowledges the triumph of the Hindu God, Lord Subramaniam, son of Lord Siva.
During the ancient days, celestial beings were so plagued by demonic creatures that it became too much to handle. They cried out to Lord Siva with pleas for help, who in turn sent his son Subramaniam to fight and conquer the evil demons.
After his amazing feat, it has been said that the victorious Subramaniam appeared before his devotees in a vision with him dressed in jewels, armed with a golden spear and rested on a chariot.
Ever since, Thaipusam festival has been celebrated with Lord Subramaniam's image, similarly adorned and beautifully accessorised, and placed on a sliver chariot while surrounded by devotees.
Thaipusam Rites and Rituals
The highlight for on-lookers though, would be the spectacle of devotees who subject themselves to sacrificial acts for their answered prayers. During this cultural event commonly known as Chetty Pusam, male Hindus who have made their prayers to Subramaniam must carry kavadis as a sign of gratitude. These gigantic steel racks, weighing up to 40kg, are nicely decorated with flowers and fruits, and attached to the men's bodies with the use of skewers and hooks that pierce through their skin.
Another form of sacrifice during Thaipusam is the piercing of tongues and cheeks with skewers and spikes, and hanging of fruits from hooks that have gone through their flesh.
They parade through a two-mile route from the Sri Perumal Temple in Little India to the Sri Thandayuthapani Temple, or Tank Road Temple, where their family members will carefully remove these heavy metal structures. All these take place while supporters gather around the devotees, chanting prayers and encouraging them along the way.
Pre-Event Rituals
The devotees planning to perform these sacrificial acts would be required to observe an extremely strict physical and mental discipline. The Thaipusam festival is the culmination of a month of prayer, a strict vegetarian diet and ritual practices such as abstinence from sex or sleeping on hard floor. While it appears excruciating, the trance-like state they are put in stops them from feeling pain.
To prepare themselves spiritually, the devotees need to undergo religious fasting and intense prayers before performing these acts of penance and thanksgiving, and it claims that no scar remains.
Thaipusam Celebration Tips For Tourists
Visit Singapore during this Indian festive period, for a cultural treat unlike any other you will ever see. The ceremony starts at 5am in the early morning before sunrise and goes on till night. So, if you want to catch the full action of Thaipusam and capture memories of these astounding stunts, be sure to be there bright and early! And even if you aren't able to make it to the Thaipusam festival celebrations, Little India is still worth exploring. You will inevitably smell the scent of spices and flowers, lay eyes on the colourful saris, and hear the beats of traditional Indian tunes. Whatever the occasion, Little India proves to provide a treat to all your curious senses!
Festivals in Singapore
Singapore Festivals and Events Calendar
Traditional Festivals in Singapore
Chinese New Year Celebrations
Return to Festivals in Singapore page
Return from Thaipusam Festival to Home page
Singapore Vacation Deals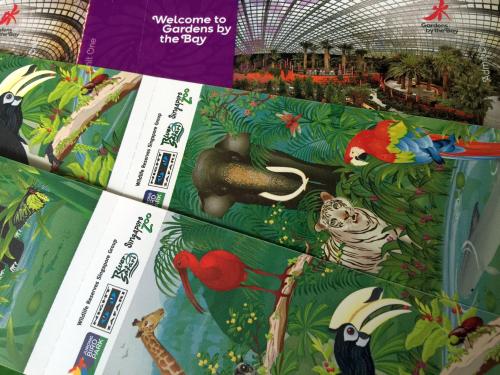 Singapore Attractions Tickets Deal