5-Day Singapore Tour Itinerary
Singapore Trip Planning Guide for Day 3
Day 3- Marina Bay
Marina Bay has some of the most popular tourist attractions in Singapore, so it's definitely worth spending a day touring. 
Since Day 2 was such an attraction-packed day, Marina Bay should start out a bit more leisurely. Stroll along the Waterfront Promenade and takes time to admire Singapore's iconic landmark Marina Bay Sands. More on what to do in Marina Bay Sands Integrated Resort.
Marina Bay Sands Integrated Resort
Head over to Esplanade Theatres on the Bay and see if there are any good shows playing, or tour through the shops of the Esplanade Mall. The Banyan Tree Gallery is a neat store that sells handcrafted goods made by local artisans, and the Naturalist Grandeur is the perfect place to pick up some aromatherapy lotions or a fresh new perfume, all completely natural and not tested on animals.
| | |
| --- | --- |
| | Free Performance at Esplanade Outdoor Stage |
The Fullerton Hotel, one of Singapore's most historical hotels, is in Marina Bay, so stop by and grab a light lunch at The Courtyard. If you're there during the weekend and love chocolate, you are in for a major treat, so save plenty of room for dessert. The Courtyard features a world-famous chocolate buffet guaranteed to make you drool. You're on vacation, so indulge! Spoil your lunch, spoil your dinner, it's a whole buffet dedicated to chocolate! Don't worry; you'll walk it off before the end of your trip.
| | |
| --- | --- |
| Fullerton Hotel with The Merlion in the foreground | Lobby of Fullerton Hotel |
Spend your afternoon at the Singapore Flyer. Although the attraction is most known for being the world's largest observation wheel, there is so much more to do than just soar high above the city in one of their special capsules. You can play commercial airline pilot in an awesome flight simulator or zip around the track used by drivers for the famous Singapore GP F1 Night Race in a super-classy, super-fast sports car.
| | |
| --- | --- |
| | Rent a sport car at the Singapore Flyer |
If you missed the fish spa treatment on Sentosa, you'll have another chance to give it a try at Kenko's Reflexology and Fish Spa. Of course, don't forget to take a ride on the Singapore Flyer itself. Apart from Sands Skypark, you won't find more stunning views anywhere in Singapore. Details of the above activities can be found at Singapore Flyer Website.
Spend your late afternoon in the Merlion Park when the sun is about to go down and the wheather becomes much more cooler. This is the best place to take a few shots of the beautiful Marina Bay with the iconic Merlion and Marina Bay Sands in the background.
| | |
| --- | --- |
| Merlion Park in the day | Merlion Park in the night |
Devote the evening to Boat Quay, a historical strip along Singapore River. Clarke Quay, not far away, is typically more popular among tourists, but Boat Quay has just as much to offer. Restaurants range from Indian to Italian to Chinese, so you'll have plenty of dining options for your mood that evening. Or, make all your taste buds happy at once and head to Moomba, an eclectic dining experience with foods spanning the world, from the Middle East to Australia.
After your delicious meal, it's time to relax and enjoy the dramatic night scene of Singapore along the river. Board a bumboat in Clarke Quay and cruise along the Singapore River all the way to the Marina Bay. More on Singapore River Cruise.
| | |
| --- | --- |
| Bumboat | Cruise on a bumboat along Singapore River |
If you've been turning in early all week, now is your chance to let loose a bit and hit the dance floor. Don't worry, Day 4 will be a relaxing day with nature, so feel free to party as hard as you want tonight. St. James Power Station is definitely the place to be if you want to club hop without actually doing much hopping. Why waste time going from place to place when you can hit 11 venues under one, giant roof? From house music to Latin sounds to live bands, it's all here for your enjoyment.
Check out Hotels in Marina Bay for the highly recommended hotels to stay in Marina Bay.
Continue on 5-Day Singapore Tour Itinerary:
Day 4: Relax with Nature
Day 5: Shop 'Til You Drop
Day 1: Explore the History of Singapore
Day 2: Sentosa Island
Buy Singapore Attractions Tickets as a Package Deal
Please fill out the below form with at least three attractions (why three attractions?) or more under the option 'Pick your own attractions' and we will send you a free quotation based on your selections by the next working day.
You may also choose any one or more days from the options Day 1, Day 2, Day 3, Day 4, Day 5. We will then compute and send you the total amount of the deal.
All the attractions tickets are valid for at least a month, some as long as 3 months. You may use the tickets on any dates so long as not to exceed the expiry date.
All the below deals only provide you with entrance tickets to the above attractions. It does not include transport and tourist guide. You have to go about the above attractions on your own. 
Best of Singapore Tourist Attractions
Top 10 Singapore Attractions
Top 10 Singapore Night Attractions
Top 10 Things to do in Singapore
Universal Studios Singapore
Singapore Vacation Deals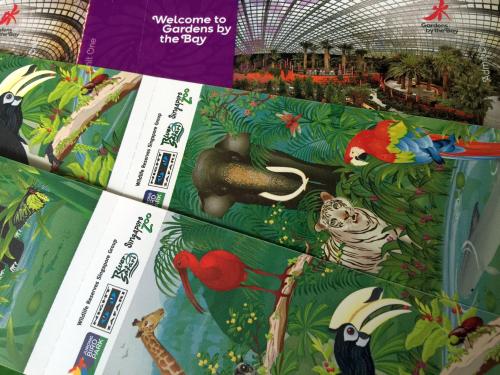 Singapore Attractions Tickets Deal
Return to Singapore Tour Itinerary main page