5-Day Singapore Tour Itinerary
Singapore Trip Planning Guide for Day 5
Day 5 - Shop 'Til You Drop
Singapore is a shopping paradise for visitors, with everything from massive malls to tiny, open-air boutiques, from high-tech electronics to dainty jewellery, everywhere you turn you'll find a dazzling array of consumer goods.
Saving the big shopping day for the last day is a good idea because you'll know exactly how much money you have left to spend, so you won't have to worry about going broke and missing out on other attractions.
Ngee Ann City Shopping Mall in Orchard Road. Watch Orchard Road Video
Now, you could head over to Orchard Road and empty your wallet in the stores there. For more upmarket and popular shopping malls, check out Shopping in Singapore. However, if you really want to get a full, cultural experience, head to Chinatown or Little India. They're only about a six-minute MRT ride from each other, so if you're feeling really industrious, try to visit both.
Little India is the best spot to pick up authentic Indian handmade goods, include beautifully coloured saris and ayurvedic healing goods. For common goods, like jewellery, electronics, and clothing, visit the 24-hour Mustafa Centre, which is basically like a mega shopping mall. They also sell some of the least expensive Singapore souvenirs.
A note about electronics and other goods- as tempting as it may be to snatch up great deals, you may end up paying more to get it home than you would have if you bought it in your own country. This is where it is important to "know before you go". Prior to your vacation, research added expenses like custom's fees or shipping costs (if you run out of room in your suitcase). Know how much the item costs in your own area, and then use that to determine if the cost of the item in Singapore is an overall better deal.
Although finding deals on everyday items is exciting, the real joy of shopping in a different country is bringing home unique items that no one else on your street has. You don't want to arrive home from your Singapore vacation and find that the only thing you have to remind you of your trip is that hot new phone that will be outdated in five months. So spend time exploring the smaller stores in Little India. Visit the Little India Arcade, which is filled with authentic Indian goods. Grab a very inexpensive vegetarian Indian meal at Komala Vilas, and save room for dessert from the Indian Sweet Shop.
When you're done in Little India, head over to Chinatown. Skip the large common-goods shopping malls and head to Yue Hwa Chinese Products Emporium, just a block away from the heart of Chinatown. Once a hotel, now it is a six-floor emporium selling Chinese goods ranging from traditional medicine to porcelain figures. Visit the second floor lobby for an amazing selection of Chinese tea, from the inexpensive loose-leaf teas to $80,000 teapots.
Pick up some bak kwa (barbecued pork), either fresh or in vacuum sealed packs to take with you, at Bee Cheng Hiang. Wander along the vendor-packed Pagoda, Sago and Trengganu streets , and pick up some gorgeous fine silk, jade jewellery and Singapore souvenir t-shirts.
If you're not broke by the time dinner rolls around, head over to Blue Ginger and splurge on their signature chicken curry dish. If shopping has emptied your wallet and you find yourself scrounging for a bit of change, go to Chinatown Complex Food Centre where you can get a plate of noodle for less than S$3.
Once you've spent the last of your vacation money and filled your arms with enough bags to make an elephant cry from the weight of them, head back to your hotel and start packing. You may need to ship some of your loot home, especially if your airline charges you for going over weight in your bags. Airline fees are usually much more expensive than international shipping fees.
Check out Hotels in Little India, Chinatown and Orchard Road for the highly recommended hotels and hostels in these areas.
Your trip to the great "Lion City" may be over, but at least you can rest assured that you've managed to cram a lot of exploring and cultural activities into five days!
Continue on 5-Day Singapore Tour Itinerary:
Day 1: Explore the History of Singapore
Day 2: Sentosa Island
Day 3: Marina Bay
Day 4: Relax with Nature
Best of Singapore Tourist Attractions
Top 10 Singapore Attractions
Top 10 Singapore Night Attractions
Top 10 Things to do in Singapore
Universal Studios Singapore


Singapore Vacation Deals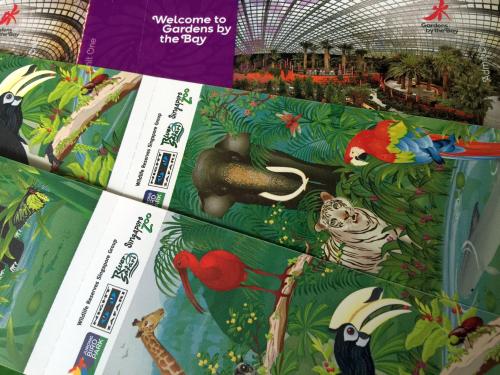 Singapore Attractions Tickets Deal
Return to Singapore Tour Itinerary main page