5-Day Singapore Tour Itinerary
Singapore Trip Planning Guide for Day 2
Day 2- Sentosa Island
You could theoretically spend your entire Singapore vacation on Sentosa Island and never run out of things to do, but since this is all about hitting the highlights and seeing the best of Singapore, one day will have to do for now. 
Sentosa translates to "peace and tranquility," and yes, you'll find plenty of that if you're looking for it. However, you'll also find plenty of thrills and excitement on the island.
View Sentosa Island Attractions Photos.
Vacations are supposed to be relaxing as well as thrilling, and nothing says relaxation like the sound of crystal blue water lapping against the white sandy beach, while coconut trees sway in the gentle breeze. 
Tanjong beach on Sentosa is the best spot for relaxing on Sentosa Island. Silosa Beach is for the sporty types who like to play beach volleyball or work up a sweat, and Palawan Beach is great if you want to stay close to all the action, but Tanjong Beach is truly the embodiment of Sentosa's "peace and tranquility." More on Sentosa Beaches.
| | |
| --- | --- |
| Palawan Beach | Siloso Beach |
After you've had your fill of quiet relaxation, head back towards Palawan beach and grab lunch in the Koufu Food Court. This is your chance to try one of the "must-have" savoury Local Singapore Dishes. If you like seafood, try the Black Pepper Crabs. Otherwise, go with the Hainanese Chicken Rice.
Take a tram to Siloso Point and walk into Sentosa Underwater World and Dolphin Lagoon. Plan to arrive in the attraction by 1PM, so you have a little time to wander around before the 2pm "Meet the Dolphins and Fu Seals" show. Watch Sentosa Underwater World Video.
| | |
| --- | --- |
| Dolphin Show at Underwater World | Sentosa Underwater World Touch Pool |
Also, as soon as you get into the attraction, head over to the Fish Reflexology spa and schedule an appointment for one of the strangest, yet effective, pedicures in the world. You'll dip your tired, achy feet (from all that walking you did on Day 1) into a pool of Turkish spa fish and let them literally eat away all that dry, flaky skin. Spas all around the world have tried to duplicate this experience, but the practice originated in Singapore, and no one does it better.
If you're the adventurous type, spend the rest of the afternoon at the MegaZip Adventure Park, where you can fly high above the tree canopy on a zip line. If you like the idea of adventure but prefer to keep your feet on the ground, check out Sentosa CineBlast. This multi-million dollar virtual rollercoaster gives you all the thrills of the real thing without the terror of actually plunging hundreds of feet to your doom. Get the 2-in-One Combo package and pay one lower price for both CineBlast and Desperados. More on other Sentosa Attractions.
| | |
| --- | --- |
| Sentosa Attraction: Skyride | Suspension Bridge and Viewing Towers at Palawan Beach |
Sit down for a relaxing dinner at Silk Road of the Sea on Palawan Beach. The neatest thing about this contemporary restaurant is that its menu is based on the places along Marco Polo's route from North and South China to Venice, back in the 13th century. Enjoy your meal, but be sure to finish up by about 7:30pm, as you won't want to miss Wings of Time. The nightly show combines pyrotechnics with water effects and lights to create a stunning display that lights up the night. More on Sentosa Newest Attractions.
| | |
| --- | --- |
| Wings of Time | Wings of Time 2 |
Check out Hotels in Sentosa Island for the highly recommended hotels to stay in Sentosa.
Continue on 5-Day Singapore Tour Itinerary:
Day 3: Marina Bay
Day 4: Relax with Nature
Day 5: Shop 'Til You Drop
Day 1: Explore the History of Singapore

Buy Singapore Attractions Tickets as a Package Deal
Please fill out the below form with at least three attractions (why three attractions?) or more under the option 'Pick your own attractions' and we will send you a free quotation based on your selections by the next working day.
You may also choose any one or more days from the options Day 1, Day 2, Day 3, Day 4, Day 5. We will then compute and send you the total amount of the deal.
All the attractions tickets are valid for at least a month, some as long as 3 months. You may use the tickets on any dates so long as not to exceed the expiry date.
All the below deals only provide you with entrance tickets to the above attractions. It does not include transport and tourist guide. You have to go about the above attractions on your own. 
Best of Singapore Tourist Attractions
Top 10 Singapore Attractions
Top 10 Singapore Night Attractions
Top 10 Things to do in Singapore
Universal Studios Singapore
Singapore Vacation Deals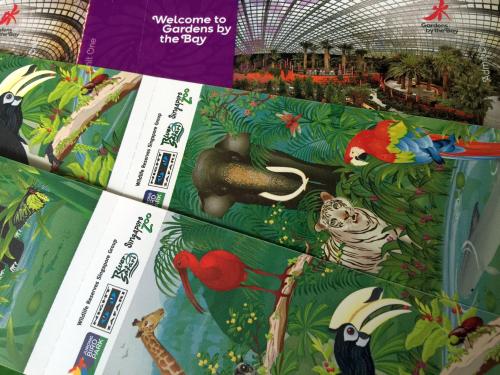 Singapore Attractions Tickets Deal
Return to Singapore Tour Itinerary main page