Morning Zoo Itinerary
This self-guided morning zoo itinerary is especially useful if you don't have time to plan one for yourself. It will save you time and many unnecessary guessing when you navigate around the zoo. Importantly, you will not miss any interesting and must-see exhibits and shows as they are covered in this itinerary.
Is it better to visit Singapore Zoo in the morning? The answer is yes if you are given a choice of a morning or afternoon visit. The reasons are:
the weather is cooler in the morning.
not so heavy crowd in the morning. The advantage is that most exhibits will not facing 'no show' in animals as noises and movements created by the crowd will scare away the animals.
few of the exhibits will give you surprising encounters. In one of my recent visit, a number of monkeys were appearing in the Treetops Trail to welcome me. Another instance, the cheetahs (behind a glass panel) were getting so close to me as if they wanted to make friend with me.
What happened if your schedule left with only an afternoon session? No worry, I had also planned an afternoon zoo itinerary which is equally fun.
How to use the above zoo's navigation map? Follow the colour arrows in the following order: Pink -> Brown -> Green -> Yellow -> Brown -> Blue.

9.30-9.45am Treetops Trail

Enter from here to Treetops Trail.
When you come early, the monkeys are there to welcome you and your family.
Your kids could easily spot at least one of the India Gharials just under the platform.
A rare chance to see two gharials so close by. All the while I thought there are only two gharials, in fact there are three altogether.
Go this way then turn left to White Tiger exhibit
9.45-10.00am White Tiger
You are just a moat away from the tiger

View video clips of White Tiger in action.
Take the right path to Tram station 1, then to Africa Penguin exhibit.
Enter here and take a right turn to Africa Penguin.
10.00-10.15am Africa Penguin
The penguin exhibit was a huge ones in the past. It was packed with various types of cute penguins. Take a look at the below video to see how lively they are in the pool.

Backtrack to here after seeing the penguins and make a right turn to the Shaw Foundation Theatre for the show.
10.15-11am Splash Safari Show at Shaw Foundation Amphitheatre
Among the four shows in Singapore Zoo, this is the most popular one. Personally I enjoyed this show very much. So, don't miss it while you are there.
Exit from here after the show to Keepers' Chit Chat at 11am.
11-11.15am Keepers' Chit Chat: Primate Kingdom 
Wait here for the zoo keepers.
Follow this way after the keeper's chit chat and turn right ahead to Elephants of Asia.
Enter here to the Elephants of Asia.
11.15-12.00pm Elephant Presentation Show at Elephants of Asia
Come here at least 10 minutes earlier to secure your seat.
After the show, go this way up to the tram station 2.
12.00-12.05 Take tram from station 2 to 3
12.05-12.15 Wild Africa
You may watch cheetahs over a fence or behind a glass panel.
Watch the above video to see how alert and focus the cheetah is.
If you are travelling on a tram, you will miss this opportunity to get real close with the cheetah.
These lionesses look friendly and kind.
After passed by the Giraffe exhibit, walk on the main road till you come to the Fragile Forest.
12.15-12.45pm Fragile Forest
This way up the slope to Fragile Forest.
Use this entrance to Fragile Forest.
12.15-12.45pm Fragile Forest
You will be able to find many small animals like squirrel, lemurs, mouse deers, iguana, malayan flying fox, ducks etc inside the Fragile Forest.
View Fragile Forest video clip here.
12.45-1.00pm Take tram from station 4 to station 1
The free ranging orangutan island is just a short distance ahead of tram station 1.
1.00-1.15pm Free Ranging Orangutan Island
Free ranging orangutan island.
Cross the road and go straight to the Gibbon exhibit, then exit the zoo.
1.15-1.30pm Gibbon exhibit then exit the zoo
One thing Gibbons can do better than us is that they can swing from here to there in a split seconds like nobody business. They are so proud to show off their skill as shown in the below video.
Singapore Vacation Deals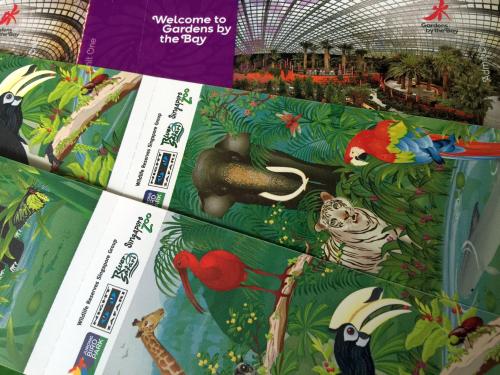 Singapore Attractions Tickets Deal